Hard Disk Storage–
Like DDR2 memory prices, hard disk storage costs have plummeted the past year. The usual technological march continues as performance is improved through higher density platters and larger cache sizes while costs continue to drop. A year ago, we highly recommended 320GB drives at the low end and now we see no reason not to buy 500GB or larger drives if your budget permits it. In fact, our minimum recommendation for most systems are the newer 500GB~640GB drives with 1TB+ drives quickly becoming the norm in the mid-range to upper range markets. You might not ever need that much storage but the price to performance ratio on the larger drives are just too enticing for us to pass up.
For specialized applications we still see value in the WD VelociRaptor series in the enterprise, workstation, and high-end desktop markets. For the general desktop space, we think the performance of the WD Caviar Black or Seagate Barracuda 7200.11 drives are more than capable for most users. We were initially impressed with the Samsung F1 series, but as of late we have had a higher than normal failure rate, something we notice other users have also experienced. It seems as though you either get a really solid drive or not. As far as Hitachi is concerned, well, we just have not seen anything compelling out of them recently. However, their current drive lineup is still competitive from a performance viewpoint for the most part.
We will concentrate on the HDD and ODD desktop market today and follow-up in early 2009 with a look at several new SSD and SAS drives that were recently released. This along with detailed looks at NAS (hint, Promise SmartStor NS4300N would make a great holiday gift) and other external storage products should bring us up to speed in the world of storage on the desktop.
Entry Level Drives –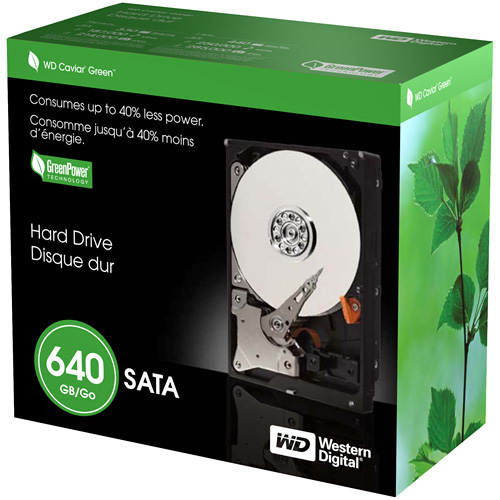 Western Digital is one of our favorite drive manufacturers and the new WD Caviar Green 640GB (WD6400AACS) drive offers a great blend of capacity, performance, and quiet operation for $70. The Green series of drives offers lower power consumption, improved thermals, and very quiet operation. We highly suggest this drive (or the 500GB version) for systems that will be placed near the user or in HTPC systems.
Performance is just a few percent lower than the WD SE16 or Seagate Barracuda series and most users will never notice the difference. For the same price, you can purchase the WD Caviar Black 500GB drive that offers faster performance but at the expense of acoustics and thermals, although both are still tolerable in most HTPC conditions.
The WD Caviar Black (WD6401AALS) 640GB drive is the new favorite in the labs, replacing the WD 640GB SE16. This $85 drive offers a larger 32MB cache, improved acoustics, and around a 3% improvement in application performance for about $10 more than the SE16 version. The biggest change for us is this drive's warranty is extended to five years instead of the typical three that WD offers on other desktop drives. We highly recommend this drive or several of them for a very fast and secure RAID 10 or 5 setup.
If you are on a tighter budget or feel like 640GB is too much capacity, we suggest the Hitachi P7K500 320GB or WD Caviar SE16 320GB drives selling for around $50.