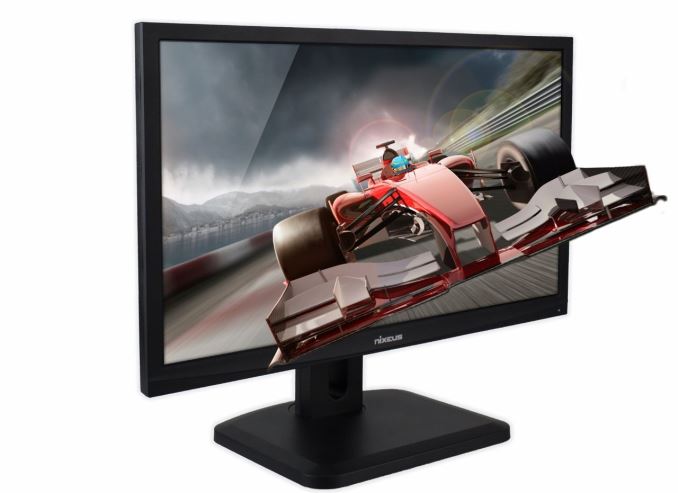 We briefly covered the launch of the Nixeus NX-VUE24A FreeSync monitor as part of our write-up on AMD's FreeSync demonstrations at Computex 2015. Nixeus today sent news that the monitor is available for pre-order and set to ship as early as next week.
As a recap, the Nixeus NX-VUE24A is a 24" 1080p AMD FreeSync certified monitors with a minimum supported refresh rate of 30 Hz. The features of the NX-VUE24A include:
24" 1920 x 1080 TN panel
Adaptive sync with refresh rates between 30 - 144 Hz
1ms response time
DP 1.2a, HDMI, DL-DVI and VGA inputs
Articulating stand for height adjustment (with tilt, pivot and swivel capabilities)
3-year warranty
AMD-certified FreeSync monitors come with a wide range of specifications and prices. Wikipedia has a list. Selected FreeSync models of relevance here (24" and 1080p resolution) include:
The 24" 1920 x 1080 AOC G2460PF with a supposed refresh rate range of 30-160 Hz (availability outside Europe and pricing details are not known yet, and it appears that the maximum static refresh rate is only 144 Hz)
The 24" 1920 x 1080 Samsung S24E370DL with a maximum refresh rate of 60 Hz (not yet available for sale in US, but a eBay listing puts a $400 price tag on it)
It appears that the Nixeus NX-VUE24A is the only 1920 x 1080 monitor currently available for purchase that comes with 30-144 Hz refresh rate support.
With a MSRP of $350 (and street price of around $330), the monitor seems to be priced right compared to other FreeSync monitors with similar feature sets. Pre-orders are being accepted at a number of e-tailers including Newegg, Amazon, and CouchPotato. CouchPotato seems to be offering free shipping and a new customer discount of 10%, while Newegg is charging $5 for shippping. Amazon seems to be selling at MSRP right now with free shipping.
Source: Nixeus