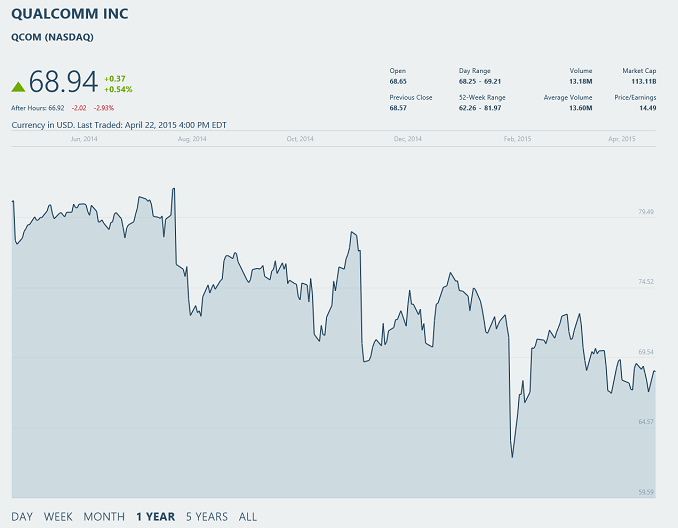 Qualcomm released their Q2 financial results today, and they had another strong quarter. Revenues increased 8% from Q2 2014, coming in at $6.9 billion. On a GAAP basis, operating Income took a nose dive to $1.3 billion, down from $2.0 billion last year and $2.1 billion last quarter. This of course means that net income is also much lower, with $1.1 billion being reported for Q2 2015, which is down 46% from last year and 47% from last quarter. GAAP earnings per share came in at $0.63, down from $1.14 last year and $1.17 last quarter.
Qualcomm Q2 2015 Financial Results (GAAP)
Q2'2015
Q1'2015
Q2'2014
Revenue
$6.894B
$7.099B
$6.367B
Gross Margin
19.4%
29.1%
31.3%
Operating Income
$1.336B
$2.064B
$1.990B
Net Income
$1.053B
$1.972B
$1.959B
Earnings Per Share
$0.63
$1.17
$1.31
The reason for the large hit to operating income, net income, and EPS is due to Qualcomm having to pay out $975 million to the China National Development and Reform Commission or NDRC. This charge is the resolution that was enacted due to Qualcomm falling afoul of China's Anti-Monopoly Law, and as such it is a one-time fee. As such, Qualcomm has also released Non-GAAP results which exclude this one time hit to get a better look at how the business is operating. On a Non-GAAP basis, operating income was up 16% year-over-year to $2.7 billion, which is also a 7% gain over last quarter. Net income was up 4% at $2.3 billion, and EPS came in at $1.40 for Q2, as compared to $1.31 last year and $1.34 last quarter.
Qualcomm Q2 2015 Financial Results (Non-GAAP)
Q2'2015
Q1'2015
Q2'2014
Revenue
$6.894B
$7.099B
$6.367B
Gross Margin
39.3%
35.7%
36.7%
Operating Income
$2.707B
$2.531B
$2.337B
Net Income
$2.339B
$2.263B
$2.255B
Earnings Per Share
$1.40
$1.34
$1.31
Qualcomm actually had negative cash flow for the quarter. The already mentioned fine paid to China accounted for some of it, and Qualcomm also performed a prepayment of $950 million to secure long-term capacity from one of their suppliers. Those two hits resulted in a $0.7 billion shortfall in cash flow. Last year, they had $1.8 billion in positive cash flow, and last quarter it was $2.4 billion.
For the second quarter, Qualcomm shipped 233 million MSM chips, which is up 24% year-over-year, but down from the 270 million shipped in Q1. Total device sales from Qualcomm licencees was $75.8 billion for the quarter, up 14% year-over-year and up 34% quarter-over-quarter. The company is estimating that 384-388 million 3G/4G devices shipped in Q2, which is up 30% over Q2 2014 and up 35% over Q1 2015. Average Selling Price of 3G/4G devices was $193-$199, which is down 13% year-over-year and 1% from last quarter, as the market moves towards lower cost devices.
Qualcomm Devices
Q2'2015
Q1'2015
Q2'2014
MSM Chip Shipments
233M
270M
188M
Total Reported Device Sales
$75.8B
$56.4B
$66.5B
Est. reported 3G/4G device shipments
384-388M
284-288M
295-299M
3G/4G Device Average Selling Price
$193-$199
$194-$200
$221-$227
Qualcomm repurchased 27.8 million shares in Q2, plus paid out $0.42 per share, returning $2.6 billion to shareholders of the company. On March 9th, they announced a new $15 billion stock repurchasing program which includes $10 billion in shares to be bought back in the next twelve months. Additionally, they will be paying out $0.48 per share on June 24th to any shareholder of record as of June 3rd, which is 14% more than last quarter's payout.
However not everything to come out of the results was good news. Qualcomm has lowered their outlook for the semiconductor business for the second half of FY 2015. Greater competition has reduced Qualcomm's market share in the SoC space, especially within flagship phones. The two largest phone makers, Samsung and Apple, both use their own designs in their flagship products. This will change Qualcomm's product mix more heavily towards modem chipsets. There has also been some uncertainly created due to the existing licensing agreements Qualcomm has in place in China due to the resolution with the NDRC. With the case now concluded, the company is hopeful that these arrangements can be sorted out, as they believe that not all devices sold in calendar year 2014 were reported to them.
For Q3, the estimate is that revenues will decline by 9-21% over Q3 2014, which will drop EPS 31% to 41% on a Non-GAAP basis, or 37% to 49% based on GAAP reporting. For FY 2015, Qualcomm is estimating revenue to be between negative 6% and positive 2%.
Source: Qualcomm