We made our annual customary visit to TRENDnet's suite at CES 2015. Just like last year, TRENDnet has put faith in the latest chipsets from Qualcomm Atheros, be it in the wireless networking front or powerline communication. Similar to TP-LINK's Archer C10, we have a AC2600 router in the form of the TEW-827DRU. It uses the QCA9980 - we get 4x4 MU-MIMO with 1733 Mbps in the 5 GHz band and 800 Mbps in the 2.4 GHz band. Four GbE LAN ports and one GbE WAN port make up the wired connections. The model also comes with detachable antennas and two USB 3.0 ports. The unit is expected to come to the market in May 2015 with a MSRP of $280.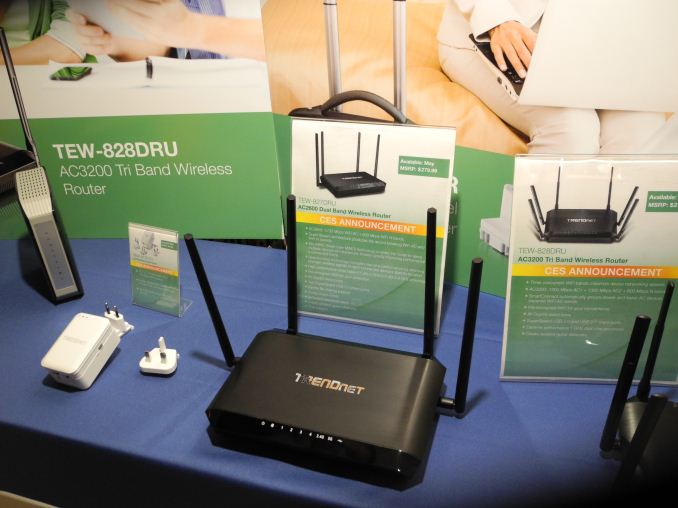 TRENDnet has also decided to join the Broadcom XStream bandwagon with a AC3200 router, but, similar to TP-LINK's situation, the usage of that model as a flagship should be quite short-lived.
On the powerline front, TRENDnet has opted for QCA's HomePlug AV2 solution for the Powerline 1200 family. This has two members, the TPL-420E2K and TPL-421E2K. The latter has pass-through outlets.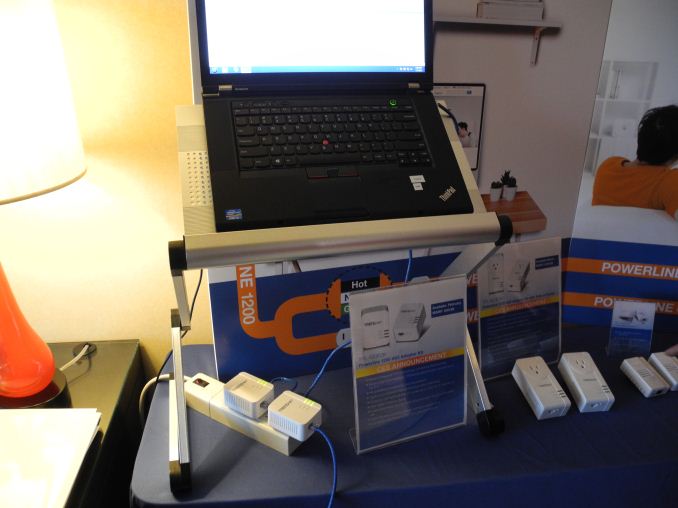 The product line I came away most impressed with was the home control portfolio. In early December 2014, TRENDnet had launched the THA-101, a smart switch that could also act as a 300 Mbps 802.11n wireless extender (a differentiation point compared to the D-Link Smart Plug and Belkin WeMo). It is currently available for $55 on Amazon.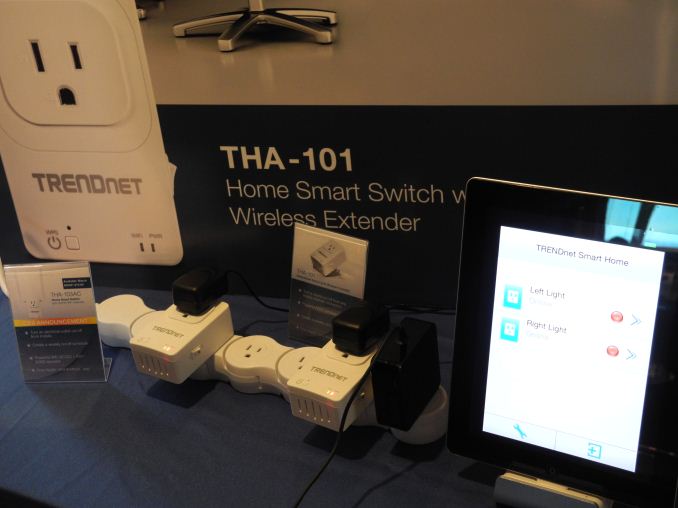 At CES, the added two new smart outlets - one communicating via powerline and the other having the ability to act as an extender for 802.11ac networks (single spatial stream only). The former is the THA-102PLK - a kit which also includes a powerline adapter for connecting to a router on one end. It will reach the market in April with a MSRP of $105. The AC extender / smart switch is the THA-103AC which will come to market in March 2015 for $80.
All the smart switches are controllable via free mobile apps (iOS / Android). It is also possible to set basic schedules and monitor power / energy consumption. One of the key selling points, in my opinion, is the fact that it can be fully controlled via a web browser. My understanding is that it is a open product. Though no public APIs are available, it shouldn't be too difficult to control the unit via custom scripts, given that it can be controlled via a web browser. We are planning to request TRENDnet for a sample in order to see how it compares to the UFO Power Center and the Ubiquiti Networks mPower Wi-Fi power strip.
Source: TRENDnet