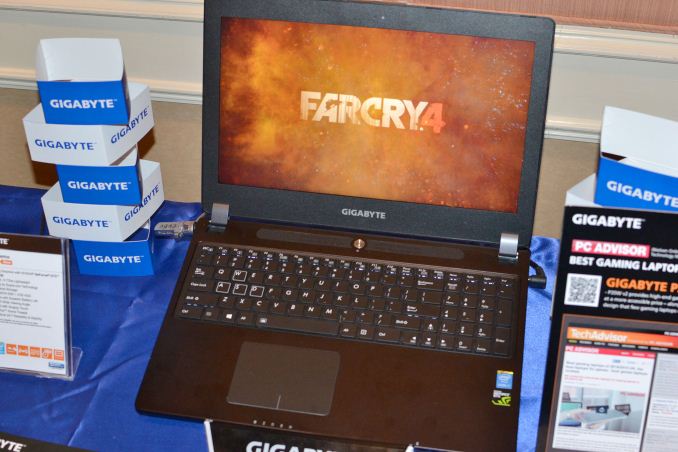 One of the notebook vendors that I've been really interested in visiting is Gigabyte, as their P-series offerings look quite promising. Aesthetics are of course a rather subjective topic, but I do like the fact that Gigabyte tends to be a bit less gaudy with their own brand of gaming notebooks. Of course they also make the AORUS brand of gaming notebooks that is far less subdued, but we'll cover that in a separate piece.
Starting with their highest end offering, the Gigabyte P37X is a 17.3" notebook that comes with a GTX 980M GPU, and it's the thinnest 17.3" laptop to be equipped with that GPU. I supports a pair of mSATA SSDs and can hold up to two 2.5" drives (if you are willing to give up the optical drive). Cooling consists of dual fans, and the keyboard also includes a macro hub. Perhaps most importantly, the display is a 1080p IPS (or AHVA?) panel, providing for wide viewing angles and generally better colors than TN displays. The P37 will be available in three different SKUs, with the P37X targeting a price of $2100-$2300 (with GTX 980M); the P37W will cost $1750-$2000 (GTX 970M); and the P37K will cost $1150-$1350 (GTX 965M). Availability is expected in February.
Up next and very similar in appearance to the P37 is the P35, now in its third iteration. It has basically all of the same features as the P37, only with a 15.6" screen and slightly smaller chassis. What's truly surprising is that Gigabyte has managed to put a full GTX 980M 8GB into a laptop that's only 20.9mm thick – along with two mSATA SSDs, a 2.5" drive, and either a slim optical drive or a second 2.5" drive bay. Unlike the 17.3" market, HiDPI displays are readily available for 15.6" laptops, and the P35 comes with a WQHD+ (3200x1800) IPS display. There are three SKUs again, the P35X v3 is at the top and comes with GTX 980M with a price of $2100-$2400, depending on configuration; P35W v3 comes with GTX 970M and will cost $1750-$2000. Both of these SKUs already began shipping in late 2014. Finally, a third SKU, P35K v3, was launched at CES with the newly released GTX 965M; it will cost $1500-$1600 and should be available this month.
Last but not least, the P34 is also in its third iteration, and it should begin shipping this month or next. It has a 14" 1080p IPS display and features a single mSATA SSD and a 2.5" bay. It's as thin as the P35, 20.9mm, and weighs an impressively light 1.71kg. The P34W v3 comes with a GTX 970M with a price of $1700-$1900 and should ship this month. The P34K v3 is the latest addition with a GTX 965M and a price of $1500-$1600, and it should ship next month.
In terms of our hands on time with the devices, all of them feel relatively solid and it's great to see Gigabyte opting to avoid the use of any TN displays. Build quality seems good if not exceptional – the chassis is mostly plastic, but still relatively solid to handle. The keyboard and touchpad also seem good, though the 10-key layout on the P35 in particular basically breaks all the 10-key rules and will not be especially useful. The only real question I have is whether the laptops can truly cope with the level of hardware they're using, as substantially larger laptops sometimes get a bit hot.
We've asked for the chance to review all of the latest P3x offerings, though not all at once, and we hope to be able to test the P35X v3 in particular. GTX 980M with a 3K display in a very thin 15.6" chassis happens to press all the right buttons for me. Let's hope it can live up to our high expectations.