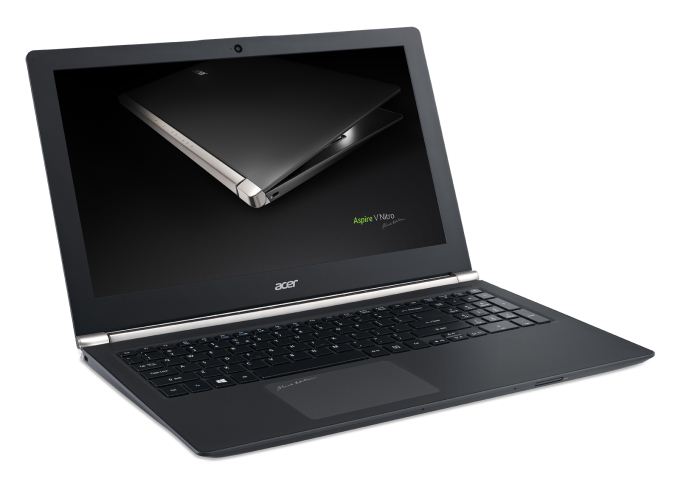 Back in late September, Acer announced a new line of laptops, the V Nitro Black Edition of their popular V series. The V series in many ways is the replacement for the earlier TimelineX models, but with a bit more punch thanks to the higher performance CPUs and GPUs. All of the V Nitro Black Edition laptops currently come with Core i7-4710HQ processors and GTX 860M graphics, which is generally sufficient for gaming (perhaps with a few dials turned down a notch or two) or any other work you might need to do. The Nitro Black Edition is Acer's current "mainstream high performance" laptop brand, and the overall design and build quality looks pretty good.
There are currently two V Nitro Black chassis, the V15 and V17 (15.6" and 17.3" displays, respectively), with pricing ranging from $1090 for the base model V15 (no SSD on that one) up to $1300 for the V15 with a 256GB SSD and 1TB HDD, or $1400 for the V17 with 256GB SSD and 1TB HDD. Right now, prices on Amazon are a bit higher than elsewhere, but that can change at a moment's notice so shop around. Today Acer has added another configuration for the V15, a $1500 model with 256GB SSD like the $1300 model, but now with a 4K UHD (3840x2160) display.
The V15 UHD laptop has an IPS display and is currently up for pre-order on Newegg with shipping slated for the end of the month. All Full HD V Nitro Black Acer laptops also use IPS displays, and they include a complimentary code for Assassin's Creed Unity (scheduled to ship November 11, if you're wondering), so that's a $50 value if you were planning on buying the game. Unfortunately, the new UHD model doesn't appear to include the free game. Full specs for the UHD V15 Nitro Black Edition are below.
Acer V15 Series VN7-591G-70JY Specificaiotns
Display Size
15.6-inch
Display Resolution
Ultra HD (3840 x 2160) IPS
Processor
Intel Core i7-4710HQ (Quad-core 2.5-3.5GHz)
Graphics
NVIDIA GeForce GTX 860M (2GB GDDR5)
Memory
16GB DDR3 dual channel memory
SSD / HD
256GB solid state drive
1TB hard drive
Optical Drive
n/a
Keyboard
Backlit; full size with dedicated numeric keypad
Audio
Four speakers with Dolby audio enhancements
Interfaces/Ports
3x USB 3.0
1x HDMI w/HDCP support
Ethernet (RJ-45)
Headphone/speaker/ line-out jack
AC adapter
Kensington lock slot
Battery
3-cell Li-Ion (4605 mAh); up to 4 hours
Communication
802.11a/b/g/n (dual band 2.4GHz/5GHz)
Bluetooth 4.0
10/100/1000 Gigabit Ethernet LAN (RJ-45 port)
Card Reader
Secure Digital (SD)
Webcam
HD (1280 x 720)
O/S
Windows 8.1
Weight
5.29 lbs (2.4kg)
Dimensions
15.34" x 10.14" x .94" (WxDxH)
(390mm x 257.5mm x 23.9mm)
MSRP
$1,500
Of course there is one potential problem with using a 4K display in this sort of laptop: there's no way the GTX 860M is going to handle most games at 3840x2160, at least not without turning down most of the quality settings. There are still scaling issues as well (e.g. I've seen at least a couple recent games where things break if Windows isn't set to 100% scaling). My opinion continues to be that while High DPI displays can look great, they're not without caveats.
Source: Acer PC