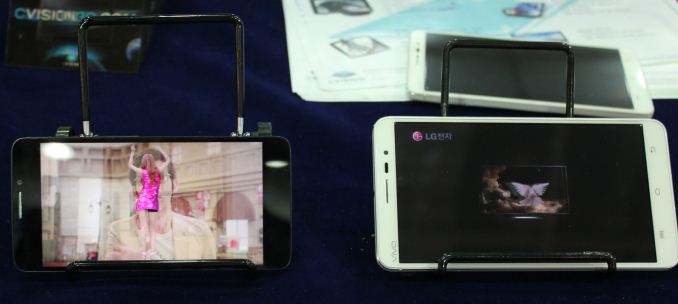 One of the most interesting things I saw at this year's Computex was CVision's glasses-free 3D technology. You likely have not heard of the company before because they are currently not spending any money on B2C marketing or PR as they are focusing on selling/licensing the technology to OEMs to bring it to the mainstream market.
The way their technology works is unique. Instead of requiring a special panel or hardware, all that is needed is a custom film, or convergence of thin-film barrier as it's officially called, that is applied on top of the panel. That film along with CVision's software is able to produce a 3D experience that doesn't require glasses and to be honest, the quality was just awesome. CVision showed me a couple of short videos to highlight the 3D experience and I didn't notice that it was 3D unless I specifically looked for it. I mean, that's how smooth it was. There was no ghosting or bleeding, just sharp picture in 3D. The viewing angles were also as good as you would expect from an IPS panel -- the 3D effect didn't suffer at all even when viewed from an angle. Of course, if I moved the device or my eyes/head while playbacking the video, the smoothness was lost but as long as I held the device steady and focused on the screen there were no significant drawbacks compared to 2D.
CVision's software even supports 2D to 3D conversion on the fly, so playing Angry Birds in 3D wasn't a problem at all and it was actually very cool as the game itself suits well for 3D. Photos can also be converted to 3D and CVision showed me a couple of photos they had taken on the show floor with the phone. The camera itself was similar to what you can find inside any smartphone, so the conversion was done purely in software and the result was decent. I'm not sure if an exhibition hall is the best target for 3D photos as obviously it works the best when you are just focusing on one object but it was still clearly 3D but not as impressive as the videos or Angry Birds.
The main advantage of CVision's technology is that it can be applied to any device without the need for major re-engineering. The film itself is very thin and it is the only thing that is needed in terms of hardware and the prototype devices CVision had at their booth were as slim as any other high-end smartphone in the market. Currently the cost is about $3 per inch but CVision believes that the cost can scale with higher volumes. The technology can scale to any size but as CVision is more of a technology company than a real manufacturer, they don't have the equipment to manufacture the films for TV size screens at this moment. However, their roadmap does include a 42" 1080p TV but it might be more of a concept at this point.
All in all, this is the first time I'm truly excited about 3D. I've never been a fan of the glasses and all the glasses-free 3D technologies I've seen so far have had too many limitations to make them better than 2D in my opinion. CVision is currently in talks with several smartphone and tablet OEMs to bring the technology to the mainstream market and I sure hope the OEMs see the potential. I mean, either I got totally fooled by their (non-existing) marketing or their technology "just works".