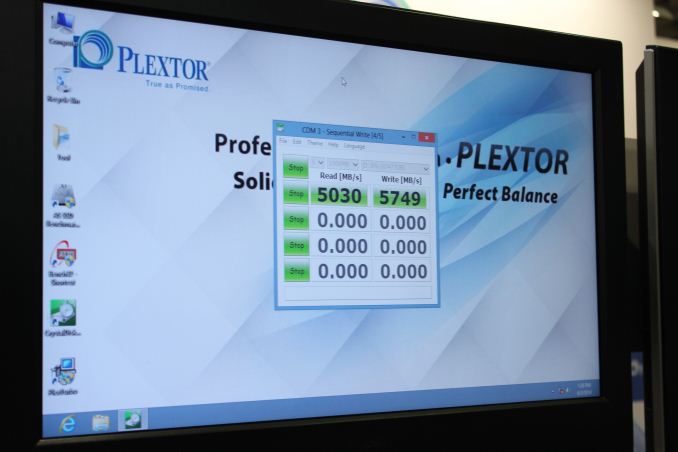 While Computex is already over for this year, we still have a lot of stuff to go through and post. I stopped by at Plextor's booth earlier this week and Plextor showed me their brand new M6 Pro along with PlexTurbo software. Plextor showed the M6 Pro already at CES this year but now the drive is nearly ready for the official release. The hardware inside hasn't changed from CES and it's still uses the Marvell 88SS9187 SATA 6Gbps controller with Toshiba's A19nm NAND and the release is scheduled to take place next month, so we should be able to get samples pretty soon.
In addition to just re-showing the CES products, Plextor also had something new to demo. PlexTurbo is software similar to Samsung's RAPID function and it leverages system RAM to increase transfer speeds. The key difference to RAPID is that PlexTurbo uses RAM as a write-through cache, which means that the data is written to both RAM and the SSD simultaneously. Samsung's approach is write-back based, which is more vulnerable to data loss as initially the data is only written to the cache and is not written to the SSD until the data in the cache is about to be modified. Both RAPID and PlexTurbo are limited to 1GB of RAM to ensure that the system still has enough RAM for standard operation.
Plextor showed me a video of their internal testing comparing PlexTurbo with RAPID in case the drive is disconnected right after writing something. In the test Plextor used a Word file that they modified and unplugged the drive after saving the file. With RAPID the modifications were lost, whereas thanks to Plextor's use of write-through cache the modifications remained intact. Of course this test was designed to promote PlexTurbo's approach and we will have to run our own tests to confirm the results but it looks like Plextor's approach might be a bit more reliable than Samsung's.
PlexTurbo also appears to provide better performance as I saw speeds of up to 10GB/s when the settings were optimised for the software. Plextor did admit that the first generation of PlexTurbo was mostly designed for high benchmark scores, so I would take the results with a grain of salt, but the next version should focus more in actual real world performance. Either way, it's certainly interesting to see how PlexTurbo stands up with RAPID. With SATA 6Gbps it's getting very hard to differentiate in the market and providing software like PlexTurbo is one of the only ways, even though the real world gains are debatable.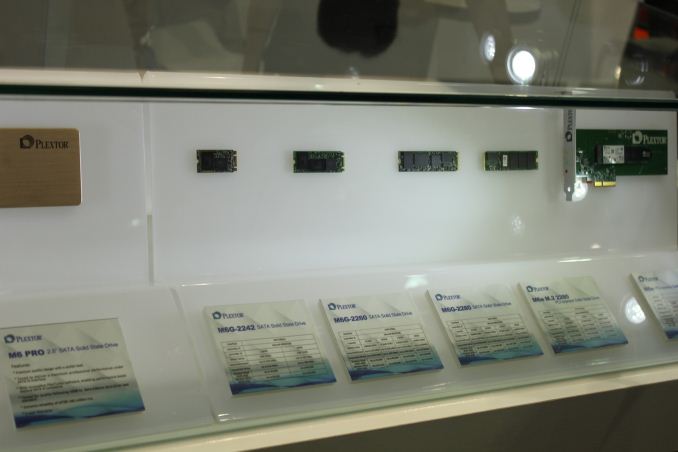 Furthermore, Plextor announced an M.2 version of the M6e along with other SATA based M.2 SSDs. Currently the M6e has only been available with the half-height, half-length PCIe adapter, which is just added cost for users who are looking to upgrade the M.2 SSD in their laptops.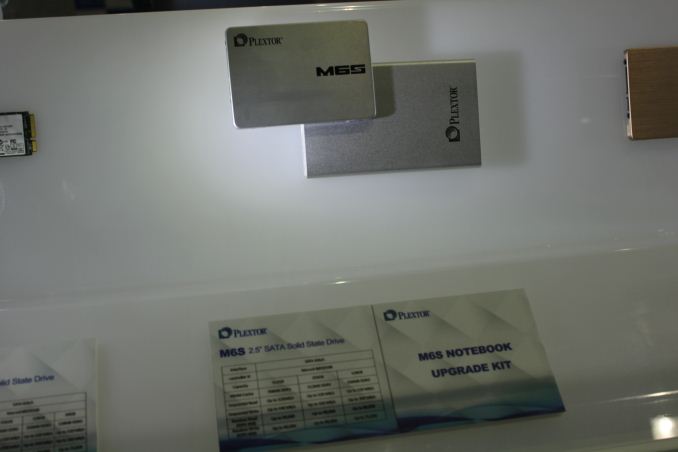 Plextor will also be bringing a notebook upgrade kit for the M6S. The kit includes a 2.5" chassis for the old internal drive, which can then be used as external storage for backups for instance. Finally, Plextor told me that they will be introducing M6V later this year. The V stands for value and this will be the budget drive from Plextor. I was't able to get much details other than that it won't use Toshiba NAND but this might as well be the TLC drive Plextor has been developing for years now.