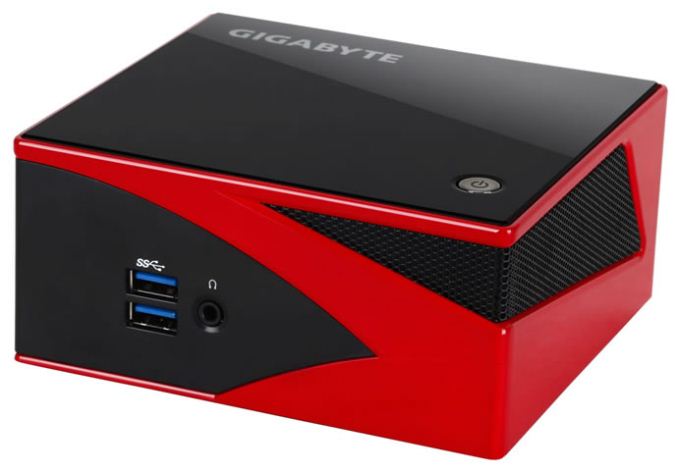 GIGABYTE's push on the BRIX has been with so much gusto it is hard to keep up with all the possible models coming to market and ones they are merely testing the water with. Hot on the heels of their BRIX Pro being certified as a Steam Box at the Consumer Electronics Show, there were hints of BRIX models coming with discrete mobile graphics, namely the 8000M series. We have received a PR from GIGABYTE regarding the next model in the stack, dubbed the BRIX Gaming.

The main hardware specifications start with an AMD A8-5557M APU, a dual module 35W Richland-based part (four threads) at 2.1 GHz (3.1 GHz Turbo), with onboard HD 8550G graphics (256 SPs @ 554/720 MHz). On the discrete GPU side, there is an R9 M275X mobile graphics solution (specification unknown, requesting more information), but no official word if these two can be paired for a dual graphics scenario.
As with most BRIX modules, this will be a barebones unit, with space for users to include two SO-DIMM memory units and a choice of either mSATA or a 2.5" SSD. The device comes with four USB 3.0 ports (two front, two rear), a miniPCIe WiFi module with dual band 802.11ac compatibility (with BT4.0), and VESA mounting. Video outputs come in the form of a HDMI and mini-DisplayPort.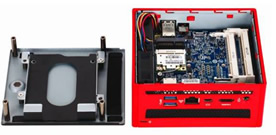 The unit is designed to accommodate the 2.5" SSD compared to most BRIX units (59.6mm x 115.4mm x 128mm), and depending on the exact specifications of the mobile GPU could make a nice LAN PC for on the move. The BRIX Gaming is also being sold by Maingear, who are going to rebadge it as their "Spark" Steambox PC and should be offering users to customize the insides so it can be pre-built for them.
I have asked for confirmation of R9 M275X specifications, as well as release dates, pricing, and more detailed images of the internals.
Addendum: The product page for the BRIX Gaming is here, and the product code is given as GB-BXA8G-8890, suggesting that originally this build used the 8890M discrete graphics solution. This is further corroborated by coverage of the BRIX line at CES where Colin Brix (GIGABYTE Technical Marketing) himself showcased a BRIX with discrete 8890M graphics.
Due to Chinese New Year, GIGABYTE USA have infromed me that a media kit will be available after CNY.