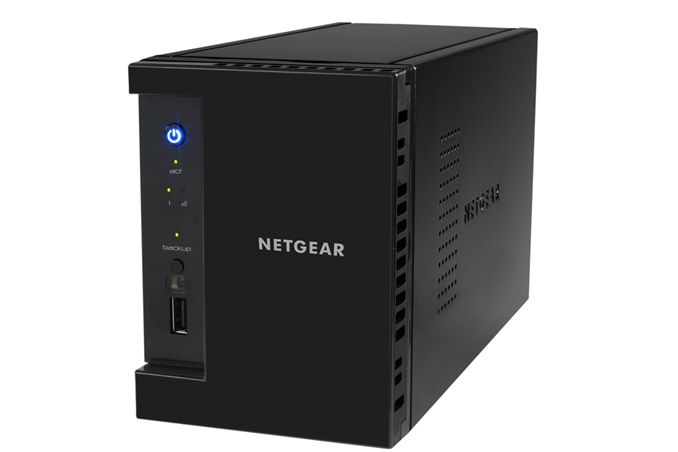 Introduction
x86-based NAS units targeting SMB consumers are usually of the 4-bay or more variety. However, there is a growing market for 2-bay high-performance units. Almost all major NAS vendors have an Atom-based 2-bay SMB NAS unit. We have not reviewed any 2-bay x86-based NAS units before, but a number of such units have been evaluated in our testbed. Over the next couple of weeks, we will be looking at some notes from our evaluations. Today, we are going to look at Netgear's 2-bay SMB offering, the ReadyNAS 312.
Netgear's storage lineup has been in a bit of flux over the last few years. While the x86-based versions have been quite stable, their SOHO / home consumer lineup had to shift from SPARC-based units to ARM-based ones. We covered the reboot of the ReadyNAS OS for ARM-based units in the review of the ReadyNAS NV+ v2. Despite Netgear's promise to work on adding features and making the new ReadyNAS OS better to use, here we are, two years later, looking at yet another reboot of the ReadyNAS OS.
In terms of redesign, ReadyNAS OS 6.0 is the most ambitious yet. Unlike other NAS vendors who opt for the safety of the proven EXT3 / EXT4 file system for the internal volumes, Netgear has opted for the cutting-edge BTRFS. The benefits of BTRFS over EXT3 / EXT4 are numerous. These include checksumming for integrity, in-built snapshotting mechanisms, continuous defragmentation, online data compression, scrubbing with error correction and built-in storage pools which make a separate LVM unnecessary. Compared to ZFS, the memory requirements are more manageable, but, deduplication support in ZFS is much better. However, there is an impression amongst some IT folks that btrfs is not stable enough for deployment in production environments. Netgear indicates that btrfs is part of Oracle's production kernel and, currently, the same code and kernel are being used in ReadyNAS OS 6.x.
The specifications of the RN312 are provided below:
Netgear ReadyNAS 312 Specifications
Processor
Intel Atom D2701 (2C/4T, 2.13 GHz)
RAM
2 GB DDR3 RAM
Drive Bays
2x 3.5"/2.5" SATA 6 Gbps HDD / SSD (Hot-swappable)
Network Links
2x 1 GbE
USB Slots
2x USB 3.0 / 1x USB 2.0
eSATA Slots
1x
Expansion Slots
None
VGA / Display Out
HDMI
Full Specifications Link
Netgear ReadyNAS 312 Full Specificatios
The ReadyNAS 312 runs a Linux kernel (v3.0.87). Other interesting aspects of the platform can be gathered after gaining SSH access into the unit.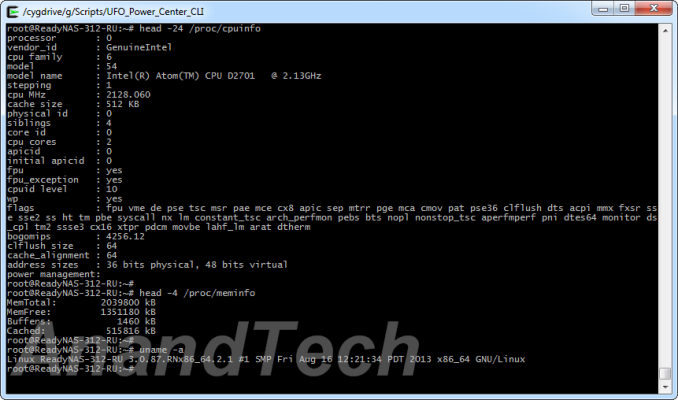 In the rest of the review, we will cover the setup and usage impressions followed by a description of our testbed setup and testing methodology for the ReadyNAS 312. This is followed by benchmarks in single and multi-client modes. For single client scenarios, we have both Windows and Linux benchmarks with CIFS and NFS shares. We will also have some performance numbers with encryption enabled. In the final section, power consumption numbers as well as RAID rebuild times will be covered along with some closing notes.