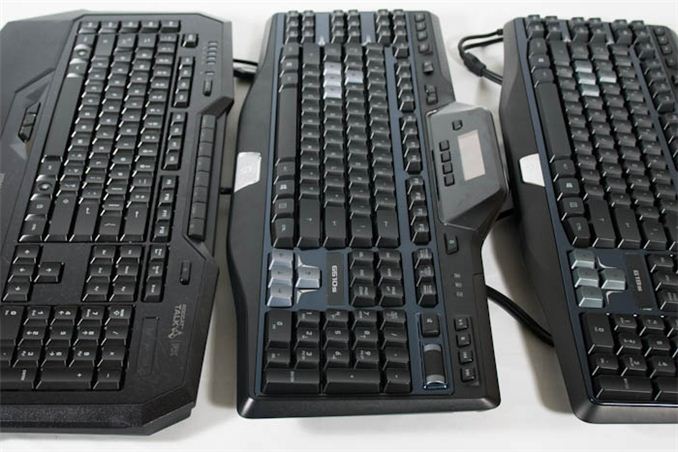 I recently had an extended chat with a product manager at Corsair over keyboards. Their Vengeance K-series mechanical keyboards have apparently been selling well, and that's understandable; they're attractive, smart, and functional. They cost a pretty penny, but it's clear thought went into their designs. The brand new K70 in particular seemed to be flying off the shelves, and that's understandable since I'm typing out this review on one right now, opting to give it a shot over my resident K90.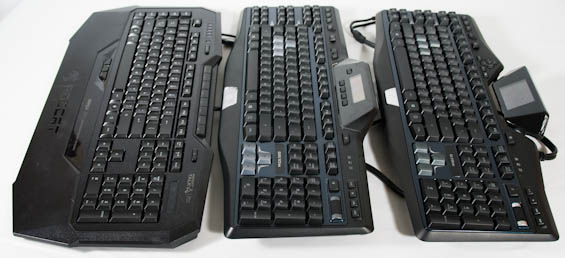 Peripherals can be a very tough nut to crack, and I've been delinquent with a stack of keyboards I've had in the apartment for a few months now as I've been cranking out reviews in other product categories. I'm hoping I can at least rectify that omission somewhat with some basic seat-of-the-pants impressions of six recent keyboard releases.
Logitech G19s and G510s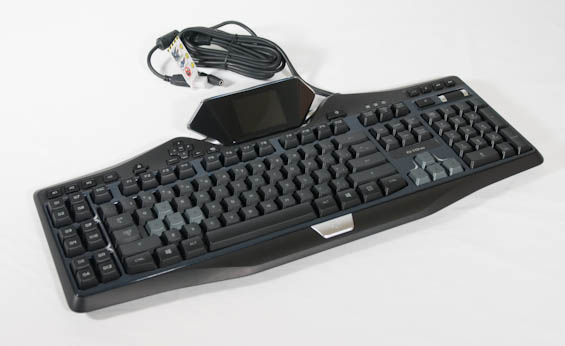 Logitech G19s, MSRP $199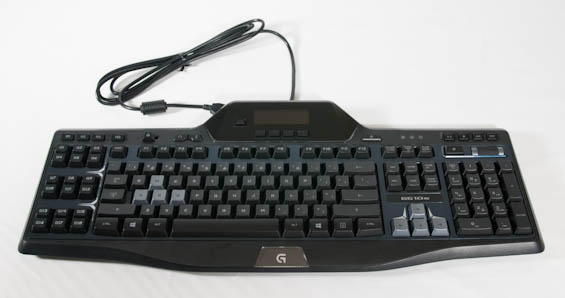 Logitech G510s, MSRP $119
Logitech's two new high end keyboards featuring their Gamepanel (the G19s has a full color LCD while the G510s is monochrome) remind me a lot of the first-generation iPhone: fantastic for virtually anything but their intended purpose. The G19s sports a powered USB 2.0 hub alongside its color Gamepanel and requires an external power brick, while the G510s is powered off of a single USB 2.0 cable but ditches the USB hub in favor of integrating microphone and headphone jacks off of its own audio processor. Both keyboards are beautifully designed but feature a flaw that's borderline fatal at their price points: they're still membrane keyboards.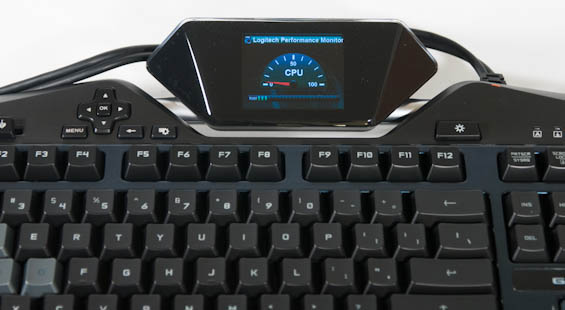 First, the good stuff: the Gamepanel is actually a pretty nifty feature. A small auxiliary display that can show you extra information in game is a great idea, and while support typically has to be baked into individual games, it worked better than I'd expected. Borderlands 2 and Civilization V both took advantage of the Gamepanels on either keyboard, and the only game I tested that I was genuinely surprised/disappointed didn't use the display was Skyrim, which would definitely benefit from it. Support with something proprietary like this is going to be hit and miss, but it had enough hits to feel like a worthwhile addition. You also get onboard memory for storing game profiles, media controls...really, these keyboards pretty much have the works.
The problem is that they're not very good as just plain keyboards. The membrane switches are mushy, and Logitech's justification for using membranes (that configurable backlighting is next to impossible with mechanical switches) felt flimsy. Would you rather be able to make your keyboard glow all the colors of the rainbow, or just glow a single color at varying intensities and actually be enjoyable to type on? The top end of the keyboard market is becoming increasingly dominated by higher quality keyboards with mechanical switches; to ask $199 for a keyboard that has everything but quality switches under the keys is a bitter pill.
I personally felt like the G19s was a total wash; even at $179 it's absurdly expensive and you're really paying for the Gamepanel functionality. If you want that functionality and are willing to accept a less flashy display boiled down to just the useful information, the G510s at $119 can at least make a case for itself. You still get the color-configurable backlighting, but honestly, I have a hard time accepting membrane switches on any ostensibly high end desktop keyboard at this point.
SteelSeries G6v2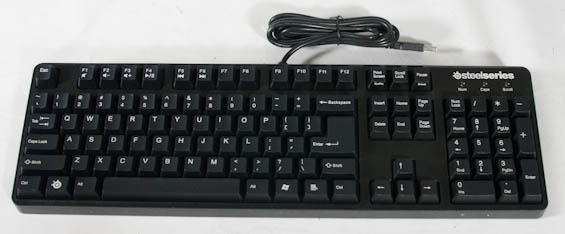 SteelSeries G6v2, $99
Compared to the two Logitech entrants, the SteelSeries G6v2 is hanging out on the polar opposite end of the spectrum. This is about as barebones as a mechanical keyboard gets; it doesn't include adjustable tilt the way even a $20 bargain basement keyboard will. Under the keycaps are Cherry MX Black switches, but the problem SteelSeries is running into with this offering is that the slightly nonstandard layout turns out to be about its only selling point compared to competing keyboards. The lefthand Windows key has essentially been replaced by a Function key that enables media and volume controls when used in conjunction with F1 through F6. I'm displeased with the L-shaped Enter key, though, which forces the backslash key down next to the right Shift key and thus shrinks the footprint of that key.
I'm not a huge fan of Black switches, and the ones in the G6v2 actually feel ever so slightly mushier than the ones employed in Thermaltake's Black-based keyboards. These are all picking nits, though; the G6v2's biggest problem is the $99 price tag. Rosewill will sell you a garden variety mechanical switch keyboard with just about any color switches you want for $10 less, and those keyboards feature both adjustable tilt and the same PS/2 support the G6v2 does.
ROCCAT Isku FX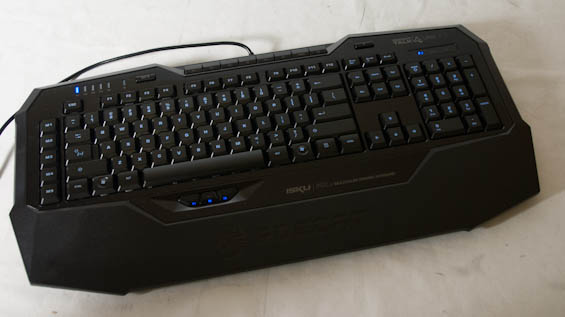 ROCCAT Isku FX, Discontinued at NewEgg
It's absolutely my mistake that the Isku FX wound up being discontinued on NewEgg by the time I got around to reviewing it, but it's a shame it was around for such a short time because for a membrane keyboard, it's actually pretty solid. The wrist rest is built into the entire assembly, but ROCCAT's claim to fame with this keyboard is that the whole thing is basically programmable. Like the Logitechs, you get color configurable backlighting, but ROCCAT's software is for people that want absolute control over their hardware.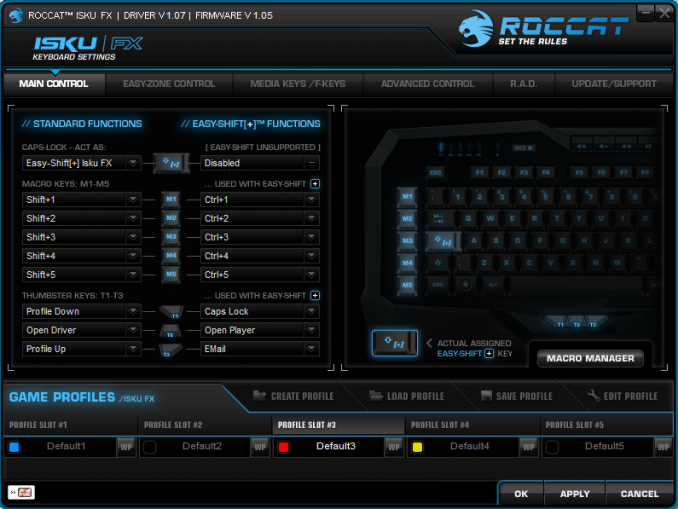 In addition to the comprehensive hardware, I found the membrane switches on the Isku FX to be a bit snappier than Logitech's, and the placement of three programmable buttons beneath the spacebar is brilliant. Rows of macro keys on the left side of a keyboard have always been questionable to me, but these three buttons are very easy to hit deliberately and very difficult to hit accidentally. ROCCAT's software isn't for the faint of heart, but power users will be in heaven. The $99 asking price for the multicolored Isku FX is onerous, but the blue-backlit standard Isku can be found for much cheaper if you know where to look, and I'd pretty comfortably recommend that one for users not ready to spend up to a mechanical keyboard.
Corsair Vengeance K70 and K95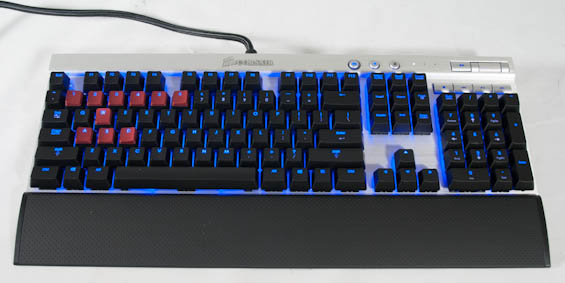 Corsair Vengeance K70, MSRP $139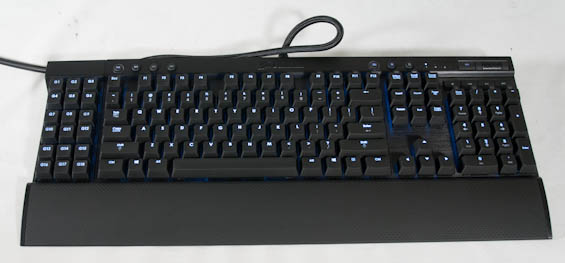 Corsair Vengeance K95, MSRP $159
Mechanical keyboards must be selling well, because the prices on them have gone up considerably across the board. The K70 and K95 wind up essentially being corrective solutions for the well-received K60 and K90; if you had one of those and you liked it, these are virtually identical with a couple of minor upgrades. A lot of users were miffed by the use of membrane switches in "nonessential" keys on the K60 and K90; Corsair heard you loud and clear, and the K70 and K95 now feature Cherry MX Red switches under every key. Both also include user-configurable polling rates controlled by switches on the back of the keyboard next to the USB cable, and users can program selective lighting zones (the default highlights the arrow keys, WASD cluster, and 1 through 6 keys).
Compared to the K60, the K70 is backlit, and it now comes in anodized black with red backlighting in addition to the standard silver with blue backlighting. You get the same swappable special textured keys for the WASD cluster and numbers 1 through 6, and the spacebar is now slightly textured. Gone is the awkward palm rest, replaced by a more standard palm rest. If you liked the K90 but didn't need the macro cluster, this is essentially the keyboard you wanted.
Meanwhile, the K95 is essentially a premium K90 (already fairly premium in and of itself). It uses an entirely black anodized aluminum backplane, and the backlighting is white instead of blue. I'd been waiting for the K70 and was less interested in the K95, but the K95 is absolutely striking. It looks and feels premium in every sense of the word, but you will pay dearly for the privilege. I'm a big proponent of spending up on quality peripherals, but $159 is seriously pushing it. The best deal in Corsair's stable will probably continue to be the K60, but I think the K70 is really the "one size fits all" star of their lineup.
Conclusions
Good keyboards have gotten expensive; mechanical ones more so. Undoubtedly there's massive demand inflating prices for switches that were already fairly costly in the first place, which is how we wind up with a brutal $159 tag on the Vengeance K95. At the same time, though, it's very hard to really justify not buying a mechanical keyboard if you're planning to spend on quality kit. I think that's where Logitech really missed the boat; the G710+ is a great mechanical keyboard but was late to the party, and they're banking on features to get the G19s and G510s around their middling membrane switches. I feel like Logitech just needs to go whole hog and incorporate the best of everything into some kind of master keyboard: mechanical switches, onboard audio for headsets, Gamepanel, and powered USB hub. $249 would be a brutal pricetag but at least you could look at the keyboard and go "that's basically the beefiest keyboard on the market."
SteelSeries is a name I like seeing on laptops, but the G6v2 is seriously underwhelming. When the much fancier Corsair Vengeance K60 can be had for roughly the same price, it's a total bust. I'm hoping to get more SteelSeries kit in at some point down the road, so hopefully this one is just a hiccup.
ROCCAT peripherals continue to cater to the true power user in ways other gaming peripherals don't, but there's a hidden sort of brilliance to their products. Rows of macro keys to the left of the primary keyboard are of questionable value to anyone playing any realtime game, but the trio under the spacebar are very smart. If you're not ready to spend up and graduate to a mechanical keyboard, see if you can track down a reasonably priced Isku.
Finally, the new Vengeance K70 and K95 keyboards are welcome revisions of existing products. The K95 is a modest upgrade on the old K90, but the K70 winds up being a bit of a showstealer. The K70 has an uncomfortable price tag, but it's probably the most attractive and well-rounded keyboard I've ever seen. Users who don't need keyboards with boatloads of functionality but just want a nice, clean, comfortable keyboard are going to be extremely well-served by the K70. Enthusiast-class peripherals have frequently just been good buys for people who want high quality kit, and the K70 serves that market so well that I have to wonder if it isn't being hamstrung by its gamer-oriented branding. The K95 is going to continue to be primo for die-hard gamers who must have the best of everything, but I think the K70 is the real star of Corsair's peripheral lineup.