I had a chance to briefly visit with ROCCAT (and hope to get some of their gaming mice and keyboards in for review soon) and walked away a bit stunned by what they were working on. What portended to be a meeting about high quality keyboards and mice turned out to be much more.
Their first product on hand was a mechanical keyboard which featured per-key programmable lighting along with assorted lighting effects and, happily, a wrist rest. Their Ryos mechanical keyboard includes audio pass-through and a dual port USB 2.0 hub, and actually includes dual ARM processors to handle all of its functionality.
What really blew me away, though, was the software solution they dubbed Power-Grid. Power-Grid is a fairly robust system monitoring application (although it's missing desperately needed GPU monitoring hooks), but it shines both in its extended functionality and the way that functionality becomes available to you...on your iPhone or Android phone. The Power-Grid phone app works over Wi-Fi, and essentially feeds system monitoring, instant messages, RSS feeds, and volume control for your PC to your phone, essentially adding a Razer Switchblade style UI to a touchscreen you already own.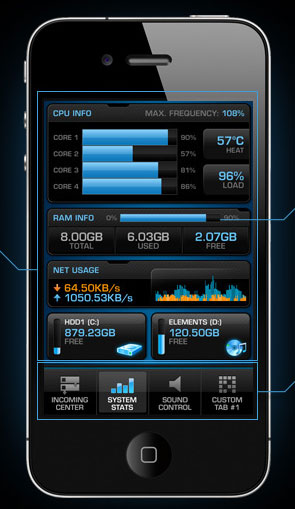 That would be cool in and of itself, but where I think Power-Grid really takes the cake is the interface. Custom software solutions from companies not named Apple can tend to be very hit or miss, and this is doubly true of peripheral manufacturers. Yet Power-Grid's configurable interface is both attractive and incredibly intuitive. Even better, it can be used to create shortcut buttons to launch PC applications from your phone, and they even demonstrated an internal profile for Skyrim one of their developers put together in twenty minutes. That profile was essentially a 4x4 grid of shortcuts for the game that would toggle inventory, arm/disarm, running, and more.
What makes Power-Grid so attractive to me is the combination of a stellar UI and the fact that it explicitly does not demand investment in a hardware ecosystem the way something like Corsair Link might. If you have a smartphone and ninety-nine cents, you'll be able to use Power-Grid. ROCCAT's software makes use of things you already have, and it cheaply and effectively adds functionality to your system.
The beta is available on their site and worth checking out.