Introducing the HP Phoenix h9se
Outside of the Envy series and the bygone era of Voodoo (anyone remember the Blackbird?), HP hasn't exactly been a brand associated with high performance gaming desktops, at least not on the consumer side. They're a large vendor and we tend to expect basic computer systems from them--the type of system we'd buy for our parents or grandparents, not something that would be competitive with the kinds of desktops we can get from boutiques. Yet companies like HP or Dell can leverage their size to produce slick, heavily customized chassis designs for their builds, and that's exactly what HP has done with the Phoenix h9se.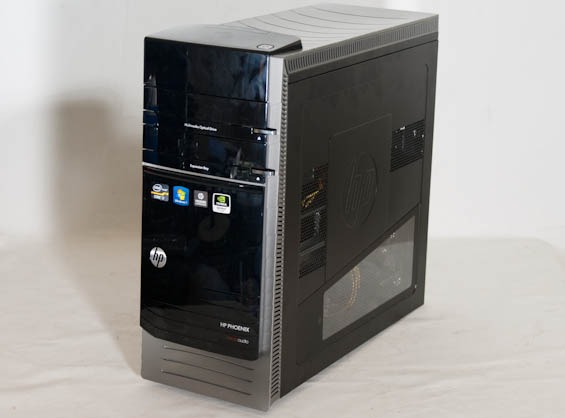 In its nearly sub-midtower dimensions, HP has crammed the Phoenix with a heck of a lot of power while producing something with a unique aesthetic. It's attractive without being gaudy, and in true big-box fashion they've managed to keep the price down. Is the Phoenix worth the gaming dollars of you and yours? Here's the quick rundown of our review unit.
HP Phoenix h9se Specifications
Chassis
Custom HP Phoenix
Processor
Intel Core i7-3960X
(6x3.3GHz, Hyper-Threading, Turbo to 3.9GHz, 32nm, 15MB L3, 130W)
Motherboard
Custom X79 Chipset Board
Memory
4x4GB Micron DDR3-1600
Graphics
NVIDIA GeForce GTX 580 1.5GB GDDR5 (OEM)
(512 CUDA Cores, 772/1544/4008MHz core/shaders/RAM, 384-bit memory bus)
Hard Drive(s)
Intel 320 Series 160GB SATA 3Gbps SSD

Hitachi Deskstar 7K1000.C 500GB 7200-RPM SATA 6Gbps HDD
Optical Drive(s)
Blu-ray/DVDRW Combo Drive
Power Supply
600W Custom
Networking
Ralink RT5392 802.11b/g/n Wireless
Realtek RTL8168 PCIe Gigabit Ethernet
Audio
IDT 92HD89E2
Speaker, mic/line-in, surround jacks, optical out for 7.1 sound
Front Side
Optical drive
4x USB 2.0
SD/MMC/CF card reader
Top
2x USB 3.0
Headphone and mic jacks
Back Side
Optical
4x USB 2.0
2x USB 3.0
Ethernet
Speaker, mic/line-in, surround jacks
2x DVI-D (GeForce)
1x Mini-HDMI (GeForce)
Operating System
Windows 7 Home Premium 64-bit SP1
Dimensions
16.22" x 6.89" x 16.34"
(412mm x 175mm x 415mm)
Extras
Integrated 802.11b/g/n
Closed CPU liquid cooling loop
Warranty
2-year hardware and 1-year software support
Pricing
Starts at $999
Review system configured at $2,899
Our sample system is very nearly as beefy as it gets (and then some!) outside of some upgrade options on storage and memory. While you might think the Phoenix is an Intel-based system from looking at the above table, HP offers the Phoenix with every major processor series. At the $999 price point you start with an AMD FX-8100, which is upgradeable to the FX-8150, but at that point you're within spitting distance of the vastly more powerful Intel Core i7-2600. Ours comes equipped with Intel's Sandy Bridge-E Core i7-3960X, an extremely powerful but costly processor.
HP will also be refreshing the Phoenix with Ivy Bridge once those processors become available. In the meantime, you're also free to overclock any of the unlocked processors that the Phoenix can ship with, although HP won't overclock from the factory and their overclocking support matches Intel's: you're free to do it, but don't come crying to us if/when the overclock is bungled.
Worth noting is that the video card specifically has gone end-of-life from NVIDIA, presumably in anticipation of the release of Kepler, so it's no longer available for order. That leaves the highest performance users hanging in the breeze until March 7th when the AMD Radeon HD 7950 will become available; until then, only the NVIDIA GeForce GTX 550 Ti and AMD Radeon HD 6850 are currently offered. When we asked why the 7970 wasn't being offered, HP's representatives said it was an issue of maintaining a price point. That's a fair response; the 7970 is still pretty fresh in the marketplace, and AMD has seen fit to command a very pretty penny for it. When the 7950 does become available, it'll actually come in at $10 under the GTX 580 configuration.
For the rest of the setup, we've got our preferred SSD + HDD combination for storage, a Blu-ray combo drive, 16GB RAM, and pretty much everything else you'd want from a top of the line system. About the only thing you can't get from the factory in the Phoenix is dual-GPUs; HP sells this strictly as a single-GPU chassis, and the 600W PSU is fitting for such systems. The rest of the components cover all the bases, with USB 3.0 on the top and rear of the chassis and integrated WiFi. Let's hit the benchmarks before discussing the finer details of the build.