Back when we reviewed the Nokia N900 we really only wanted a few major improvements. A faster SoC, slightly thinner and more compact hardware, and more of Maemo Linux. It's been a long wait since then, and Nokia has changed its lineup, canceled the original N900 successor, taken on a new CEO, and rebooted itself under the Windows Phone 7 umbrella.
Those of us that wanted a smartphone running real bona-fide linux seemed destined to be waiting forever. Today however, Nokia officially announced the Nokia N9 and N950 at its Nokia Connection event in Singapore.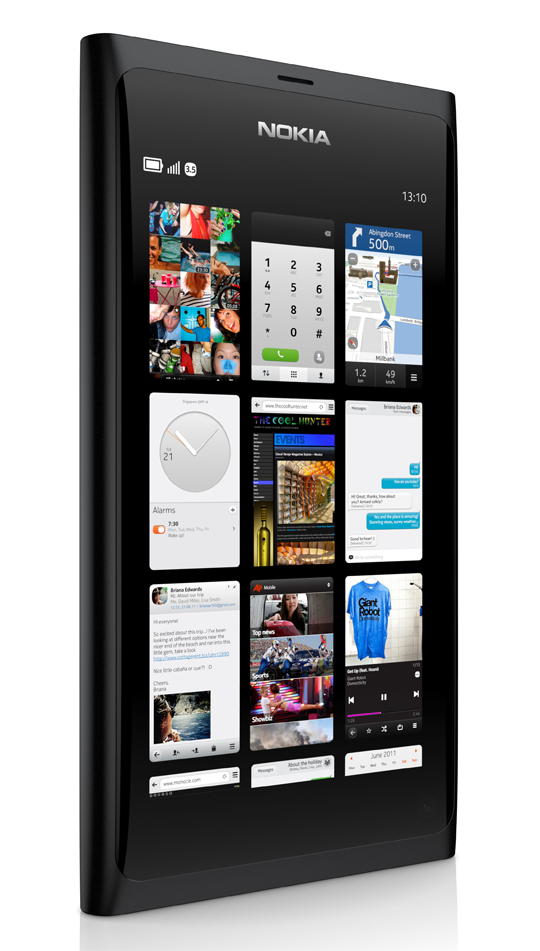 The N9 runs MeeGo, which as you likely know by now is the combination of Nokia's Maemo and Intel Moblin. MeeGo in smartphone form has something we've been waiting patiently for. The N9's industrial design looks nothing short of stunning, though all of the photos of the device so far appear to be renders and not actually physical hardware.
What's unique about the N9 is that the front of the device is buttonless, virtually everything is accomplished by tapping on the capacitive touchscreen, including unlocking the device. There's still volume, power, and camera buttons however.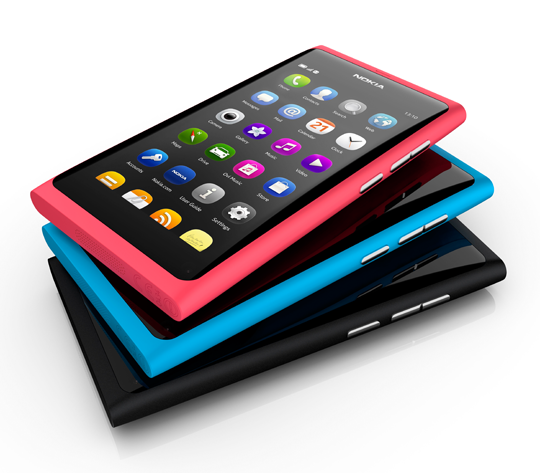 Nokia really seems to have spent a lot of time working on UI for MeeGo as evidenced by an interesting three home screen design, emphasis on using the swipe gesture to change applications, and pinch gestures for getting a multi-window view. The three home screens are purpose-designed for launching applications, viewing open applications and multitasking, and managing events such as news and messages.
The N9 is polycarbonate plastic and unibody construction, and is sans-keyboard. Its cousin is the similarly-specced N950, which is a non-retail developer device that looks like what remains of the original N9. There are anumber of small differences between the N9 and the N950, chief among which is inclusion of a hardware QWERTY keyboard and aluminum construction, thanks again to Simon for finding these differences and tipping me on them.
Nokia Device Specifications
Nokia N9
Nokia N950
Height
116.45 mm (4.58")
(?)
Width
61.2 mm (2.41")
(?)
Depth
7.6 - 12.1 mm (0.3" - 0.48")
(?)
Weight
135 g (4.76 oz)
(?)
CPU
TI OMAP 3630 @ 1 GHz
TI OMAP 3630 @ 1 GHz
GPU
PowerVR SGX 530
PowerVR SGX 530
RAM
1 GB LPDDR
1 GB LPDDR
NAND
16GB or 64GB integrated
16GB or 64GB integrated
Camera
8MP Carl Zeiss 16:9 F/2.2 with Dual LED flash and 720P video capture, Front Facing (?MP)
8MP with Dual LED flash and 720P video capture, Front Facing (?MP)
Screen
3.9" FWVGA (854x480) AMOLED with Gorilla Glass
4.0" FWVGA (854x480) LCD-TFT
Battery
1450 mAh Integrated(?)
1320 mAh
Bluetooth
Bluetooth 4.0
Bluetooth 2.1+EDR
WiFi
802.11a/b/g/n
802.11a/b/g/n
NFC
Yes
No
Sensors
Accelerometer, Compass, Proximity, Ambient Light
"N9 has a slightly more sensitive magnetometer and ALS"
OS
MeeGo 1.2 Hartmattan
MeeGo 1.2 Hartmattan
The two devices also have pentaband WCDMA support and quad band GSM/EDGE support, though there's no word on what cellular baseband is at the core of everything. In addition, the N9 includes NFC support, though Nokia hasn't specifically stated whether all three NFC modes are supported. In all likelihood this is assumed now given NFC chipset maturity.
Though the SoC seems dated for a device that still isn't released yet, it's a definite improvement over the N900's 600 MHz OMAP 3430.
Nokia N9/N950- Network Support
GSM/EDGE Support
850 / 900 / 1800 / 1900 MHz
UMTS/HSDPA/HSUPA Support
850 / 900 / 1700 / 1900 / 2100 MHz
HSDPA/HSUPA Speeds
HSDPA 14.4 / 5.7 Mbps
Baseband Hardware
(?)
The device looks solid, though there's no word on a specific release date or pricing, just "later this year." Nokia has provided a quick specifications PDF, and more information on their conversations blog and website.