There's no getting around it, RIM hasn't had the best year ever. It's been steadily losing market share to Android, iOS, and Windows Phone 7, there's been lackluster response to BlackBerry 6 OS and the Blackberry Torch, and at best tepid reviews and sales of their first tablet, the PlayBook, have not left the company on rock solid footing. So, pardon, bold moves were a must for the company as developers and journalists gather in Orlando, FL for BlackBerry World.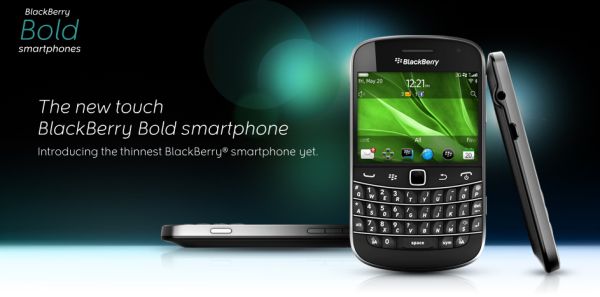 Images of the Touch Bold leaked months earlier; yet even without the leaks it's unlikely the reveal would have been met with much surprise. The line was launched in 2008 with the Bold 9000, which itself was no great departure in form factor with its portrait QWERTY dominating the front of the device and its 15 mm girth. In our review of the last iteration, the 9780, we mentioned the lack of innovation in form factor, and while the new phone looks mighty familiar, it is at least quite thinner, down to 10.5 mm from 14.2 mm. This isn't 2010's Bold, though. Indeed it's fair to say this is the first time in a while that a BlackBerry phone will compete on specs.

Gone is the anemic Marvell sourced 624MHz SoC, future BlackBerry aficionados will be blessed by a 1.2 GHz single core Snapdragon variant, likely the MSM8x55. This kind of leap could bring a smoothness and performance to the beleaguered OS that has been sorely lacking. The polish is not just applied to the hardware, the software gets buffed into a whole new iteration.
BB 6 was revealed just last August and while several BB 5 devices were blessed with 2010's finest BB OS, the same will not be true for 2011's finest. Indeed, even the Torch and Bold 9780 will be left behind. Why the lack of legacy support? Mirroring the path of graphics in PCs, GPU's have become as important to a good user experience as the CPUs, and the dated SoCs in prior BlackBerry phones won't cut it this time. Bringing BlackBerry 7 to 2011 meant a graphics subsystem that's tightly integrated with the Adreno 205 most likely under its hood, something that Marvell's offering lacks.
And speaking of graphics, the Adreno should have no trouble handing just 640 x 480 pixels on its 2.8" capacitive touch screen. A pixel density of 287 dpi should provide crisp text but it remains to be seen how comfortable users will be with a small lower res screen after growing accustomed to the steady rise in screen size and resolution over the last few years. Liquid Graphics is the marketing name for BB 7's graphics engine and it's said to provide 60 fps and smooth scrolling and zooming while browsing or taking advantage of the device's multimedia capabilities.
And in a feint to its enterprise users, BB 7 will introduce BlackBerry Balance, which seems to bundle its most enterprise features behind a secure wall, separated from more consumer driven content like your Facebook and Twitter apps. Secure remote wiping of the phone can now be isolated to the enterprise components, leaving your Tweets safe and sound. The only application that I can imagine for this would be wiping sensitive data once an employee is terminated; not the most marketable feature, then.
An updated browser, enhanced voice search, a 5.0 MP camera that will record at 720p and the inclusion of NFC round out the new features. Not a hint of QNX, the PlayBook OS, is to be seen, but this isn't surprising given that QNX blessed phones aren't expected till 2012. And speaking of the PlayBook, BlackBerry didn't leave it out of the first day of BlackBerry World. Video chat and Facebook apps will be gracing the App World this month, with the former promising one-click calling over WiFi.
All in all, a packed day at BlackBerry World. Tomorrow's keynote by Mike Lazaridis will hopefully shed some light on the company's strategy looking forward, and perhaps give us a peek at the next wave of BlackBerry 7 OS phones.