When HP invited me to attend a press reception for their new mobile workstations, I was understandably confused. I'd just been out to San Francisco to see the new mobile workstations a little over a month before, what could possibly be so new that it needed to go under NDA? As it turns out, HP was saving the best for last.
We had the opportunity to review the HP EliteBook 8740w last year, complete with DreamColor IPS display, and it was...well, a monster. It's expensive, but it's the most powerful workstation-class notebook with the best quality screen you're ever going to find in a portable. The refresh of the 8740w, indeed the entire EliteBook w-series line, only amps up HP's game that much more. This entire line enjoys a gunmetal finish, strengthened glass touchpad, and ISV-certified graphics, and they've all been updated with Sandy Bridge processors, the latest mobile graphics from AMD and NVIDIA, and USB 3.0 connectivity. They're all expected to be available in May.
Starting small and working our way up, there's the EliteBook 8460w. HP offers this notebook with dual-core Intel i5 and i7 processors, up to 16GB of DDR3, and 14" matte screen resolutions at either 1366x768 or 1600x900. The 8460w also comes standard with the AMD FirePro M3900 with 1GB of GDDR3 and supports EyeFinity with up to four screens. MSRP starts at $1,299.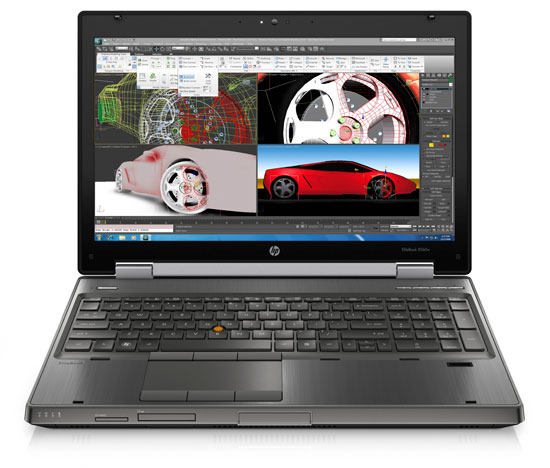 When we get to the EliteBook 8560w, we see our first big improvement: a 15.6" 1920x1080 DreamColor display option. The 8560w also doesn't even offer a 1366x768; it comes standard with a basic 1600x900 display, and all the displays are matte. The 8560w can also be configured with quad-core processors, and in those configurations can support a staggering 32GB of DDR3. Graphics options include an AMD FirePro M5950 with 1GB of GDDR5, an NVIDIA Quadro 1000M with 2GB of DDR3, and an NVIDIA Quadro 2000M with 2GB of DDR3. MSRP starts at $1,349.
Finally, the big daddy: the EliteBook 8760w. The largest refresh of the EliteBook line also sees the least change. Users will be disappointed to know that while DreamColor is still available, the 8760w loses the 1920x1200 resolution of its predecessor in favor of the more common 1920x1080. That said, there are improvements: the 8760w supports all of Intel's new mobile i7 chips, allows for up to three internal hard drives (two bays plus the optical drive bay can be converted) in RAID 0, 1, or 5 configurations, and offers the fastest mobile workstation graphics on the market. It starts with an AMD FirePro M5950 with 1GB of GDDR5, but can be upgraded to an NVIDIA Quadro 3000M with 2GB of GDDR5, NVIDIA Quadro 4000M with 2GB of GDDR5, or an NVIDIA Quadro 5010M with an incredible 4GB of GDDR5. MSRP starts at $1,899.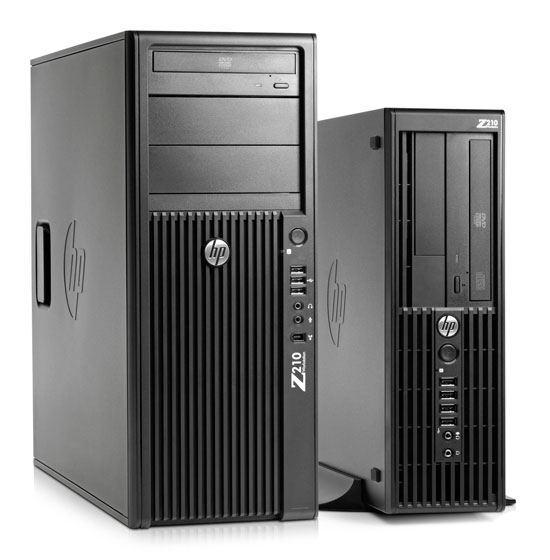 HP was also showing off their entry-level desktop workstation, the Z210. There are two flavors of Z210: the CMT which is a more standard-sized mid-tower, and the SFF, a tinier and in some ways more impressive machine. We're hoping to get one of these in for testing soon; the black box is fairly bland, but the cooling design in these towers (particularly the SFF) is smart, and HP is offering these towers with either Xeon E3 or desktop-class Sandy Bridge processors. These should be available now, with the CMT at an MSRP of $659 and the sleeker SFF at an MSRP of $569.