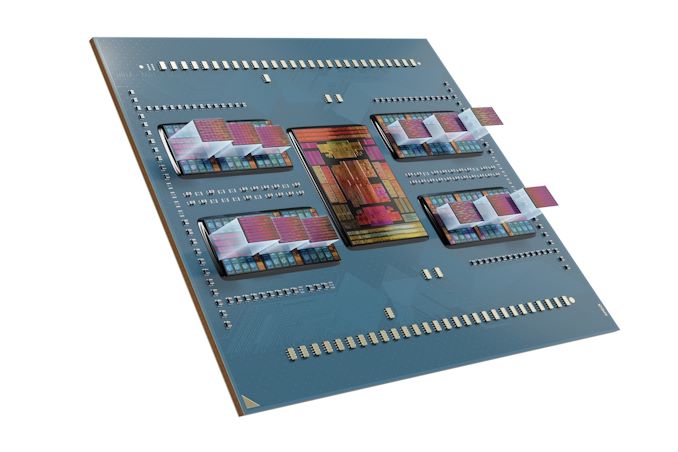 Alongside today's EPYC 97x4 "Bergamo" announcement, AMD's other big CPU announcement of the morning is that their large cache capacity "Genoa-X" EPYC processors are shipping now. First revealed by AMD back in June of last year, Genoa-X is AMD's now obligatory V-cache equipped EPYC server CPU, augmenting the L3 cache capacity of AMD's core complex dies by stacking a 64MB L3 V-cache die on top of each CCD. With this additional cache, a fully-equipped Genoa-X CPU can offer up to 1152MB of total L3 cache.
Genoa-X is the successor to AMD's first-generation V-cache part, Milan-X. Like its predecessor, AMD is using cache die stacking to add further L3 cache to otherwise regular Genoa Zen 4 CCDs, giving AMD a novel way to produce a high-cache chip design without having to actually lay out an fab a complete separate die. In this case, with 12 CCDs on a Genoa/Genoa-X chip, this allows AMD to add 768MB of additional L3 cache to the chip.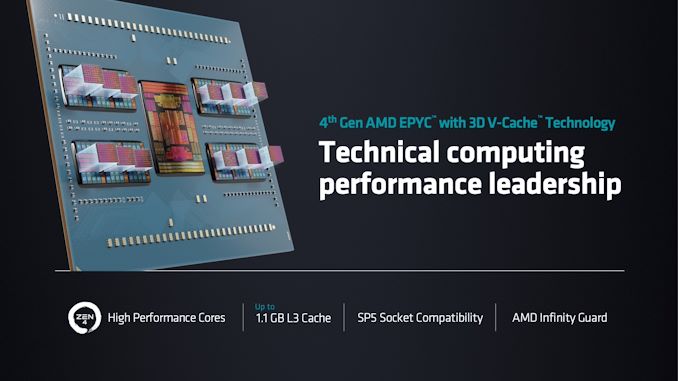 Like its predecessor, these high-cache SKUs are aimed at a niche market segment of workloads that benefit specifically from the additional cache, which AMD terms their "technical computing" market. To make full use of the additional cache, a workload needs to be cache capacity limited – that is to say, it needs to significantly benefit from having more data available on-chip via the larger L3 cache. This typically only a subset of server/workstation workloads, such as fluid dynamics, databases, and electronic design automation, which is why these high cache chips serve a narrower portion of the market. But, as we saw with Milan-X, in the right situation the performance benefits can be significant.
AMD EPYC 9084X Genoa-X Processors
AnandTech
Core/
Thread
Base
Freq
1T
Freq
L3
Cache
PCIe
Memory
TDP
(W)
Price
(1KU)
9684X
96
192
2550
3700
1152MB
128 x 5.0
12 x DDR5-4800
400
$14,756
9384X
32
64
3100
3900
768MB
128 x 5.0
12 x DDR5-4800
320
$5,529
9184X
16
32
3550
4200
768MB
128 x 5.0
12 x DDR5-4800
320
$4,928
As these are otherwise stock Genoa chips, Genoa-X chips use the same SP5 socket as Genoa and Bergamo. AMD hasn't disclosed the TDPs, but based on Milan-X, we're expecting a similar range of TDPs. The additional cache and its placement on top of the CCD means that V-cache equipped CCDs are a bit more power hungry, and the cache die does pose some additional challenges with regards to cooling. So there are some trade-offs involved in performance gains from the extra cache versus performance losses from staying within the SP5 platform's TDP ranges.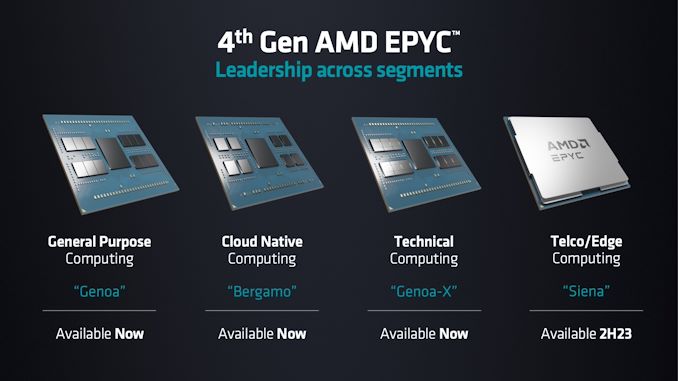 As with Bergamo, we expect to have a bit more on Genoa-X soon. So stay tuned!