Today Intel announced their earnings for the third quarter of the 2019 fiscal year, which ended September 29, and the company has set a record for revenue thanks to increased growth of their datacenter business. Revenue for the quarter came in at $19.2 billion, beating Q3 2018 by $27 million, which results in a mere 0.14% growth over last year, but enough to make this the highest revenue ever for the company. Gross margin was 58.8%, down from 64.5% a year ago. Operating income was down 12% to $6.4 billion, and net income was down 6% to $6.0 billion. This resulted in earnings-per-share of $1.35, down 2% from a year ago.
Intel Q3 2019 Financial Results (GAAP)
Q3'2019
Q2'2019
Q3'2018
Revenue
$19.2B
$16.5B
$19.2B
Operating Income
$6.4B
$4.6B
$7.3B
Net Income
$6.0B
$4.2B
$6.4B
Gross Margin
58.9%
59.8%
64.5%
Client Computing Group Revenue
$9.7B
+10%
-5%
Data Center Group Revenue
$6.4B
+28%
+4%
Internet of Things Revenue
$1.0B
+1%
+9%
Mobileye Revenue
$229M
+14%
+20%
Non-Volatile Memory Solutions Group
$1.3B
+38%
+19%
Programmable Solutions Group
$507M
+3.7%
+2%
Intel splits their business into two main areas. The Client Computing Group is the PC-Centric products, and the Data Center Group consists of everything else. Despite the contraction of the PC market over the last several years, it has continued to be the main source of revenue for Intel, and that continues this quarter as well, but only by a small margin. The Client Computing Group revenue was down 5% year-over-year to revenue of $9.7 billion. Intel attributes this drop to lower year-on-year platform volume, although loss was partially offset by some of the higher-cost products especially in the commercial segment.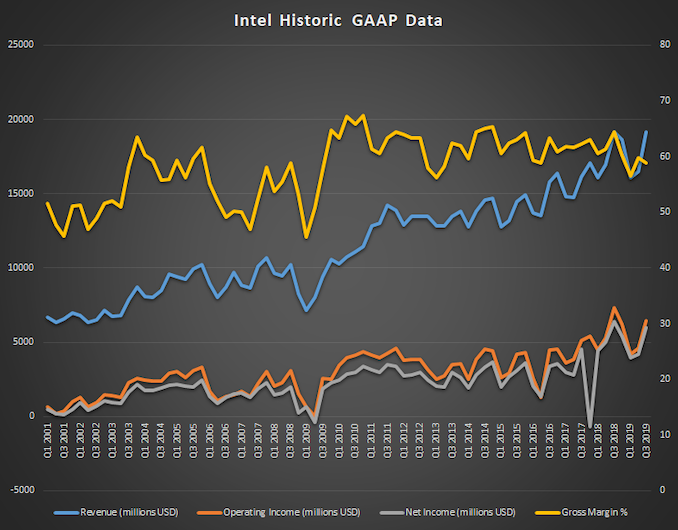 Although the overall PC side from Intel was down, Intel has only just launched their latest 10th generation Core products which won't make up much of Q3's numbers due to the cut-off date of the end of September. Intel now has over 30 devices launched based on the 10 nm Ice Lake platform, signalling the end of 14 nm which has been iterated on many times over the last several years as Intel struggled to get their 10 nm process off the ground. The good news for Intel is that despite the initial setbacks for 10 nm, they have stated that 10 nm yields are actually ahead of their internal expectations for this point in its lifecycle, which should help alleviate some of the backlog the company has been facing with production assuming the can use the improved yields to transition more of their lineup over to 10 nm a bit quicker. Intel has also stated that despite the years lost on 10 nm, they are moving back to a 2 to 2.5 year process cadence, with 7 nm on track for their GPU lineup in 2021.
Intel lumps the rest of their business into the "Data-Centric" role, and this side of the company has been making strong gains over the last several years, and now almost matches the Client Computing Group in total revenue at $9.5 billion, versus $9.7 billion for the CCG. But Data-Centric includes not only the Data Center Group, but also Internet of Things, Mobileye, Non-Volatile Storage, and Programable Solutions. Altogether these segments achieved record revenue, up 6% from 2018. Individually, Data Center Group was up 4% to $6.4 billion with a strong mix of Xeon sales and growth in all segments. Internet of Things also had record revenue, up 9% to $1.0 billion. Mobileye is also on the record train, with a 20% year-over-year gain to $229 million, as did Non-Volatile Storage which was up 19% to $1.3 billion. Programable Solutions was the only segment in the Data-Centric listings to not hit a record in revenue, but it was still up 2% to $507 million for the quarter, and they shipped their first 10 nm Agilex FPGA this quarter as well.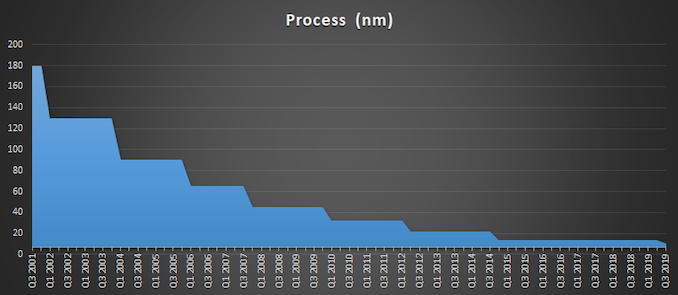 Looking ahead to Q4, Intel is expecting revenue around $19.2 billion with earnings-per-share of $1.28.
Source: Intel Investor Relations