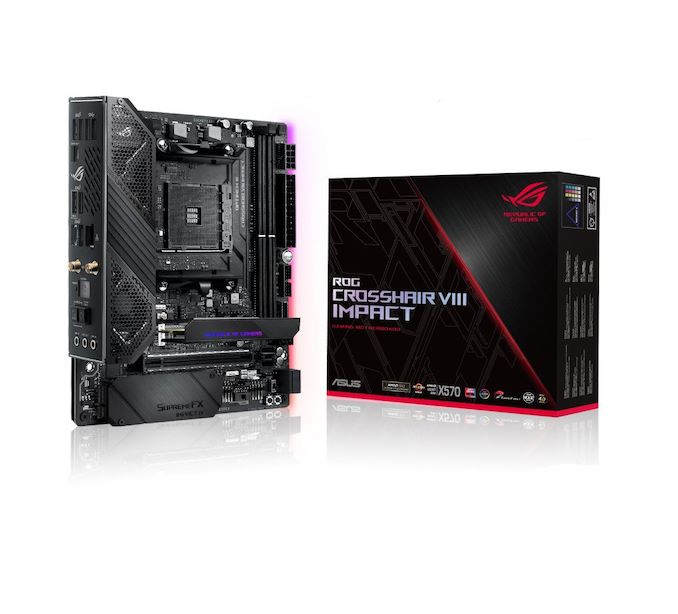 One of the most interesting unveilings from the X570 launch earlier this year came from ASUS, with the reintroduction of the ROG Impact series of small form factor motherboards. Not seen since the days of Intel Z170 days, the ASUS ROG Crosshair VIII Impact is the first truly AMD high-end SFF model from the vendor. Accompanied by its SO-DIMM.2 slot for dual PCIe 4.0 x4 M.2 SSDs, a SupremeFX S1220 HD audio codec and support for up to DDR4-4800 memory, the Impact looks to leave its mark on AM4 for enthusiasts just like previous iterations have done on Intel platforms. The only difference this time round is that it's not a true Mini-ITX like the previous Impact designs.
What Is Mini-DTX?
When ASUS unveiled the ROG Crosshair VIII Impact, a lot of users were somewhat confused as to why the manufacturer adopted the unconventional mini-DTX form factor over the more commonly used mini-ITX. One of the primary caveats with small form factors such as mini-ITX is space. The bigger the standard, the more of an advantage features like space for an extra expansion slot can be taken advantage of - it could be the difference between two PCIe 4.0 x4 M.2 slots and none.
In order to best use this space, ASUS has (among other things) included it's special dual M.2 riser module, known as a SO-DIMM.2 slot. This is a way to add dual M.2 slots with a vertical mount to save additional PCB space. It's not the first time it's been done - other high-end models from its line-up including the ASUS ROG Maximus X Apex uses the same technology.
There is also a PCIe 4.0 x4 M.2 slot at the bottom, underneath the full-length PCIe 4.0 x16 slot, but this is populated with a SupremeFX S1220A HD audio codec and ESS ES9023P DAC mounted onto an M.2 add-in card. This saves some PCB space and effectively makes the audio a more modular component.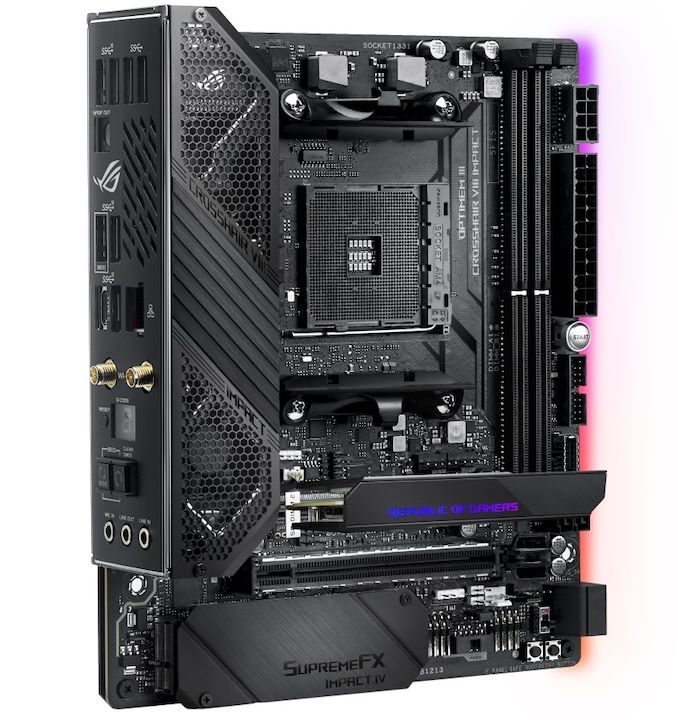 The ASUS ROG Crosshair VIII Impact also has a single Intel I211-AT Gigabit Ethernet controller as well as an Intel AX200 Wi-Fi 6 wireless interface which provides Wi-Fi and BT 5.0 connectivity. While the board does allow users to use up to two PCIe 4.0 x4 M.2 drives via the SO-DIMM.2 slot, there are also four SATA ports which support RAID 0, 1, and 10 arrays. The slightly larger ROG Crosshair VIII Impact uses the traditional AM4 cooler mounts with a cleaner socket area with not just compatibility with the full range of AM4 coolers, but allows for enthusiasts to install the best cooling in the business without fanfare.
Equipped with a 10-phase power delivery which is running with eight teamed TDA21472 70 A power stages for the CPU are a particular highlight and one that helps justify its enthusiast-level market price of $430. The ASP1405I is an 8-channel PWM controller and is operating in 4+2 mode. The other factor to consider is thermal performance and the Crosshair VIII Impact is using a heatsink across the CPU power delivery section, with a 30 mm cooling fan directing airflow to aid in cooling; there is a second 30 mm fan which is directed over the X570 chipset.
Another enthusiast-level feature is support for DDR4-4800 memory which two slots allowing for users to install up to 64 GB of system memory, as well as supporting the DC double height and double capacity UDIMMs that ASUS supports on its two slot Intel Z390 models.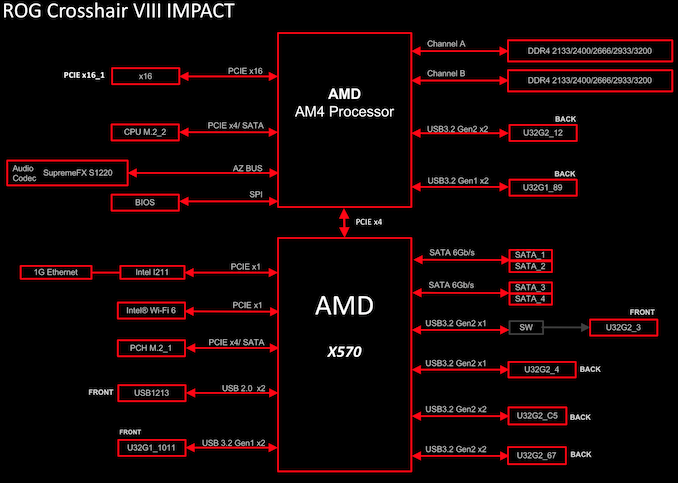 ASUS ROG Crosshair VIII Impact Block Diagram
Looking at the performance of the ASUS ROG Crosshair VIII Impact in our test suite and it displays a strong and stable showing. In our system-specific tests, the Crosshair VIII Impact posted some of the fastest POST times we have seen from an X570 model, as well as solid results in our power consumption tests. In our computational tests, the X570 Impact also competed well with other models on test with the best performance coming in our 3DPM test; the new highest performer from all X570 models tested. This smaller mini-DTX creation has the equipment to take on its larger flagship counterparts.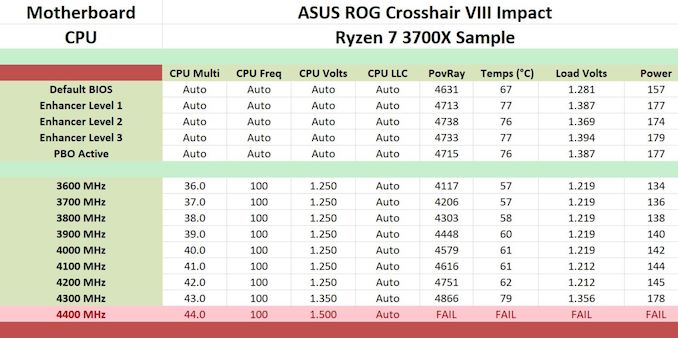 One of the biggest aspects to consider when manually overclocking with the ASUS ROG Crosshair VIII Impact is the level of VDroop when the LLC setting is set to automatic. Applying 1.250 V on the CPU VCore between 3.6 and 4.2 GHz on our Ryzen 7 3700X equated to between 1.212 V and 1.219 V at load which is around 0.038 V of VDroop. Moving up to 4.3 GHz which required a CPU VCore value of 1.350 V in the BIOS ran with a load CPU VCore of 1.356 V which was overcompensated by the firmware by just 0.006 V; quite tight and expected given the boards focus for enthusiasts and extreme overclockers. There is an LN2 mode jumper which will bypass certain AMD restrictions for users looking to push silicon to its hard limits, but this should be left well alone for users on ambient cooling. The Precision Boost Overdrive can be enabled but to little effect compared to the default settings with a slight improvement, but the three levels of PBO enhancement proved to be similar in performance with different levels, albeit minimal levels of CPU VCore voltage observed.
As it stands, the ASUS ROG Crosshair VIII Impact is in a product segment of its own. It is the only mini-DTX model in existence in the desktop segment, and we can either compare it to smaller boards or slightly larger boards. Users can make similarities in other small form factor models including the ASUS ROG Strix X570-I Gaming ($299), the recently reviewed ASRock X570 Phantom Gaming-ITX/TB3 ($240) which did impress us, and the GIGABYTE X570 I Aorus Pro WIFI ($220) which at present, is the cheapest small form factor X570 model available on the market. The ASUS ROG Crosshair VIII Impact has a list price of $430 at Newegg and is nearly double the cost of GIGABYTE's mini-ITX model; the Impact is targeted at a much more specific enthusiast level market than the other models with performance and enhanced componentry which further bolsters its high price tag.
Read on for our extended analysis.