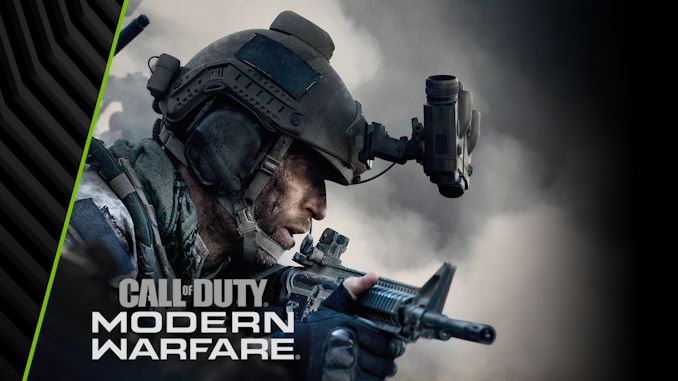 With the arrival of Fall also comes the biggest quarter of the year for new game releases, and to that end NVIDIA is updating their hardware game bundles. This morning the company is announcing a new bundle for their GeForce RTX cards, which will see the latest Call of Duty game, Modern Warfare, included with the cards as well as systems containing them. This latest bundle is currently scheduled to run through mid-November, or until NVIDIA updates it once more.
Like previous NVIDIA GeForce RTX game bundles, the Call of Duty: Modern Warfare bundle is focused on including a flagship game that showcases the features of NVIDIA's newest cards. In this case, Modern Warfare checks all of the boxes; along with being a high-profile game in and of itself, the game is receiving (practically obligatory) support for ray tracing via DXR, as well as adaptive shading support.
Digging into the bundle itself, as this is a single game bundle, NVIDIA's deal is pretty straightforward. The company will be including the game with all of their GeForce RTX cards, from the RTX 2060 up to the RTX 2080 Ti. This offer also applies to many desktop and laptop systems including these cards as well, so long as the vendor is a participating NVIDIA partner.
NVIDIA Current Game Bundles
(September 2019)
Video Card
Bundle
GeForce RTX 20 Series (All)
Call of Duty: Modern Warfare (2019)
GeForce GTX 16 Series (All)
None
Meanwhile, the fact that this is an RTX-only bundle means that NVIDIA's GTX 16 series cards are being left out. The company has not launched a bundle for those cards, so at least for the time being, only the RTX 20 cards are getting a game bundle.
Finally, as always, codes must be redeemed via NVIDIA Redemption portal on a system with a qualifying graphics card installed. More information and details can be found in the terms and conditions. Be sure to verify the participation of any vendors purchased from, as NVIDIA will not give codes for purchases made from non-participating sellers.
Source: NVIDIA