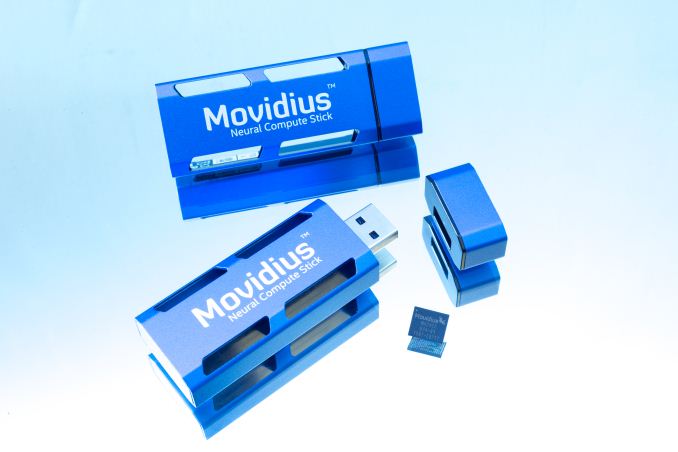 Intel this week initiated an end-of-life plan for its Movidius Neural Compute Stick, which is based on the Myriad 2 VPU. The product will be available for another year and Intel will continue to provide technical support for the device for another two years. For developers currently working on products powered by the NCS, Intel suggests developers move over to the more advanced Myriad X-based Neural Compute Stick 2.
The Intel Movidius Neural Compute Stick is based on the Myriad 2 vision compute unit (VPU), and offered up to 100 GFLOPS/1 TOPS compute capacity when it was launched in mid-2017. The USB compute stick was primarily aimed at developers of low-power products that require a compute vision and/or deep learning accelerator, with developers both prototyping on the NCS and in some cases outright using it in production devices. Since then, Intel released a considerably more powerful Myriad X VPU, which offers four times higher TOPS performance and providing a better feature-set. In addition, Intel offers a variety of vision accelerator products based on Myriad-series VPUs as well as Arria-series FPGAs available in various form-factors.
One of the key differences between the Intel NCS and the more advanced solutions like those powered by the Myriad X is that while the former uses Intel's proprietary Movidius Neural Compute SDK, the latter rely on Intel's distribution of OpenVINO toolkit, which is compatible with open-source OpenVINO industry-standard software packages.
With new hardware and SDKs available, and the market for AI ASICs as a whole quickly heating up with more powerful competitors, it looks like the market is winding down for the original Movidius NCS. As a result, Intel will cease taking for the hardware on October 30, 2019, and will ship all outstanding orders April 30, 2020. The company will continue to offer technical support for the part till April 30, 2021. As a result, it looks like the Movidius NCS will have a considerably shorter lifespan than the Myriad X (which was also launched in 2017).
Related Reading: