This afternoon, Intel announced their earnings for Q1 of their 2019 fiscal year. Revenue for the first quarter came in at $16.1 billion, which is flat compared to Q1 2018, but margins were down 4% to 56.6%. Due to this, operating income was down 7% to $4.2 billion, and net income was down 11% to $4.0 billion. Earnings-per-share for the quarter were $0.87, down 6% from $0.93 a year ago.
Intel Q1 2019 Financial Results (GAAP)
Q1'2019
Q4'2018
Q1'2018
Revenue
$16.1B
$18.7B
$16.1B
Operating Income
$4.2B
$6.2B
$4.5B
Net Income
$4.0B
$5.2B
$4.5B
Gross Margin
56.6%
60.2%
60.6%
Client Computing Group Revenue
$8.6B
-12%
+4%
Data Center Group Revenue
$4.9B
-20%
-6%
Internet of Things Revenue
$910M
+11%
+8%
Non-Volatile Memory Solutions Group
$915M
-17%
-12%
Programmable Solutions Group
$486M
-21%
-2%
Despite a PC market that continues to struggle, Intel made gains in the first quarter with their Client Computing Group. On both notebooks and desktops, Intel volumes were down 7% and 8% respectively, but thanks to higher average selling prices (ASP) Intel's PC-centric business did grow revenue. Notebook processor ASP was up 13% compared to Q1 2018, and desktop ASP was 7% higher. This increased revenue for this segment 4% overall to $8.5 billion. Intel cites strength in gaming, larger commercial, and modem for the growth.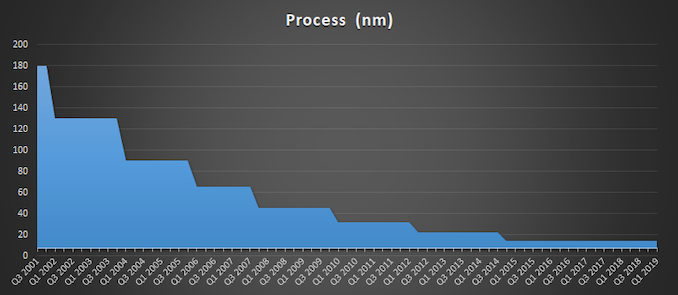 As we've already covered, Intel's push to 10 nm has finally started to see some gains in volume after years of delay, and we should finally start to see Ice Lake powered laptops this fall.
Intel's Data Center group was down 6% to $4.9 billion in revenue this quarter. Cloud continued to grow, up 5%, but it could not offset the decline in enterprise and government revenue, which was down 21% this quarter. At the end of the day, you can't have both cloud and on-prem revenue gains forever, since the former is designed to eat the latter, but we'll have to watch this over the next while and see if this is a one-year blip, or signs of a larger trend.
Internet of Things continued its growth, with revenue up 8% to $910 million. What was once a blip on the radar is almost a billion dollar per quarter market for Intel. MobileEye revenue was up 38% to $209 million, which is a record for this segment.
Intel's non-volatile storage business was down 12% to $915 million, reflecting the increased competition in pricing of NAND.
Finally, Intel's Programmable Solutions Group, which includes their Altera FPGAs, was down 2%.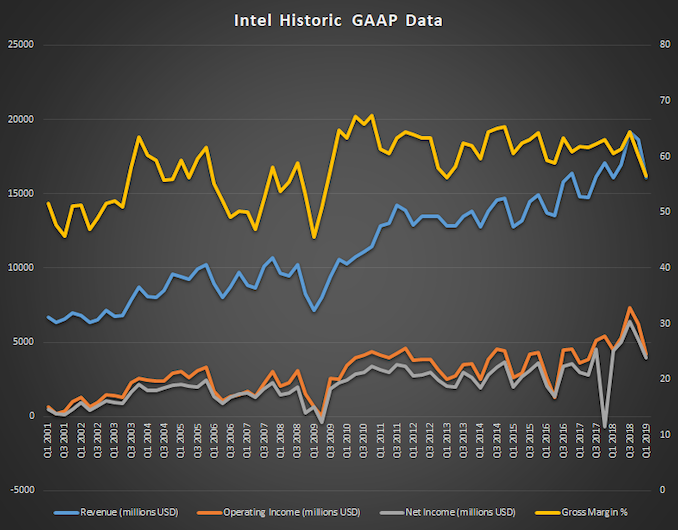 Looking ahead to Q2, Intel is forecasting revenue of approximately $15.6 billion, with an operating margin of 27%, and the FY 2019 forecast is for approximately $69 billion in revenue, with an operating margin of 30%.
Source: Intel Investor Relations