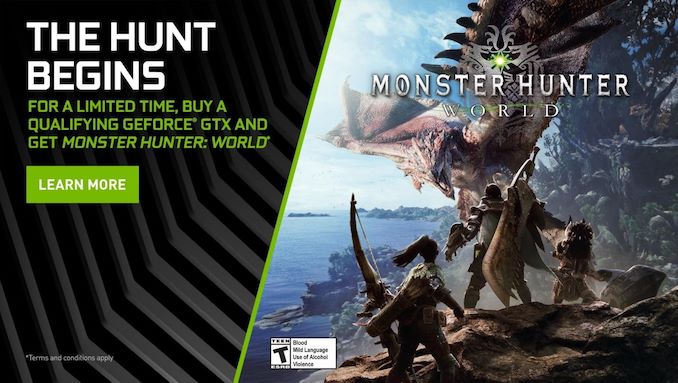 This week, NVIDIA launched their new "The Hunt Begins" game bundle, adding on Monster Hunter: World with qualifying purchases of the GeForce GTX 1070 Ti, GTX 1070, and GTX 1060 6GB (1280 core). The promotion is effective now and runs until November 29th. It appears to cover the usual AIB graphics cards, details are rather sparse from the terms and conditions so any prospective buyers should be sure to double-check the seller/retailer.
For Monster Hunter: World, NVIDIA recommends the GTX 1070 for 1080p 60fps at High Quality, so the bundle is firmly targeted at mainstream type resolutions and gaming scenarios.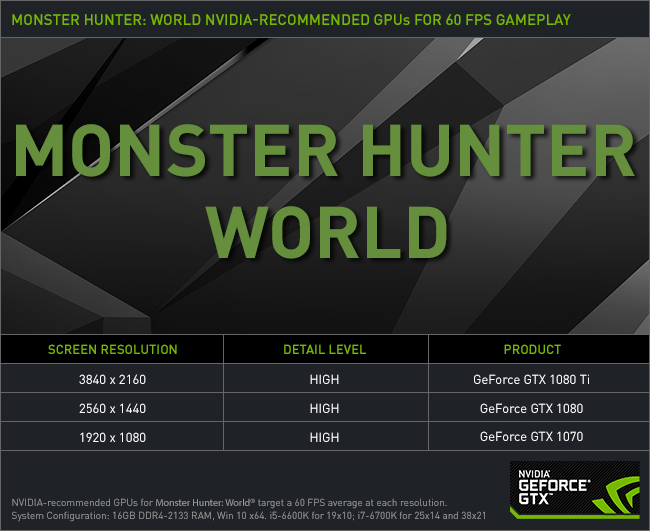 No other NVIDIA bundles are running at this time, which is unsurprising given the recent launch of the RTX 20 series. While the promotion clearly covers the upper mid-range of Pascal GeForce, the GeForce RTX 2070, 2080, and 2080 Ti are the intended successor for the enthusiast range. Especially with the RTX 2070 in the GTX 1080 performance bracket, NVIDIA won't be looking to encourage cannibalization via GTX 1080 (Ti) sales over RTX cards. Either way for Pascal, NVIDIA will be looking to clear out their channel of last-gen inventory. It remains to be seen how NVIDIA will pursue the mainstream and entry-level tiers, whether it is with Turing as we currently know it or some other approach.
NVIDIA Current Game Bundles
(Q4 2018)
Video Card
(incl. systems and laptops)
Bundle
GeForce RTX 20 Series
None
GeForce GTX 1080 Ti & 1080
None
GeForce GTX 1070 Ti & 1070
Monster Hunter: World Bundle
GeForce GTX 1060 6GB (1280 cores)
GeForce GTX 1060 3GB (1152 cores) and GTX 1050 (Ti)
None
Another note is the revision of GTX 1060 6GB models to include GDDR5X memory, though clocked the same as the original GDDR5. Providing the same amount of memory bandwidth, the logic points to a supply/inventory reason rather than a performance refresh.
Codes must be redeemed via NVIDIA Redemption portal on a desktop with qualifying graphics card installed. More information and details can be found in the terms and conditions. Be sure to verify the participation of any vendors purchased from as NVIDIA will not give codes for purchases made from non-participating sellers.
Source: NVIDIA