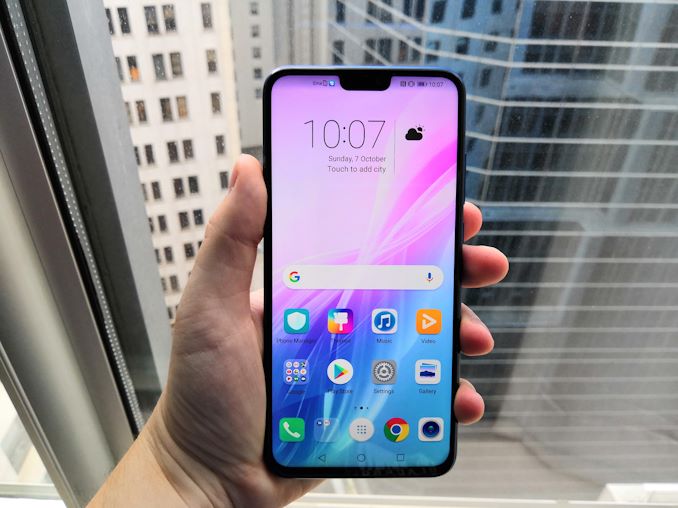 Everyone is always interested in the next budget 'high-end killer' smartfone. In recent memory we've seen a number of Asian smartphone companies do it, with Flagship-like specifications always below $300. Honor's latest attempt sits at the bottom of its stack but boasts a 6.5-inch full screen display, an AI camera, and one of the latest chips inside from its big brother, Huawei.
Size Matters
Its hard to get away from the fact that the Honor 8X is a sizeable beast.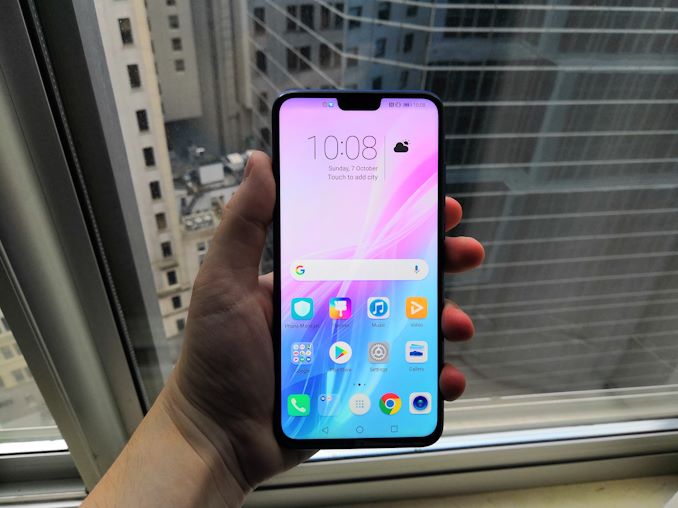 The 6.5-inch 1080p display, in a 5.5-inch class body, falls under the 'full screen' mantra that has encapsulated smartphones of late, with only a small notch and a small chin on the front being in the way of a 100 percent screen coverage. The Honor 8X comes in at 91% full screen coverage, more than pretty much every flagship, which the company states is down to its smaller chin compared to the competition:
Honor 8X: 4.25mm
Samsung Galaxy S9: 5.7mm
Oneplus 6: 6.1mm
Xiaomi Mi 8: 6.8mm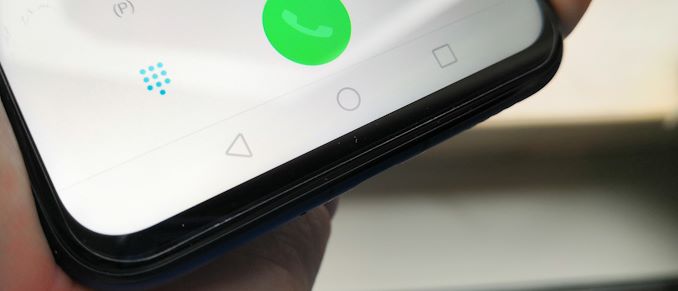 Honor doesn't state peak brightness in its materials, but does note that it can go as low as 2 nits in its eye comfort mode, and the application of eye comfort mode is certified by TUV Rheinland.
Inside the phone is the Kirin 710, Huawei's latest mid-performer SoC with four Arm Cortex A73 cores and four Arm Cortex A53 cores, combined with Mali G51MP4 graphics. The CPU portion of this chip is plenty fast, although that graphics is not going win any awards on the latest 3D smartphone titles. It will be plenty for the Candy Crush or Toon Blast crowd. Even though the chip does not have an AI accelerator like Huawei's NPU, the phone will be able to take advantage of GPU Turbo, a neural network based technology which helps lower power during certain games for the chip to turbo for longer. At current this is only two games, but will expand to six with the release of EMUI 9.0.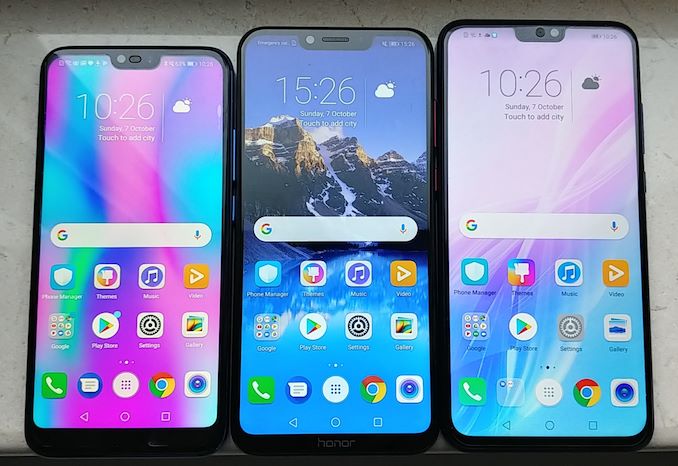 Left to Right: Honor 10 ($$$$), Honor Play ($$), Honor 8X ($)
Similar to the Honor Play, which sits above the 8X in the product portfolio, the 8X will have dual rear cameras and a single front facing camera in the notch area. The two rear cameras are listed as a 20MP+2MP design at f/1.8, and is supported by AI-assisted stabilisation for long exposure shots up to six seconds. The rear cameras are also AI enabled with object recognition, layer recognition, and per pixel quality adjustments designed to improve photos (I use it a lot on the Honor 10, and it works well in the vast majority of cases). In video modes, we were told that the device can record at 720p120 and 480p at 480 fps. However in our test units, the UI offers 720p at 480 fps, which is interesting.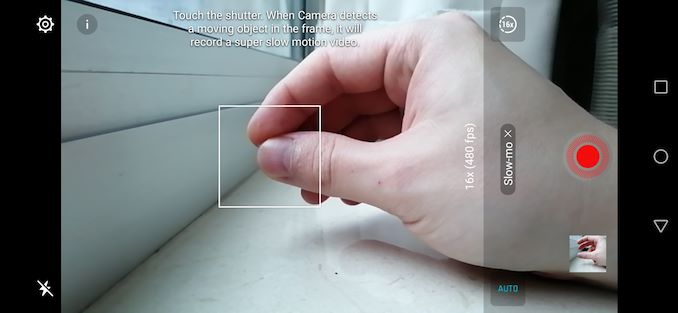 We did a small test to see if it is a true 720p480, given that in order to do it you would normally need a DRAM-backed camera sensor. Honor were not shouting that fact from the rooftops, and with some testing we can see that the 480 fps mode is more of an interpolation mode, as it can't really deal with quick movement:
Aside from the rear cameras on the rear, there is also a fingerprint sensor and a two-tone finish.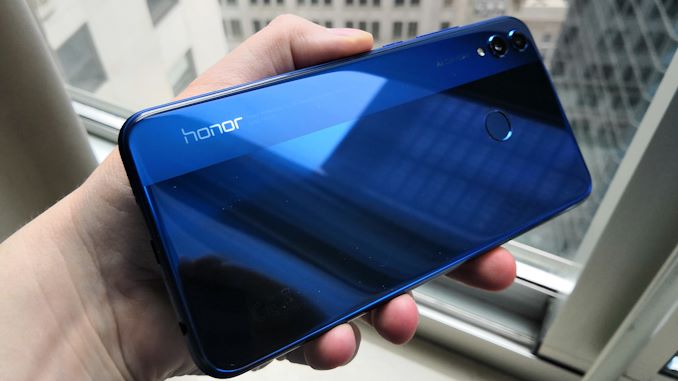 The front camera is Honor's 'AI Selfie' camera, which is a 16MP design that supports 4-in-1 pixel combining for better low light performance. This works by taking a 2x2 square of one micron pixels and making them act like a bigger two micron pixel. The end result is a 4MP photo rather than a 16MP photo, but should offer better clarity. As one might expect, Honor also supports background replacement, AR skins, and a front facing portrait mode.
The front facing camera is in a notch, which means that users will have the notch issue. As will all Huawei and Honor devices, the area around the sides of the notch can be blacked out to make it look like there is no notch. However one thing I noticed with the 8X is how it deals with icons in that top bar: most notched phones put those icons way too close to the rounded edges, such that they can sometimes be clipped. Because the notch on the 8X is small, the icons are brought in closer to the center, making it easier to see them. If anything, it removes the issue of it not looking right when clipping happens, which I think is ultimately a good way of improving UX.

As a mid range device, the memory and storage follow similarly, at 4 GB and 64 GB, which is equal or one notch below the flagship devices (some markets will see 4GB+128GB or 6GB+128GB). The battery comes in at 3750 mAh, which is certainly a Flagship-worthy capacity, though perhaps a little small for the size of this phone. There is a 3.5mm jack, although perhaps annoyingly there is no USB Type-C: we're going back into the olden times with microUSB for the 8X. The phone also supports dual Nano SIM plus a microSD at the same time. As a frequent international traveller, this is much appreciated. Wi-Fi on most models will be 802.11ac dual band, although a couple of variants will only be 802.11n 2.4 GHz.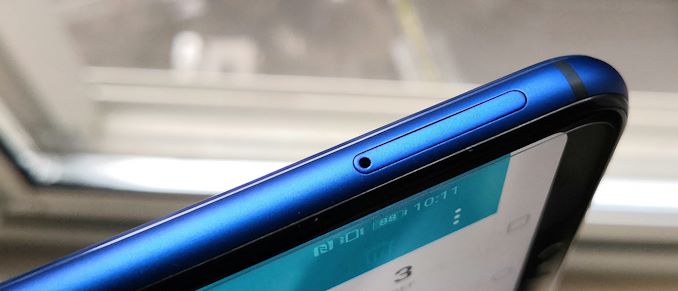 Other features on the device include what Honor calls 'elevator mode' to help users connect to networks more quickly. In the examples cited, their testing showed that the unit would reconnect to networks in Hong Kong within 5 seconds, while a major competitor Flagship would take between 8 and 60 seconds. Personally, with our sample, I've seen it reconnect to WiFi networks very quick, although to test this at scale requires a dedicated trip into London. Huawei says that they are using its AI to enhance connectivity speeds, though did not go into much detail. What they did state is that the antenna positioning in the device helps with this. Honor stated that rather than using a dual corner antenna like most smartphones, they use a big U shape around the bottom edge to get a better uniform connectivity regardless of the angle of the device.
Honor 10 Series
Honor View 10
Honor 10
Honor Play
Honor 8X
Models
BKL-L29
COL-L29
COR-L29
JSN-L21
SoC
Name
HiSilicon Kirin 970
HiSilicon Kirin 970
HiSilicon Kirin 970
HiSilicon Kirin 710
CPU
4xA73 @ 2.4GHz
4xA53 @ 1.8GHz
4xA73 @ 2.4 GHz
4xA53 @ 1.8GHz
4xA73 @ 2.4GHz
4xA53 @ 1.8GHz
4xA73 @ 2.2GHz
4xA53 @ 1.7 GHz
GPU
Mali-G72MP12
Mali G72MP12
Mali-G72MP12
Mali-G51MP4
Display
5.99-inch
2160x1080
18:9
IPS LCD
5.84-inch
2280x1080
19:9
IPS LCD
6.3-inch 2340x1080
19.5:9
IPS LCD
6.5-inch
2340x1080
19.5:9
IPS LCD
Size (mm)
157.0 x 75.0 x 7.0
149.6 x 71.2 x 7.7
157 x 74.3 x 7.5
160.4 x 76.6 x 7.8
Mass
172g
153g
176g
175g
RAM + NAND
6GB + 128GB
4GB+64GB
4GB+128GB
4GB+64GB
4GB+64GB
4GB+128GB
6GB+128GB
MicroSD
Yes
No
Yes
Yes
Battery
2750mAh
3750mAh
3750 mAh
3750 mAh
Front Camera
13MP f/2.0
24 MP f/2.0
16MP F/2.0
16MP f/2.0
4MP mode
Rear Camera
16MP RGB f/1.8
20MP B+W f/1.8
16MP RGB f/1.8
25MP B+W f/1.8
16MP RGB f/2.2
2MP Depth
20MP RGB f/1.8
2MP Depth
SIM Size
2x NanoSIM
2x NanoSIM
2x NanoSIM
2x NanoSIM
+ microSD
Wi-Fi
802.11ac
80211.ac
802.11ac
L21: 802.11ac
L22: 802.11n 2.4G
L23: 802.11n 2.4G
L42: 802.11ac
Bluetooth
BT 4.2 LE
BT 4.2
BT 4.2
BT 4.2 LE
Connectivity
USB 2.0 Type-C
3.5mm headset
USB 2.0 Type-C
3.5mm headset
USB 2.0 USB-C
3.5mm headset
microUSB 2.0
3.5mm headset
Fingerprint
Rear
Front
Rear
Rear
Launch OS
Android 8.0 with EMUI 8.0
Android 8.1 with EMUI 8.0
Android 8.1 with EMUI 8.2
Android 8.1 with EMUI 8.2
Launch Price
EUR 499€
GBP £449
EUR 400€
EUR 329€
GBP £279
GBP £239
Honor has three colors for the 8X, however only two will hit the UK: Blue and Black. The more exotic red will end up in regions where there is demand. Honor held back on declaring a price, saying we will have to wait until the device launch on October 10th.
First Impressions
I have been using the phone on and off for a few days, and to be honest, I guess I'm more surprised at how easy to use I find it. I often do work on my phones - aside from emails, I write up news and reviews on them as well. I'm not sure if it's the bigger screen, or the fact that it feels snappy, but the Honor 8X is very easy to work on. The connectivity aspect, being fast to connect to access points, is a big plus when I'm on the London underground and we keep going in/out of LTE range.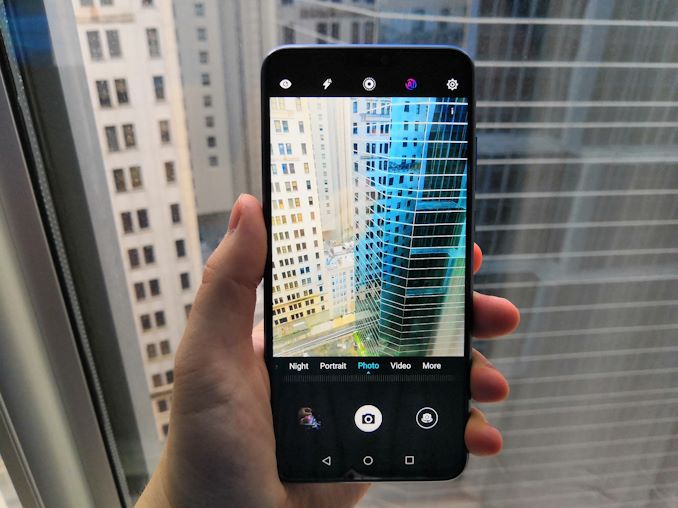 I think the biggest downside is that microUSB connector. Everything portable I own, laptops included, is now USB Type-C. I have to dig out old microUSB cables for the only device with this port. The argument for having microUSB is that the market this phone is aimed at is still on microUSB, although that was the argument back when the flagships were still microUSB as well. It's a weak argument - no-one has asked to borrow a microUSB cable from me for years. Speaking with a few others who also have the device, they feel this is the biggest let down as well. The Honor Play, which is meant to cost only slightly more, has a Type-C.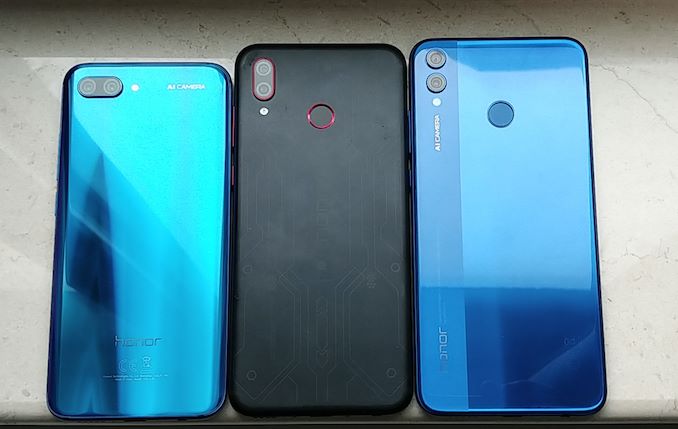 Comparing side by side with the Honor Play, the 8X is a bigger device with a slower SoC - that's going to reflect in the price for sure. Where the Play is meant to be aimed at gaming, this is more of a daily workhorse. One of the features that is going to be key long term is the camera - I have already heard some other journalists complain a little, because the AI mode does help disguise some cost saving on the device. I haven't had much experience with it yet, however the slo-mo mode does work - albeit for a total of one second or so per recording. At this point I suspect the buffer is full and it cannot record any more.
The battery is reasonably big, but the device has a big screen and a good resolution, which can perhaps cancel each other out. The fact that the Kirin 710 inside uses Cortex A73 doesn't put it in the low power bracket, but the fact that the chip is built on TSMC's 12FFC does weigh in its favor.
Overall, except for the USB thing, and testing the camera a lot more, I could see this as a very dependable device for most users. The biggest win is the screen size for the price, getting suspiciously close to that traditional '7-inch Tablet' border.
Related Reading