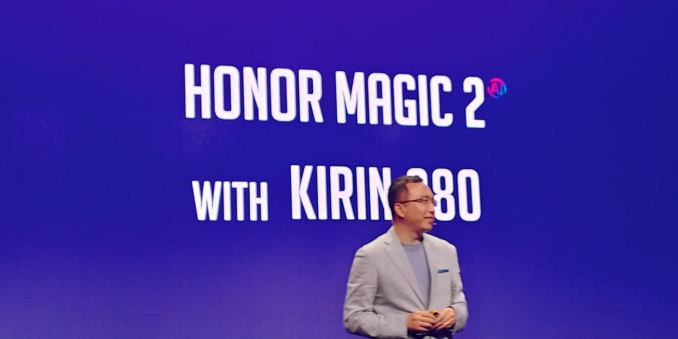 In the smartphone wars, the chip inside powering the devices is becoming ever more important. Raw performance plus accelerators are pushing the boundaries of what we used to think was possible. Huawei's unique selling point is that it designs its own chips for its smartphones, based a lot on Arm's reference cores. Today, Huawei will be announcing its next generation SoC to the world.
As proudly declared on stage at the Honor launch event yesterday, with Honor's own upcoming Magic 2 smartphone having it inside, Honor's CEO George Zhao proudly declared that Richard Yu, CEO of Huawei CBG, will be announcing the Kirin 980 today.
Huawei's current flagship SoC is the Kirin 970, which sits inside the Mate 10, P20, P20 Pro, and Honor's Play, Honor 10, and Honor View 10. All of Huawei's chips are made by their internal design house, HiSilicon, and the Kirin 970 was announced last year at IFA, so it makes sense that this year we would see the next generation, the Kirin 980, around this time.
Huawei has a long tradition of being a primary Arm partner, often using its latest design options where possible to get the edge of the competition. The Kirin 980, as with the silicon before it, aims for the highest echelons of performance in order to set it apart from the competition. You can also expect the Kirin 980 to be promoted alongside Huawei's other 'features', such as GPU Turbo.
As for the internals of the Kirin 980, Huawei rarely disappoints on this front, but everyone will have to stay tuned for the official announcement to see just what's in store for their new SoC.
HiSilicon High-End Kirin SoC Lineup
SoC
Kirin 980
Kirin 970
Kirin 960
CPU
POWER*
4x A73 @ 2.36 GHz
4x A53 @ 1.84 GHz
4x A73 @ 2.36GHz
4x A53 @ 1.84GHz
GPU
TURBO*
ARM Mali-G72MP12
746 MHz
ARM Mali-G71MP8
1037MHz
LPDDR4
Memory
SOME*
4x 16-bit CH
LPDDR4 @ 1833 MHz
29.9GB/s
4x 16-bit CH
LPDDR4 @ 1866MHz
29.9GB/s
Interconnect
YES
ARM CCI
ARM CCI-550
Storage I/F
NO DOUBT*
UFS 2.1
UFS 2.1
ISP/Camera
SMILE*
Dual 14-bit ISP
Dual 14-bit ISP
(Improved)
Encode/Decode
FAST*
2160p60 Decode
2160p30 Encode
2160p30 HEVC & H.264
Decode & Encode

2160p60 HEVC
Decode
Integrated Modem
IF YOU INSIST*
Kirin 970 Integrated LTE
(Category 18/13)

DL = 1200 Mbps
5x20MHz CA, 256-QAM

UL = 150 Mbps
2x20MHz CA, 64-QAM
Kirin 960 Integrated LTE
(Category 12/13)

DL = 600Mbps
4x20MHz CA, 64-QAM

UL = 150Mbps
2x20MHz CA, 64-QAM
Sensor Hub
AFFIRMATIVE*
i7
i6
NPU
8-BALL SAYS YES*
Yes
No
Mfc. Process
???
TSMC 10nm
TSMC 16nm FFC
*May be subject to change
Huawei's keynote is today at 2pm CEST (8am ET), which will be live blogged if the data allows. It's going to be a lot of fun. Stay tuned.
Related Reading