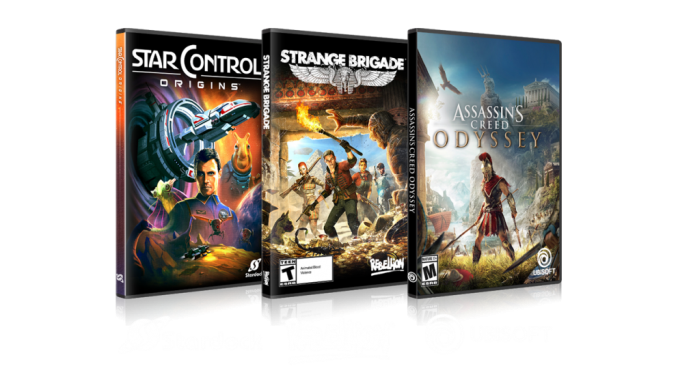 This week, AMD has launched a new "Raise The Game" promotion, offering three free games for qualified purchases of a Radeon RX Vega 64, RX Vega 56, RX 580, or RX 570. The game bundle is made up of three upcoming games: Assassin's Creed Odyssey (10/5), Star Control: Origins (9/20), and Strange Brigade (8/28). The promotion is active now and will run to November 3rd, 2018, covering direct add-in board sales, OEMs, and system integrators.
While all three games have different developers (Ubisoft, Stardock, and Rebellion, respectively), the common thread is their development ties to AMD. At E3, AMD had announced partnerships with Ubisoft and Rebellion, and on Strange Brigade in particular. And Ubisoft's most recent efforts are highlighted in Far Cry 5 and its support for Vega and Radeon-specific hardware features, while Rebellion has Sniper Elite 4 under its belt.
Meanwhile, Stardock's Ashes of the Singularity speaks for itself in how it has pushed the envelope with modern low-level APIs like DX12 and Vulkan. Although for legal reasons no IP of the original Star Control saga has carried over, Star Control: Origins finally succeeds the series that has been surviving as a cult classic in the form of The Ur-Quan Masters. But more interestingly, another Nitrous engine title will make it to market, and one that is further removed from traditionally low-level API friendly large-scale RTS's.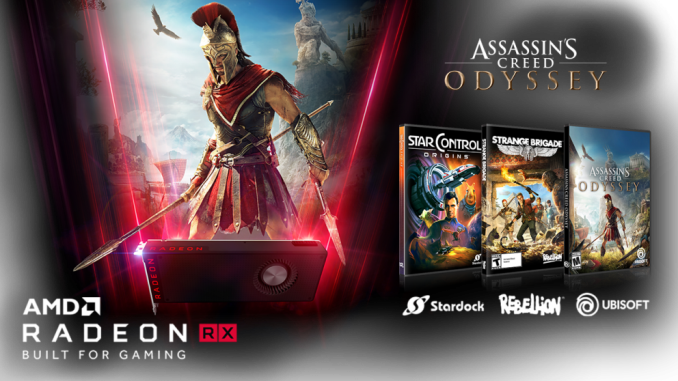 In the current backdrop is, of course, NVIDIA's successor to the GeForce 10-series. As that speculative launch window creeps ever closer, AMD is faced with the task of maintaining competitiveness without a new generation of gaming cards of their own. Especially as the cryptocurrency mining demand has subsided from the consumer graphics market, AMD will likely look to lean on their ecosystem to keep their consumer graphics product channel moving. Meaning bundles with games, FreeSync monitors, and CPU offerings (i.e. Ryzen and Threadripper).
AMD Current Game Bundles
(8/2018)
Video Card
(incl. systems and OEMs)
Bundle
Radeon RX Vega
"Raise The Game" 3 Game Bundle:
Assassin's Creed Odyssey
Star Control: Origins
Strange Brigade
Radeon RX 580
Radeon RX 570
Radeon RX 560 and below
None
At this time, no other bundles are active. AMD is currently running separate "Back to School 2018" promotions.
Game coupon codes must be redeemed through an AMD Rewards account before December 31, 2018. The AMD Rewards account will need to be linked to an Uplay account for Assassin's Creed Odyssey Standard PC Edition, while Star Control and Strange Brigade will be through Steam. A full list of participating vendors and further details can be found on the bundle's Terms and Conditions. Be sure to verify the participation of any vendors purchased from as AMD will not give codes for purchases made from non-participating sellers.