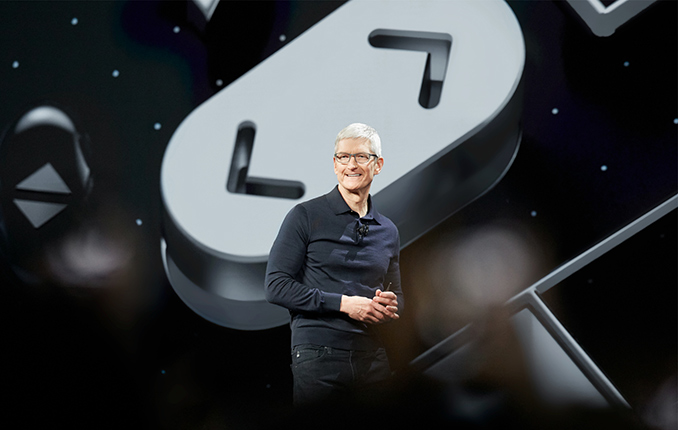 A day after posting strong results for the third quarter of fiscal 2018, Apple has become the world's first publicly traded company with a market capitalization of over $1 trillion.
At press time Apple's stock cost $206.90 and its market capitalization was $1.017 trillion. Meanwhile earlier this morning Apple's stock hit $207.50, so it is likely that the company will stay around a $1 trillion market cap mark in the coming hours or days before either heading north or south.
Apple's best Q3 results ever were driven by strong sales of iPhones as well as a massive increase in revenue it gets for its services. In fact, while the company's iPhone earnings for the quarter grew 20% year-over-year because of higher smartphone ASPs, Apple's services revenue grew 31% year-over-year as the company has been expanding its offerings for some time now. At the same time, sales of iPad tablets and Mac PCs dropped 5% year-over-year.
Originally founded as a maker of computers in 1976, Apple expanded to dozens of product categories in the 1990s, many of which were unsuccessful. After Steve Jobs returned to Apple as the CEO in 1997, he axed most of the product lines to focus on PCs. Starting from 2001, the company started to expand its family of products once again with the iPod music player that was followed by the Apple TV in 2006 (called iTV originally), the iPhone in 2007, the iPad in 2010, the Apple Watch in 2015, and the HomePod in 2017. In addition, the company acquired Beats Electronics in 2014. It is evident that the company branched into three new categories of products in the last eight years and while sales of Apple Watch and Beats products are increasing, Apple's corporate revenues are growing mainly because of higher iPhone selling prices, such as the iPhone X at $999.
While Apple is without any doubts ahead of other US-based high-tech companies in terms of market cap, it is not the world's most expensive firm per se. Depending on who is doing calculations, the valuation of Saudi Aramco state-controlled oil and gas company is between $1.2 trillion and $1.5 trillion. Therefore, Apple still needs to grow further in a bid to become the world's most valuable company in history.
Related Reading