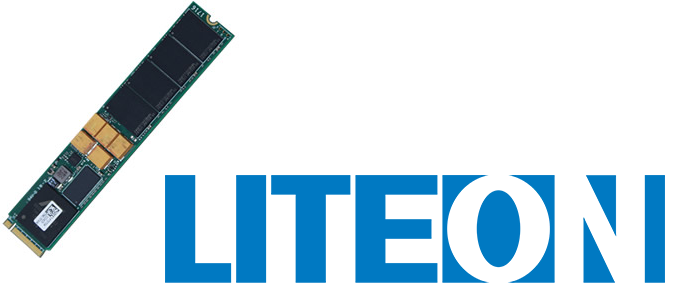 Lite-On has added its new EPX-series enterprise-class SSDs to its lineup. Based around 3D TLC NAND memory and in the uncommon M.2-22110 form-factor, the new drives are aimed at read-intensive applications and come with a host of enterprise-class features to maximize performance, data integrity and overall reliability. At present, Lite-On is testing the EPX SSDs internally and will start their sample shipments in the coming weeks or months.
The Lite-On EPX SSDs use Toshiba's 256 Gb 64-layer BiCS3 3D TLC NAND flash memory chips and are to be available in 960 GB as well as 1920 GB configurations. Lite-On picked up Marvell's proven 88SS1093 "Eldora" controller for the drive, possibly because it brings together high performance (it has three Cortex R5 cores, 8 NAND channels with 4 CE per channel), Marvell's third-gen ECC technology based on the LDPC algorithm as well as various enterprise-class features.
When it comes to performance, the Lite-On EPX drives offer up to 1700 - 1800 MB/s sustained sequential read speed and around 670 - 800 MB/s sustained sequential write speed, depending on the model (see the table below for details). Enterprise drives do not use pSLC caching, so the stated write performance is available at all times, not only while the cache lasts. Meanwhile, since Lite-On aims the EPX family at read-intensive applications, their relatively low sustained sequential write performance is justified. As for random performance, Lite-On specs the drives for up to 37K – 40K sustained random read speed with QD=4 as well as 90K – 105K sustained random write speed with QD=4. Keep in mind that we are talking about sustained performance numbers that are available at all times, not peak performance figures that manufacturers usually publish for client SSDs. The power consumption of the Lite-On EPX SSDs will be up to 8.25 W, which in line with other products based on the same controller and memory.

One of the interesting performance-improving features of the LiteOn EPX is the Intelligent Read Retry (IRR) technology that relies on machine learning to lower read latencies. Normally, when an SSD controller fails to read data from a cell, it starts to retry reading using various threshold voltage settings, starting from the lowest setting to the highest setting in a sequential fashion. Lite-On's IRR takes into account multiple parameters (such as the number of P/E cycles endured by the cell, temperature, location, etc.) and then applies threshold voltage that will most likely recover the data, thus shrinking latency. Lite-On formally introduced its IRR technology at FMS2017 and the EPX drives are the first to use it. Lite-On says that in the worst case scenario of read retry, IRR can retain 47% of the original read performance using machine learning compared to 9% of original read performance using traditional read retry.
Like many other enterprise-class SSDs, the Lite-On EPX comes with power loss protection capacitors and supports end-to-end data path protection compatible with the T10 Data Integrity Field (DIF) spec. In addition, the EPX drives from Lite-On feature internal RAID (Redundant Array of Independent Flash Elements, RAIFE) to protect data with parity and thus recover it in cases when regular ECC recovery does not work.

Specifications of Lite-On EPX NVMe SSDs
960 GB
1920 TB
Model
EPX-KB 960
EPX-KB 1920
Form Factor
M.2-2280-22110
Controller
Marvell 88SS1093
NAND
Toshiba's 3D TLC NAND, 64-layers, 256 Gb
Interface
PCIe 3.0 x4
Protocol
NVMe 1.2
DRAM
Yes (capacity unknown)
Sustained Sequential Read
1700 MB/s
1800 MB/s
Sustained Sequential Write
670 MB/s
800 MB/s
Sustained 4KB Random Read
QD=4
37K
40K
QD=32
165K
180K
QD=256
175L
190K
Sustained 4KB Random Write
QD=4
90K
105K
QD=32
96K
110K
QD=256
120K
140K
Power Consumption
Idle
2.4 W
Active
8.25 W
UBER
1 error in 1017 bits transferred
End-to-End Protection
Supported, compatible with T10 Data Integrity Field (DIF)
Power Loss Protection
Supported
Temperature
Operating
0 to 70˚C
Non-Operating
-40 to 85˚C
MTBF
2 million hours
Launch Date
Q4 2017
At present, Lite-On is still polishing off the EPX SSDs internally and will ship it to customers among server OEMs in the coming weeks or months. The company will be among the first independent makers of SSDs to use Toshiba's 256 Gb 64-layer BICS 3D TLC NAND for enterprise-grade SSDs, so it is not surprising that the company wants to ensure that the drives perform as expected.
Lite-On specs the EPX SSDs for two million hours MTBF and covers the drives with its standard three-year warranty. Pricing of the EPX SSDs will be determined by agreements with particular OEMs and will depend on volumes and some other factors.
Related Reading:
Source: Lite-On (via TechPowerUp)