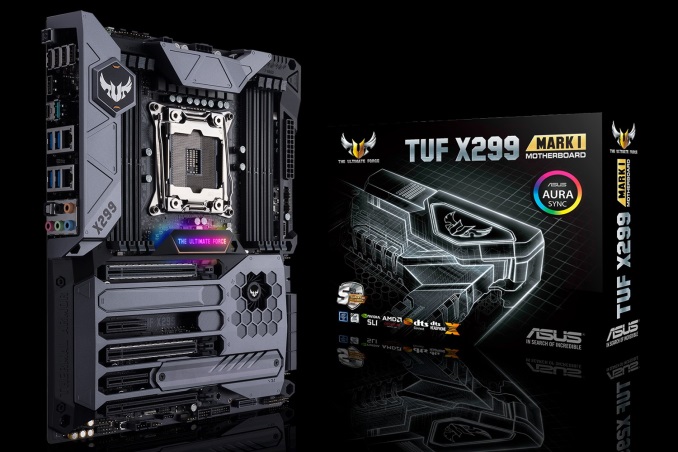 Today we have a chance to look at our first ASUS motherboard, the TUF X299 Mark 1. The Mark 1 is listed as a durable and reliable motherboard for enthusiasts and gamers. The TUF Mark 1 sits in the middle of the ASUS product stack and carries over the armor found on previous generation TUF boards and adds an updated theme and features to the latest iteration.
ASUS TUF X299 Mark 1 Overview
ASUS's 'The Ultimate Force' (TUF) lineup of boards expanded from one board on the X99 chipset (Sabertooth) to two on X299 with the TUF X299 Mark 1 and X299 Mark 2. The Mark 1 the more feature rich version for X299, with two ethernet ports, eight SATA ports, and a front USB 3.1 (10 Gbps) header, as well as the whole armor look.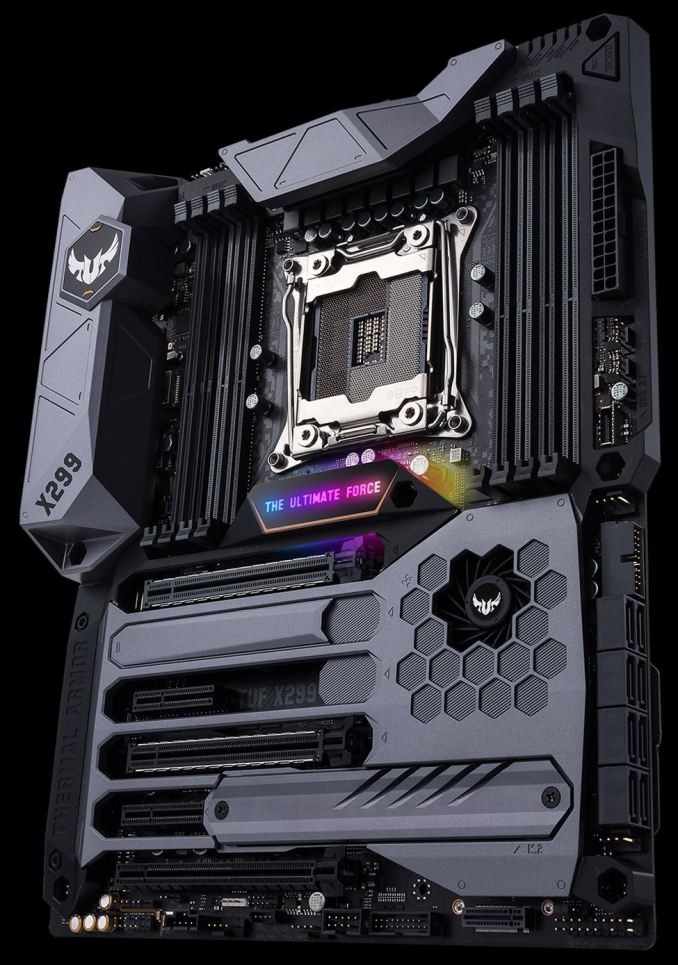 There are three reinforced full-length PCIe slots for video cards and support up to three-way SLI and Crossfire. The physical slot configuration allows for three slot GPUs to fit in the primary GPU slots as well. For storage, both M.2 slots are connected via the chipset. One of the M.2 supports both SATA and PCIe devices, while the other is PCIe only. On the SATA side, all eight ports are connected natively through the chipset. SATA ports 5/6/7/8 do share bandwidth with the second PCIe x4 slot.
The TUF Mark 1 has a phone app that connects through the included Bluetooth module to aid in debugging. In addition, the board uses Q-LEDs at the top of the board to tell where the board gets stuck during POST. The 8-phase VRM is shared across a couple of the SKUs in the ASUS lineup, including the ROG X299 Strix XE, which we will have an in-depth review on as well.
On the USB side of things, there are two USB 3.1 (10 Gbps) ports, one Type-A and one Type-C, which are handled by the ASMedia 3142 controller. The front panel USB 3.1 Type-C port managed by an ASMedia 1543 switch. The chipset delivers eight USB 3.0 ports in total, four at back panel and four via internal headers, and six USB 2.0 ports, four on the back panel and two via an internal header.

The X299 TUF Mark 1 uses an Intel I219-V Gigabit LAN controller and an I211-AT Gigabit LAN controller for network duties. Both devices are able to be accessed by the Turbo LAN software utility for traffic monitoring, routing, and other network functions. The board does not come with Wi-Fi capabilities.
Overall performance from the X299 TUF Mark 1 was mid-pack for almost all benchmarks. Features such as Multi-Core Turbo are optional, and are offered when XMP is enabled. Overclocking was straight forward, with the board hitting 4.5 GHz similar to other products, although the 'Fast Tuning' option for auto overclocking gave a nice 4.3 GHz for all cores that was very near our manual CPU voltage. This would make a nice one-touch overclock with the right CPU.
The current price on the X299 Mark 1 is $340 with its little brother, the Mark 2 at $259. Outside of its own product line up the price point has it competing with the likes of the EVGA X299 FTW ($330), MSI X299 Gaming Pro Carbon AC ($330), GIGABYTE X299 AORUS Ultra Gaming Pro ($350), and the ASRock X299 Taichi XE ($322).
ASUS X299 Strategy
ASUS brings a current total of eight X299 boards to choose from: the ASUS ROG Rampage VI Extreme making its home in the Republic of Gamers (ROG) enthusiast segment along with the ROG Rampage VI Apex and the ROG Strix X299-E Gaming and Strix X299-XE Gaming. The Prime segment consists of two boards - the Prime X299-A and the Prime X299-Deluxe. Last but not least the TUF lineup also consists of two boards, the TUF X299 Mark 2, and TUF X299 Mark 1. All boards are ATX or greater size so small form factor users will be forced to look elsewhere.
ASUS' X299 Motherboard Lineup (12/6)
AnandTech
Review
Amazon
Newegg
ROG Rampage VI Extreme
-
$790
Prime X299-Deluxe
$474
$470
ROG Rampage VI Apex
$437
$430
ROG Strix X299-XE Gaming
upcoming
$370
$370
TUF X299 Mark 1
this review
$340
$340
ROG Strix X299-E Gaming
$320
$320
Prime X299-A
-
$296
TUF X299 Mark 2
$260
$260
Overall, the product stack has a number of feature points and price crossover between the segments.
Information on Intel's X299 and our other Reviews
With Intel's release of the Basin Falls platform, encompassing the new X299 chipset and LGA2066 socket, a new generation of CPUs called Skylake-X and Kaby Lake-X were also released. The Skylake-X CPUs range from the 7800X, a hex-core part, all the way up to an 18-core 7980XE multitasking behemoth. Between the bookend CPUs are five others increasing in core count, as in the table below. The latter HCC models are set to be launched over 2H of 2017.
Skylake-X Processors
7800X
7820X
7900X
7920X
7940X
7960X
7980XE
Silicon
LCC
HCC
Cores / Threads
6/12
8/16
10/20
12/24
14/28
16/32
18/36
Base Clock / GHz
3.5
3.6
3.3
2.9
3.1
2.8
2.6
Turbo Clock / GHz
4.0
4.3
4.3
4.3
4.3
4.3
4.2
Turbo Max Clock
N/A
4.5
4.5
4.4
4.4
4.4
4.4
L3
1.375 MB/core
1.375 MB/core
PCIe Lanes
28
44
44
Memory Channels
4
4
Memory Freq DDR4
2400
2666
2666
TDP
140W
140W
165W
Price
$389
$599
$999
$1199
$1399
$1699
$1999
Board partners have launched dozens of motherboards on this platform, several of which we will have an opportunity to look over in the coming weeks and months.
Other AnandTech Reviews for Intel's Basin Falls CPUs and X299
To read specifically about the X299 chip/platform and the specifications therein, our deep dive into what it is can be found at this link.
X299 Motherboard Review Notice
If you've been following the minutiae of the saga of X299 motherboards, you might have heard some issues regarding power delivery, overclocking, and the ability to cool these processors down given the power consumption. In a nutshell, it comes down to this:
Skylake-X consumes a lot of power at peak (150W+),
The thermal interface inside the CPU doesn't do much requiring a powerful CPU cooler,
Some motherboard vendors apply Multi-Core Turbo which raises the power consumption and voltage, exacerbating the issue
The VRMs have to deal with more power, and due to losses, raise in temperature
Some motherboards do not have sufficient VRM cooling without an active cooler
This causes the CPU to declock or hit thermal power states as to not degrade components
This causes a performance drop, and overclocked systems are affected even more than usual
There has been some excellent work done by Igor Wallossek over at Tom's Hardware, with thermal probes, thermal cameras, and performance analysis. The bottom line is that motherboard vendors need to be careful when it comes to default settings (if MCT is enabled by default) and provide sufficient VRM cooling in all scenarios – either larger and heavier heatsinks or moving back to active cooling.
This means there are going to be some X299 boards that perform normally, and some that underperform based on BIOS versions or design decisions. We are in the process of quantifying exactly how to represent this outside of basic benchmarking, so stay tuned. In the meantime, take a look at the next motherboard for review.