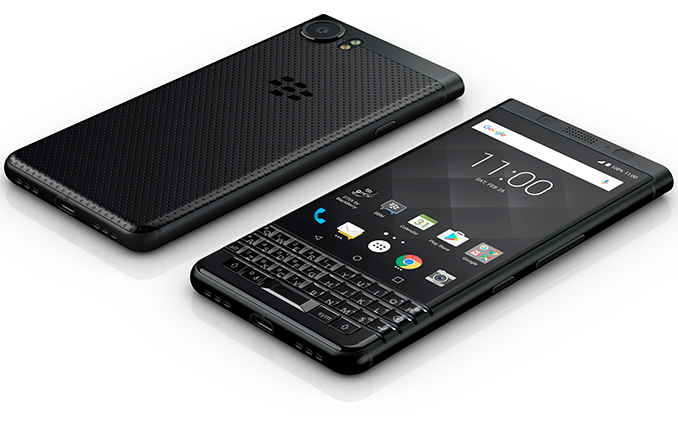 TCL's BlackBerry Mobile imprint has introduced a revamped BlackBerry KEYone smartphone at IFA trade show last week. The new KEYone Black Edition comes in all-black chassis and has more DRAM and storage space than the original KEYone model introduced at MWC earlier this year. The product will be available in multiple countries, but the U.S. is currently not listed among them.
Traditionally, Research in Motion and then BlackBerry Limited developed most of their smartphones with business customers in mind and this prompted them to use strict designs and colors. Since black fits business environments well and looks good with almost any other color, most of BlackBerry handsets were black, sometimes with grey metallic inlays. Such methodology is fully understandable, yet when Nokia released its E-series smartphones in the mid-2000s, it took a bold approach and started to offer them in multiple colors. Eventually, BlackBerry Mobile took a page from Nokia's book and introduced its Passport silver edition for those who prefer metallic, but only after it released an all-black Passport. With the KEYone, BlackBerry Mobile took a different tactic and launched the phone in metallic-with-black finish first, which looks very high-tech, but may not appeal to everyone from BlackBerry's traditional customer base. The KEYone Black Edition makes the new BlackBerry completely black.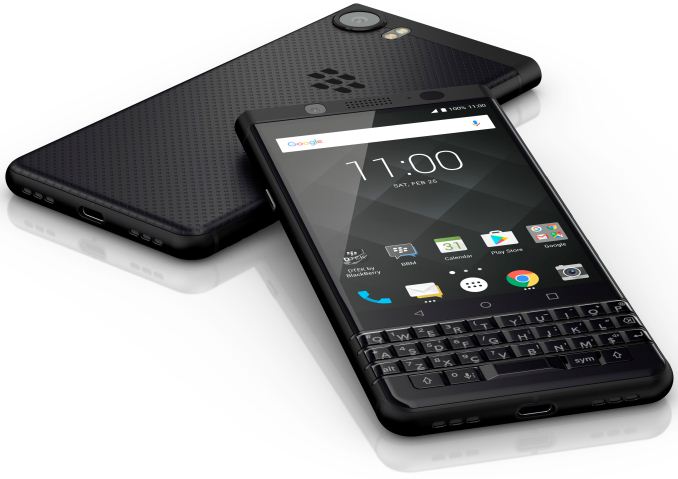 The KeyONE BE continues to use the frame made of anodized aluminum, but the color of the frame is now black, not metallic. BlackBerry Mobile does not disclose details about its anodization process and how durable the frame is. It is possible that BlackBerry has been experimenting with black anodized aluminum for a while, which is why it did not release an all-black version earlier this year as it wanted to ensure that the quality and robustness of its materials.

Meanwhile, the KEYone Black Edition is not only about the color. The BE version comes with 4 GB of LPDDR3 DRAM, up from 3 GB on the regular model, and 64 GB of eMMC storage, up from 32 GB on the original unit. Considering that Android OS benefits from higher amount of DRAM, the upgrade will be welcome by many. Storage may not be the most required feature for business users, but 32 GB in general is not a lot. Therefore, expanding storage capacity to 64 GB is a good move.
From computing, imaging and other standpoints, the BlackBerry KEYone Black Edition is exactly the same as the regular one: Qualcomm Snapdragon 625 SoC, a 4.5" LCD display with Gorilla Glass 4, Qualcomm's X9 LTE modem, a 3500 mAh battery, a 12 MP camera and so on.
BlackBerry KEYone Specifcations
KEYone
KEYone Black Edition
SoC
Qualcomm Snapdragon 625 (MSM8953)
8x ARM Cortex-A53 @ 2.0 GHz
Adreno 506
RAM
3 GB LPDDR3
4 GB LPDDR3
Storage
32 GB (eMMC)
64 GB (eMMC)
Display
4.5-inch 1620x1080 (434 ppi) with Gorilla Glass 4
Network
3G: WCDMA (DB-DCHSDPA, DC-HSUPA),
TD-SCDMA, EV-DO, CDMA1x
2G: GSM/EDGE
4G: depends on the version

Canada, LATAM, APAC, US V1:
LTE: 1, 2, 3, 4, 5, 7, 8, 12, 13, 17, 19, 20, 28, 29, 30
TDD LTE: 38, 39, 40, 41

EMEA:
LTE: 1, 2, 3, 4, 5, 7, 8, 13, 17, 20, 28
TDD LTE: 38, 40

US V2:
LTE: 1, 2, 3, 4, 5, 7, 12, 13, 20, 25, 26, 28, 29, 30
TDD LTE: 41
CDMA: BC 0, 1, 10

LTE
Down: 300 Mb/s
Up: 150 Mb/s
Audio
Stereo speakers
3.5-mm TRRS audio jack
Rear Camera
12 MP with f/2.0 aperture and dual LED flash
Front Camera
8 MP
Battery
3505 mAh with Qualcomm's FastCharging 3.0
OS
Android 7.1
Connectivity
802.11ac Wi-Fi, Bluetooth 4.1, USB-C
Sensors
Fingerprint, accelerometer, gyroscope, magnetometer, proximity, ambient light
Navigation
GPS, GLONASS (?)
SIM Size
NanoSIM
Colors
Black/Metallic
Black
Launch Country
NA, EMEA (parts), APAC
U.K., Germany, France, Canada, United Arab Emirates (UAE), the Kingdom of Saudi Arabia, Japan
Price
$549/€599/£499
€649/£549/$799 CAD/2,299 AED/ ¥79,800
Now, time to talk pricing and availability. The BlackBerry KEYone Black Edition will be available starting from September in the U.K., Germany, France, Canada, United Arab Emirates (UAE), the Kingdom of Saudi Arabia and Japan starting at €649/£549/$799 CAD/2,299 AED/ ¥79,800. BlackBerry Mobile also plans to make the product available in other markets in Europe, Asia and Latin America later this year. For some reason, the KEYone BE is not going to be available in the U.S., at least officially.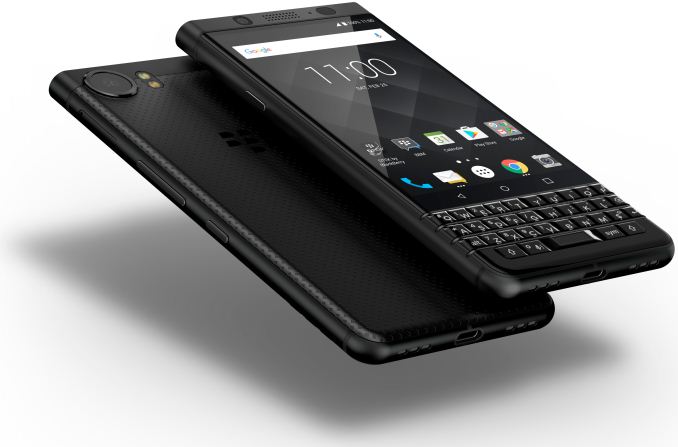 Related Reading: