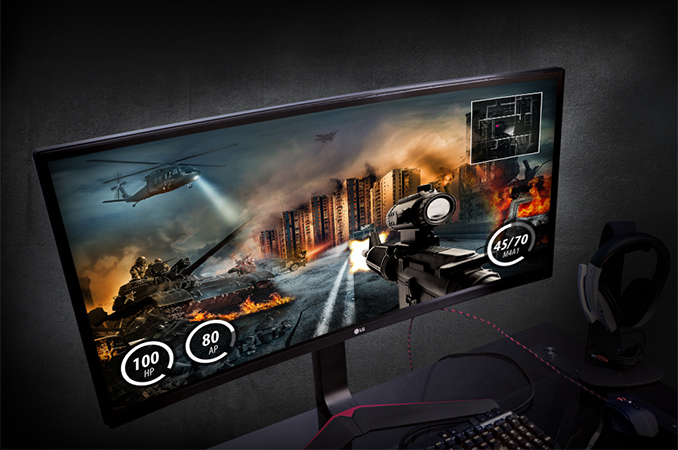 LG has begun to sell its new ultra-wide curved display that appears to be its first monitor to support NVIDIA's G-Sync technology. The LG 34UC89G resembles the 34UC79G display launched almost a year ago — it has a 21:9 aspect ratio, a 2560×1080 resolution and a native maximum refresh rate of 144 Hz. However, the new unit has a number of important differentiators when compared to the 34UC79G: its panel is listed as brighter, it can be overclocked, and it features G-SYNC. It also costs $300 more.
LG was an early adopter of AMD's FreeSync back in early 2015 and since then it has launched numerous gaming displays featuring this technology. By contrast, the company has never released a monitor with NVIDIA's G-Sync for an unknown reason. This summer LG finally decided to produce a G-Sync display and started with a model that has moderate characteristics by today's standards. The LG UltraWide 34UC89G is outfitted with an IPS panel with a resolution of 2560×1080, a peak brightness of 300 nits, a contrast ratio of 1000:1, a 5ms GtG response time and 178° viewing angles. The panel has a native refresh rate of 144 Hz that can potentially be overclocked to 166 Hz, but that is not guaranteed. The new monitor looks like a re-engineered version of the 34UC79G, but given the fact that it has a different scaler (to enable G-Sync) and a panel that is 50 nits brighter and 166 Hz-capable, it seems to be a new display that shares chassis with one of its predecessors.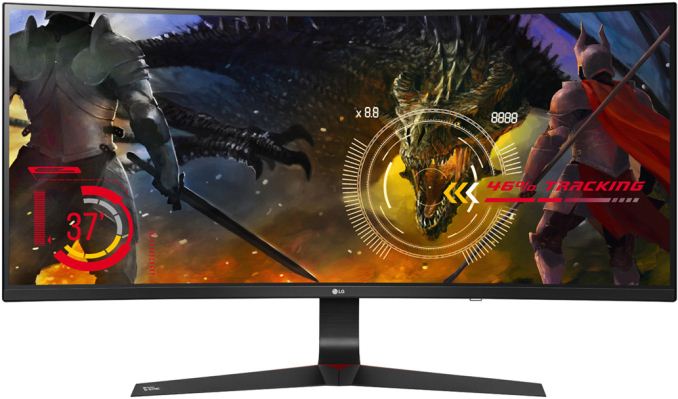 When it comes to connectivity, the LG UltraWide 34UC89G has a DisplayPort 1.2 and an HDMI 1.4 input, a dual-port USB 3.0 hub as well as a 3.5-mm audio jack. In some regions, the monitor may be equipped with two 7 W speakers (like the 34UC79G in Germany), but LG's U.S. website does not mention them.
LG UltraWide 34UC89G
Panel
34" IPS
Native Resolution
2560 × 1080
Refresh Rate
144 Hz
Overclockable to 166 Hz
Dynamic Refresh Rate Technology
NVIDIA G-Sync
exact refresh rate range is unknown
Response Time
5 ms gray-to-gray
Brightness
300 cd/m²
Contrast
1000:1
Viewing Angles
178°/178° horizontal/vertical
Pixel Pitch
0.312 mm × 0.31 mm
Curvature
3800R (?)
Anti-Glare Coating
Yes, 3H
Inputs
DisplayPort 1.2 for 2560×1080 at 144-166 Hz
HDMI 1.4 for 2560×1080 at 60 Hz
USB Hub
2-port USB 3.0 hub: two USB-A ports
one supports fast charging
Audio
3.5 mm audio jack
7 W × 2 (?)
Launch Price
$999
When LG released its 34UC79G last September, the combination of its features (IPS, curvature, a 144 Hz refresh rate and an ultra-wide aspect ratio) looked very compelling at a $699 price point. The situation is a bit different with the 34UC89G. The new monitor has the same 2560×1080 resolution and it costs $999.99 (likely due to G-Sync plus other factors). In the meantime, there is the Acer Predator Z35P 35" curved VA display offering a 3440×1440 resolution, a maximum refresh rate of 120 Hz (albeit via overclocking) and G-Sync available for $1099.99. The 34UC89G still has advantages - an IPS panel and a higher refresh rate.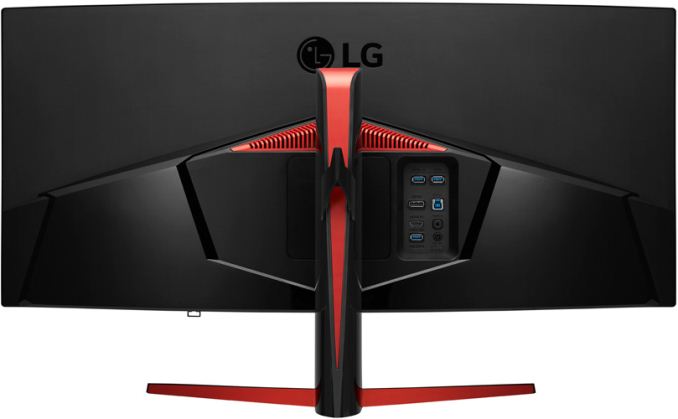 The LG UltraWide 34UC89G is now available from various retailers worldwide, including Amazon and Newegg in the U.S.
Related Reading:
Source: LG