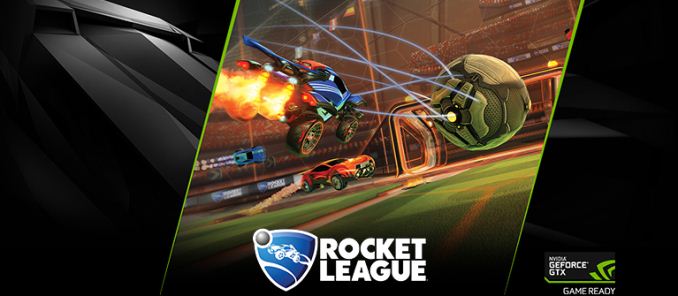 The Rocket League World Championship is just around the corner, running from June 2nd through June 4th in Los Angeles. In celebration NVIDIA has partnered with Psyonix for a new GeForce game bundle: the GeForce GTX Rocket League bundle. This latest bundle covers any GeForce GTX 1060, GTX 1050Ti or GTX 1050 card or OEM desktop PC, as well as notebooks sold with these parts.
For those living under an inflated ball, Rocket League is soccer with rocket powered cars. As shown by the upcoming world championship Rocket League has become a popular eSports title with a strong and passionate fanbase. I haven't run Rocket League on the specific cards in this bundle, but the performance numbers quoted by NVIDIA do not surprise. In fact, this game runs so well on any moderately capable card that we turned it down while choosing games for GPU Bench 2016 last year, as even at 4K it didn't bottleneck high-end video cards.
NVIDIA Current Game Bundles
Video Card
Bundle
GeForce GTX 1080/1070
None
GeForce GTX 1060/1050Ti/1050
Rocket League Bundle
GeForce GTX 1080/1070 Desktops/Notebooks
None
GeForce GTX 1060/1050Ti/1050 Desktops/Notebooks
Rocket League Bundle
With that context, I can see the GTX 1060 being a good match for this card at 4K and the GTX 1050 and 1050Ti making good work of 1080p. Though, users running a GTX 1060 may not stretch for a 4K monitor and 4K gamers could make good use of more competent cards on games that are significantly more taxing. Otherwise, if someone's library is largely eSports titles, then these cards will serve well.
The Rocket League Bundle will run from May 30, 2017 through July 31, 2017 and codes must be redeemed through GeForce Experience. It is worth remembering to verify the participation of any vendors purchased from as NVIDIA likely will not give codes for purchases made from sellers that are not participating.
Source: NVIDIA