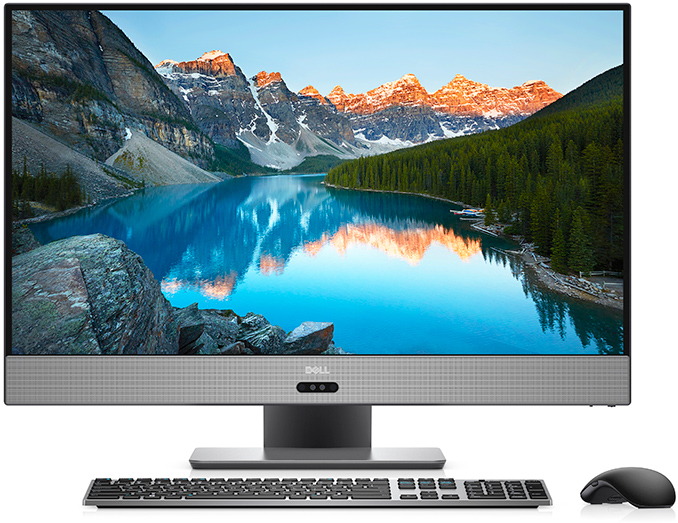 Dell has introduced its first all-in-one PC based on AMD Ryzen microprocessor. The new Inspiron 27 7000-series expands options for those seeking for a system featuring AMD's latest CPU and is also among the first computers from a top PC OEM to feature Ryzen. Dell will offer multiple configurations of the new Inspiron 27 7775-series computers, some of which will feature a 4K display, an eight-core CPU and 32 GB of memory. Meanwhile, entry-level Inspiron 27 7775-series starts at $999.99.
AIO PCs are gaining traction for many reasons these days; space-saving, style, prices and ease-of-deployment are among them. As with any growing product category, we see segmentation into numerous directions: some systems are getting more sophisticated, the others are getting more affordable and everything in the middle is getting very diverse. With its Inspiron 27 7775-series Dell is targeting two different segments: performance mainstream and premium. This is actually an uneasy thing to do in case of an all-in-one system. The former segment demands maximum value (so, customers are still somewhat price-conscious), the latter segment demands maximum performance, which comes at a price and high-TDP. Creating an AIO platform that could fit a variety of components and appeal to different kinds of audiences is a challenge and it appears that Dell has succeeded in cracking it.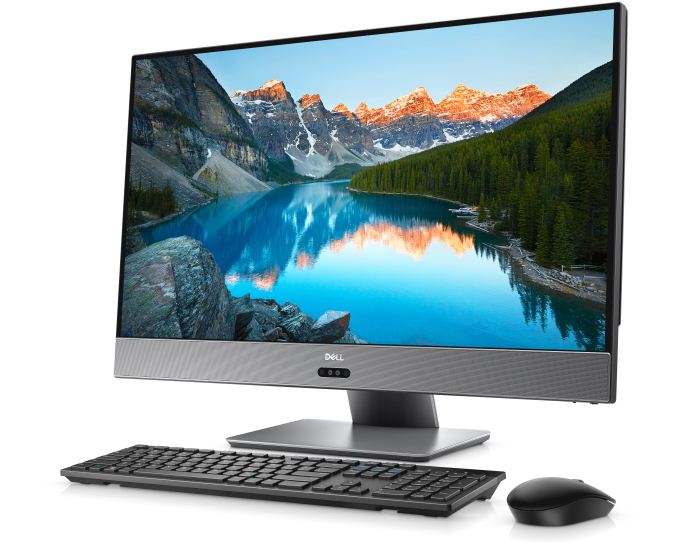 The Dell Inspiron 27 7775 offers two CPU/GPU/PSU options targeted at different kinds of customers. The quad-core AMD Ryzen 5 1400 is accompanied by the AMD Radeon RX 560 with 4 GB of GDDR5 memory and a 180 W PSU. Meanwhile at the high-end there is the considerably more powerful eight-core AMD Ryzen 7 1700 paired with AMD's Radeon RX 580 with 8 GB of GDDR5 and a 330 W PSU (this one is going to carry Dell's "VR Ready" badge). Keep in mind that there will be different configurations available across the world, so you might see different combinations of CPU and GPU rather than the "base" configs mentioned above (still, the higher-end GPU requires a more powerful PSU). Dell does not explicitly disclose whether the Ryzen 5/Radeon RX 560-based AIOs come with an FHD display - whereas the Ryzen 7/Radeon RX 580 SKU features a 4K screen - but from an end-user point of view it is logical to get a higher-performance PC with a higher-res monitor.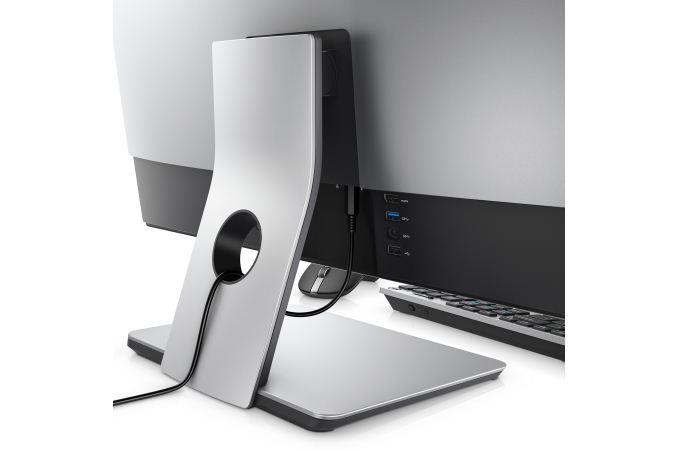 When it comes to DRAM and storage options, everything gets a little trickier. Dell offers a variety of memory configs, including dual-channel 8 GB, 16 GB and 32 GB options as well as single-channel 8 GB, 12 GB and 16 GB options. As for storage, Dell has affordable models with a 1 TB HDD (with either 5400 or 7200 RPM spindle speed) as well as more advanced dual-drive solutions featuring a 256 GB PCIe/NVMe SSD plus a 1 TB HDD.
Next up is connectivity. The Dell Inspiron 27 7775-series offers 2x2/1x1 802.11ac Wi-Fi, Bluetooth 4.1, a GbE port, one USB 3.1 Type-C connector, one USB 3.1 Type-A port, three USB 3.0 Type-A headers, two USB 2.0 ports, one HDMI output, one HDMI input, one DisplayPort 1.2, an SD/MMC card reader, a 720p webcam with an IR sensor for facial recognition, a microphone array and so forth. Finally, the systems feature a front-shooting stereo audio sub-system co-tuned with Waves MaxxAudio Pro.
Dell Inspiron 27 7775 Specifications
Ryzen 5 1400
Ryzen 7 1700
Display
27" InfinityEdge IPS with 1980×1080 resolution, 250 cd/m² brightness, anti-glare
27" InfinityEdge IPS with 3840×2160 resolution, 350 cd/m² brightness, anti-glare
CPU
AMD Ryzen 5 1400
4C/8T
3.2 GHz/3.4 GHz
10 MB Cache (L2: 2 MB, L3: 8 MB)
65W TDP
AMD Ryzen 1700
8C/16T
3 GHz/3.7 GHz
20 MB Cache (L2: 4 MB, L3: 16 MB)
65W TDP
Graphics
AMD Radeon RX 560 with 4 GB of GDDR5
1024 stream processors, 64 texture units, 16 ROPs, 128-bit memory bus
AMD Radeon RX 580 with 8 GB of GDDR5
2304 stream processors, 144 texture units, 32 ROPs, 256-bit memory bus
Memory
Single-Channel: 8 GB, 12 GB and 16 GB DDR4
Dual-Channel: 8 GB, 16 GB and 32 GB DDR4
Storage
Single Drive: 1 TB HDD with 5400 RPM or 7200 RPM spindle speed
Dual Drive: 128 GB SSD + 1 TB HDD (5400 RPM)
Dual Drive: 256 GB PCIe NVMe SSD + 1 TB HDD (5400 RPM)
Wi-Fi
1×1 or 2×2 IEEE 802.11ac Wi-Fi + BT 4.1
Ethernet
GbE
Display Outputs
1 × HDMI out
1 × HDMI in
Audio
2 speakers
1 × audio out
1 × TRRS
USB
2 × USB 2.0 Type-A
3 × USB 3.0 Type-A
1 × USB 3.1 Type-C
1 × USB 3.1 Type-A
Other I/O
720p webcam with RGB and IR sensors
SD/MMC card reader
Dimensions
Width: 613.8 mm / 24.2"
Height: 394 mm / 15.5"
Depth: 53 mm / 2.1"
PSU
180 W external
330 W external
OS
Windows 10 Home 64-bit
Dell's Inspiron 27 7775 will be available in different configurations across many regions and the manufacturer does not specify which machines will be available where and when. The only thing that Dell discloses is that the new units are set to be available in the U.S. already in May starting at $999.99.
Related Reading:
Source: Dell