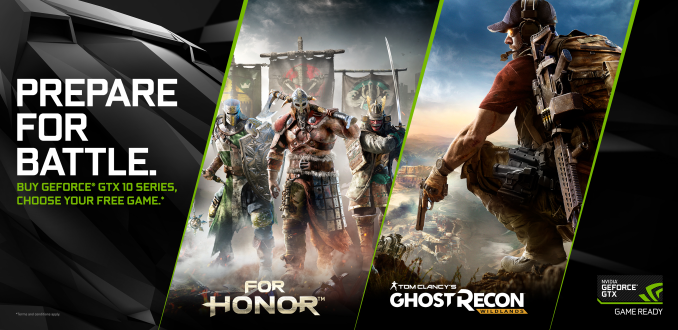 In a brief announcement this morning, NVIDIA is expanding their "Prepare for Battle" bundle to include the GeForce GTX 1060.
NVIDIA's latest bundle launched nearly two months ago, at the end of January. At the time it launched, the bundle offered anyone who purchased a GeForce GTX 1080, GTX 1070, or a PC or laptop equipped with these cards the option to download either Ubisoft's For Honor or Tom Clancy's Ghost Recon Wildlands for free. NVIDIA then expanded the bundle to cover the GTX 1080 Ti upon its launch earlier this month.
Now that a good number of miles have been run on this offer, NVIDIA has included the GeForce GTX 1060 in on the action as well. This means that short of the entry-level GTX 1050 series, everything above in NVIDIA's GeForce lineup includes a game bundle. It's a notable distinction, in part because the GTX 1060 is the fastest card in a competitive market for NVIDIA - that is, where AMD offers a card with comparable performance. Consequently, NVIDIA's bundle has taken on something of a new meaning, as it's no longer about just throwing in a value add item to higher margin cards, but now about influencing mainstream video card buyers.
NVIDIA Current Game Bundles
Video Card
Bundle
GeForce GTX 1080/1070
Prepare for Battle
GeForce GTX 1060
Prepare for Battle
GeForce GTX 1050Ti/1050
None
GeForce GTX 1080/1070 Desktops
Prepare for Battle
GeForce GTX 1080/1070 Notebooks
Prepare for Battle
Looking at the updated lineup, one thing worth noting here is that while GTX 1080 and GTX 1070 systems were included in the bundle, there is no word on if GTX 1060-equipped desktops or laptops are part of this offer as well.
We haven't yet received news to how long this offer will run, though we will update here when we catch news of the end date. Meanwhile it is worth remembering to verify the participation of any vendors purchased from as NVIDIA likely will not give codes for purchases made from sellers that are not participating. NVIDIA also makes clear that it is up to the buyer to confirm their vendor of choice is participating in this bundle as NVIDIA cannot provide download codes and coupons for purchases made at non-participating retailers and e-tailers.
Source: NVIDIA