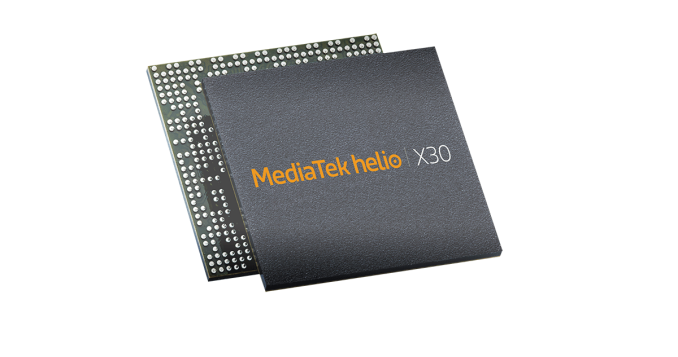 MediaTek first unveiled the Helio X30—its next-generation high-end SoC—last fall, but today at Mobile World Congress the Taiwanese company announced its commercial availability. The Helio X30 is entering mass production and should make its debut inside a mobile device sometime in Q2 2017.
The Helio X30, like the Helio X20 family before it, incorporates 10 CPU cores arranged in a Max.Mid.Min tri-cluster configuration. Two of ARM's latest A73 CPU cores replace the two A72s in the Max cluster, which should improve performance and reduce power consumption. The Mid cluster still uses 4 A53 cores, but they receive a 10% frequency boost relative to the top-of-the-line Helio X27. In the X30's Min cluster we find the first implementation of ARM's most-efficient A-series core. The A35 consumes 32% less power than the A53 it replaces (same process/frequency), while delivering 80%-100% of the performance, according to ARM. With a higher peak frequency of 1.9GHz, the X30's A35 cores should deliver about the same or better performance than the X20's A53 cores and still consume less power.
MediaTek Helio X20 vs. Helio X30
SoC
MediaTek
Helio X20
MediaTek
Helio X30
CPU
2x Cortex-A72 @2.1GHz

4x Cortex-A53 @1.85GHz

4x Cortex-A53 @1.4GHz
2x Cortex-A73 @2.5GHz

4x Cortex-A53 @2.2GHz

4x Cortex-A35 @1.9GHz
GPU
ARM Mali-T880MP4
@780MHz
PowerVR 7XTP-MT4
@800MHz
Memory
Controller
2x 32-bit @ 933MHz LPDDR3

14.9GB/s b/w
4x 16-bit @ 1866MHz LPDDR4x

29.9GB/s b/w
Video Encode/
Decode
encode:
2160p30
H.264 / HEVC w/HDR

decode:
2160p30 10-bit
H.264 / HEVC / VP9
encode:
2160p30
H.264 / HEVC w/HDR / VP9

decode:
2160p30 10-bit
H.264 / HEVC / VP9
Camera/ISP
Dual ISP
32MP @ 24fps (single camera)
or
13MP + 13MP @ 30fps (dual camera)
Dual 14-bit ISP
28MP @ 30fps (single camera)
or
16MP + 16MP (dual camera)
Integrated
Modem
LTE Category 6
DL = 300Mbps
2x20MHz CA, 64-QAM

UL = 50Mbps
1x20MHz CA, 16-QAM

FDD-LTE / TD-LTE / TD-SCDMA / WCDMA / CDMA / GSM
LTE Category 10
DL = 450Mbps
3x20MHz CA, 64-QAM

UL = 150Mbps
2x20MHz CA, 64-QAM

FDD-LTE / TD-LTE / TD-SCDMA / WCDMA / CDMA / GSM
Mfc. Process
TSMC 20SoC (planar)
TSMC 10nm FinFET
The Helio X30 will also be the first SoC to use TSMC's 10nm process, which will offer significant power savings relative to TSMC's 20nm planar process that the Helio X20 family uses. According to MediaTek, the X30 consumes 50% less power than the X20 when running an unspecified CPU workload and 60% less power when running GFXBench T-Rex. These power savings will increase battery life and improve sustained performance with less thermal throttling.
Alongside the Helio X30, MediaTek is launching CorePilot 4.0, which manages CPU frequency and task scheduling. Optimized for its unique tri-cluster CPU configuration, CorePilot keeps track of the SoC's power budget by monitoring temperature, and the global task scheduler component is responsible for migrating tasks between clusters based on workload and user experience parameters, such as frames per second. It also adjusts CPU frequency using Fast DVFS technology that increases sampling rate, allowing for faster voltage/frequency adjustments that better follow changes in workload. The overall goal of CorePilot 4.0 is to achieve the best possible performance at the lowest power levels.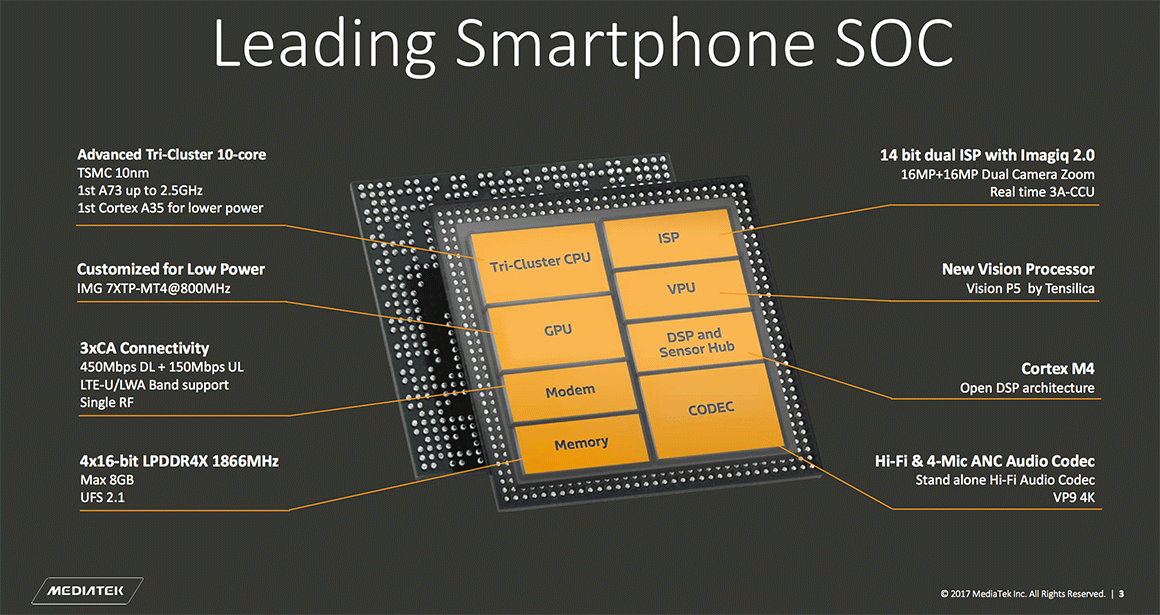 In a short presentation at its MWC booth Monday, Executive Vice President & Co-COO Jeffrey Ju stated that MediaTek expects only a limited number of phones to use the Helio X30, perhaps less than ten. He also mentioned that a low yield rate for TSMC's 10nm process has delayed the X30's availability. The X30 sounds compelling on paper, so it will be interesting to see how many design wins it can actually achieve.