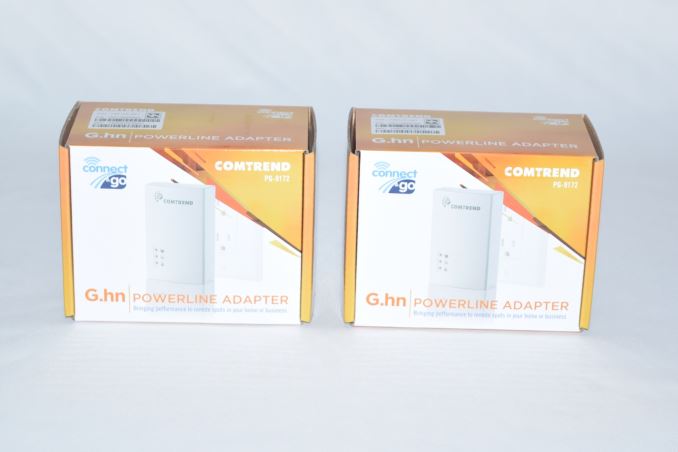 The battle between HomePlug and HomeGrid to emerge as the de-facto powerline networking standard was quite interesting between 2010 and 2013. However, despite silicon getting demonstrated at various trade shows, HomeGrid's G.hn was unable to get a retail product out for a long time. This changed last summer with the introduction of the Comtrend PG-9172, a 1200 Mbps G.hn powerline adapter.
Background
We have covered powerline networking on-and-off over the last five years. Around the 2012 time-frame, there was a big tussle going on between HomePlug and HomeGrid to emerge as the standard for powerline communication. HomePlug has been enjoying a lot of success over the last decade as the incumbent with a huge install base (both amongst service providers and retail consumers). Sigma Designs impressed us with multiple silicon demonstrations back in 2011. This was followed by Marvell throwing its hat in the ring later that year. However, despite multiple launches following up, HomeGrid's G.hn never appeared to gain traction.
At CES 2014, I had the chance to talk with the people from both HomePlug and HomeGrid. Following that, I completely wrote off G.hn's chances in the retail powerline communication market. My reasons were pretty clear - three years after launch of the first generation silicon from multiple vendors, they had no retail product to show. There were no major updates at CES 2015 either, and I thought HomePlug had sealed the deal to be the de-facto powerline standard.
Throughout this time, G.hn appeared to be gaining traction amongst service providers, but there appeared to be no significant deployment. Things started changing in 2015. Last year, Comtrend introduced the first G.hn product in the retail channel in the US market. We have had the review units for close to a year now. Despite doing some initial benchmarking last year, we were hesitant to carry out a full-length review with just benchmarks from the PG-9172 alone. Another reason was that the Comtrend PG-9172 was a standalone product, and couldn't inter-operate with the large number of HomePlug products already in the market. It was hard to judge the value of a product that had to rely on support from a non-Tier-1 vendor. A few weeks back, ARRIS (famous for its SURFboard cable modems after the 2013 purchase of the Motorola Home division) introduced the RipCurrent range of networking products utilizing G.hn technology. Suddenly, we could look at the Comtrend PG-9172 in a whole new light. A growing G.hn retail ecosystem meant that it was time to dust off the powerline adapters and look at the comparative performance of the PG-9172 against various solutions from the HomePlug stable.
Comtrend PG-9172: Features and Usage Impressions
The Comtrend PG-9172 is a powerline adapter based on G.hn technology. Prior to its launch, all retail powerline adapters had been based on HomePlug technology. Readers looking for some background on HomePlug and G.hn would do well to peruse our first powerline networking kit review and our subsequent coverage of the tussle between HomePlug and G.hn.
The Comtrend PG-9172, like other powerline adapters, uses existing electrical wiring and powerline technology to connect devices at wired speeds without rewiring with Ethernet. Comtrend claims that the G.hn technology in the PG-9172 helps it deliver better real-world performance compared to HomePlug AV2 standards. It features MIMO (multiple-input, multiple-output) technology and supports encryption for secure communication.
The PG-9172 is available as a single adapter. Obviously, one needs a minimum of two adapters to create a powerline network, and our review kit came with two units. Each package has an adapter, a Cat5 Ethernet cable, and a brief installation guide.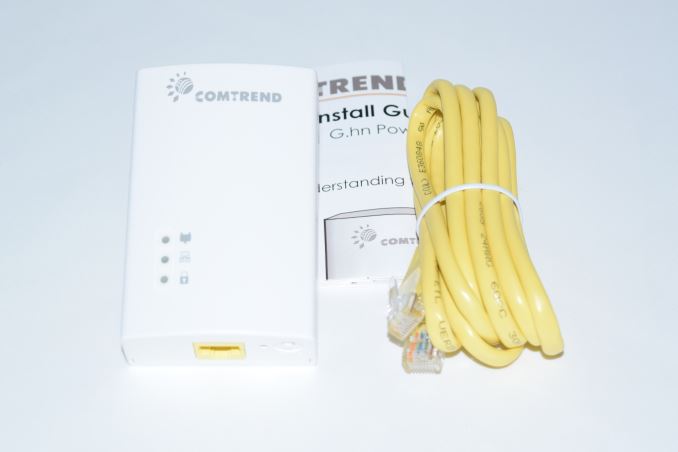 In order to support MIMO, the adapter makes use of the ground pin also. The rear side of the unit sports the HomeGrid certification logo. The bottom of the unit contains the RJ-45 port and a configuration reset button. The front side of the adapter contains LEDs to indicate power status, Ethernet link status and encryption status. Each adapter has dimensions of 93mm x 59.6mm x 35mm and weighs 100g.
The Comtrend PG-9172 is based on a Marvell platform. It uses the Marvell 88LX3142 for the G.hn digital baseband functionality and a Marvell 88LX2718 Analog Front End (AFE) chip. The platform features 128-bit AES encryption, and has a PHY rate of 1200 Mbps.
Using the adapter is a simple plug-and-play process. One plugged-in adapter is connected to the router / DHCP server, while the other adapter(s) can be connected to power outlets anywhere in the house. A maximum of 7 other adapters can be part of a G.hn powerline network, as per the specifications of the PG-9172. Most consumers can use the PG-9172 kits to extend their wired network in this manner without worrying about anything else.
Firmware upgrades are managed by the PG-9172 Upgrade Tool available for download on Comtrend's product page. Unfortunately, I never got the upgrade tool to work properly on any of the multiple machines I tried out. Consumers with technical awareness can also manage the adapters via a HTTP interface. This interface can be accessed by setting a static IP in the 10.10.1.0 subnet for the PC's network port connected to the PG-9172 unit. The adapter's web UI can then be accessed at 10.10.1.69 with the password 'paterna'.
The web configuration page provides essential statistics such as PHY rates. It also allows the user to enter a encryption passphrase. We find that power saving / inactivity detection mode is disabled by default. The firmware version can also be verified, and upgraded using FTP / TFTP. Unfortunately, direct upgrade of firmware via the web UI is not available. Advanced users can also configure multicast features, QoS and VLANs using the web UI.