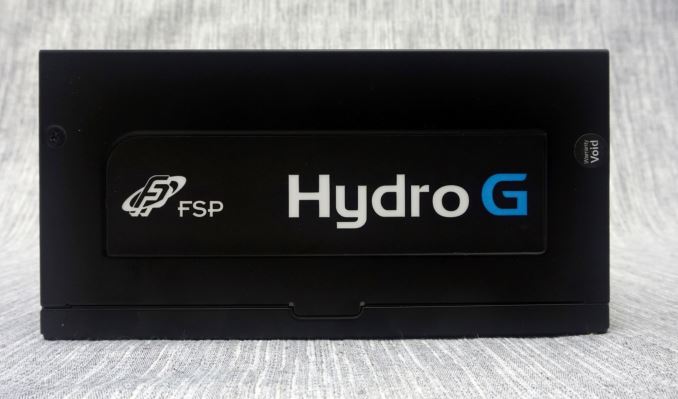 Fortron Source (FSP) is one of the oldest computer PSU manufacturers in the market, and is the OEM behind a number of rebranded products. Their designs are usually found in advanced mid-range units, such as the Be Quiet! Dark Power Pro 10 series, but FSP has also developed interesting high-wattage designs, some of which they have been selling under their own brand. To that end, today we'll be taking a closer look at one of thier first-party PSUs, the FSP Hydro G 750W.
FSP ranks their Hydro G as their premium series, albeit beneath the 80Plus Platinum certified Aurum PT units. The Hydro G series consists of three 80Plus Gold units, ranging from 650W to 850W. All three units are based on the same platform design and FSP has supplied us with the middle option, the 750W model, which should give us a good look at the quality and performance of the series. FSP is also boasting some interesting features that we are eager to examine, such as changeable side stickers, a "server grade" design and 0 dB(A) fan control.
Power specifications ( Rated @ 50 °C )
AC INPUT
100 - 240 VAC, 50 - 60 Hz
RAIL
+3.3V
+5V
+12V
+5Vsb
-12V
MAX OUTPUT
25A
25A
62.5A
3.5A
0.5A
150W
750W
17.5W
6W
TOTAL
750W
Packaging and Bundle
FSP packs the Hydro G unit in a short but very sturdy cardboard box. The artwork is simple, based on a dark theme with golden edgings, with a picture of the PSU itself in the middle. The most important features of the PSU are presented on the front side of the box in the form of icons. Details may be found on its sides and rear.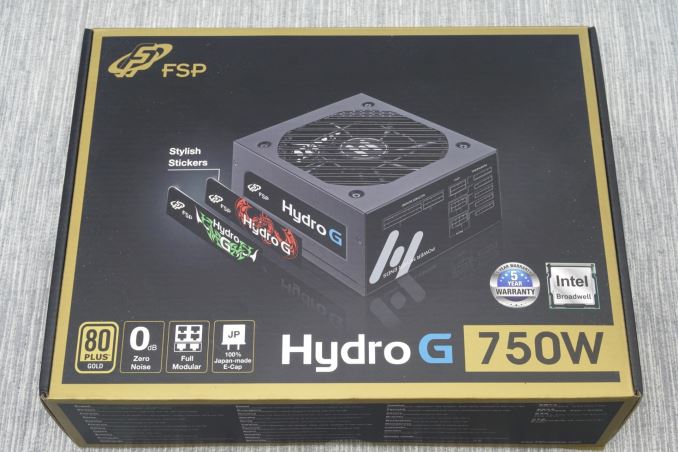 Even though the Hydro G is considered a premium series by FSP, the company is supplying only the absolute basics with it. Inside the box we only found a standard AC power cable, four black mounting screws, and very basic manual/instructions leaflets. The PSU comes adorned with blue stickers, and as part of their color changing gimmick FSP also supplies sets of red and green stickers in the box to change the accent color of the PSU. The whole design of each set of stickers differs, not just the color. However it should be noted that these are true stickers rather than some kind of reusable solution, so once a sticker is applied that's it.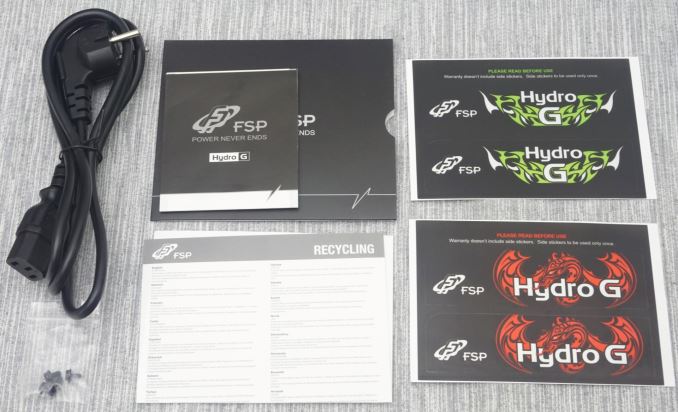 The modular cables of the Hydro G are "flat" ribbon-type cables, including the main 24-pin ATX cable. All of the wires and connectors are black. The number of connectors per cable is a bit unusual though. For example, one cable has four SATA connectors, another has two SATA and two Molex connectors, and two of them have two SATA, one Molex and one floppy connector each. There is no cable with just Molex connectors on it.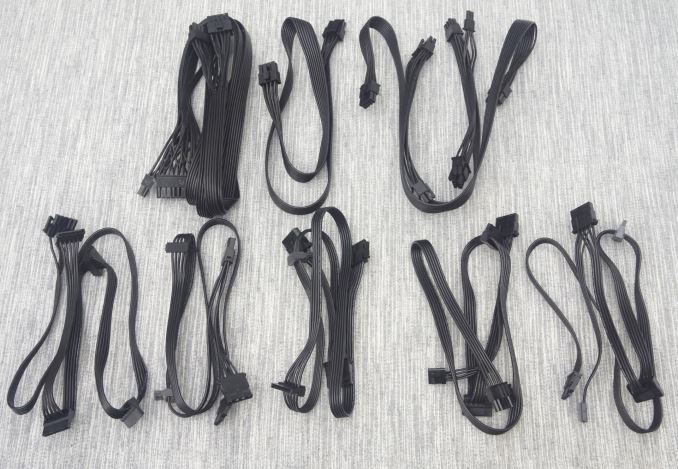 FSP Hydro G 750W
Connector type
Hardwired
Modular
ATX 24 Pin
-
1
EPS 4+4 Pin
-
1
EPS 8 Pin
-
-
PCI-E 6+2 Pin
-
4
PCI-E 8 Pin
-
-
SATA
-
10
Molex
-
6
Floppy
-
2