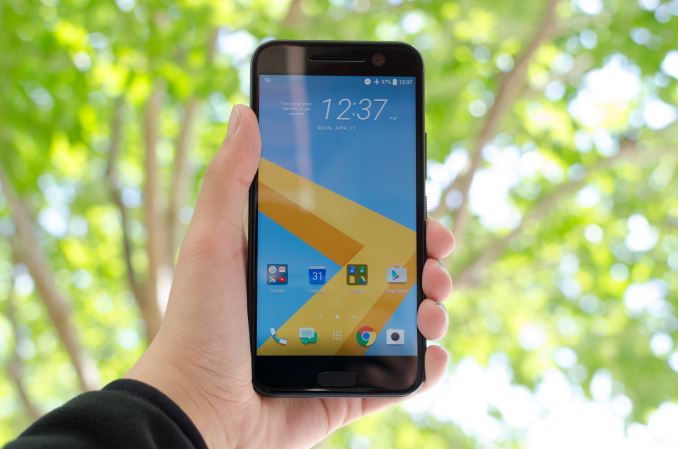 At this point it's probably not a secret that HTC has been struggling for the past few years. While the One M8 was a solid upgrade to the One M7, it was unfortunate in the sense that it did not resolve the problems that the M7 had. HTC made a leap in extending the One's core strengths of an aluminum unibody design, dual front-facing speakers, and generally polished user experience, but they left other matters unresolved. More frustratingly, with the One M9 it seemed that HTC had taken a step back as there was very little that had meaningfully changed, and it wasn't entirely unusual to see changes that were a regression relative to the One M8. To be honest, I was ready to write off HTC entirely from the market as the One M9+ felt like it was just more of the same mistakes from HTC.
However just as I was ready to write them off, HTC did something to make me stop and take notice. With the One A9, I was shocked to see just how quickly HTC seemed to respond to external criticism. One of the major concerns I had with the M9 lineup in general was that the camera processing was disappointing compared to the competition. With the One A9, HTC had seemingly done an about-face here. While I didn't have time to review the device itself, the camera was hugely improved compared to the One M9. Of course, with the Snapdragon 617 ISP there were still some notable camera issues that HTC alone couldn't solve, but for a company that I was ready to write off as irrelevant I was ready to give them another chance in this regard.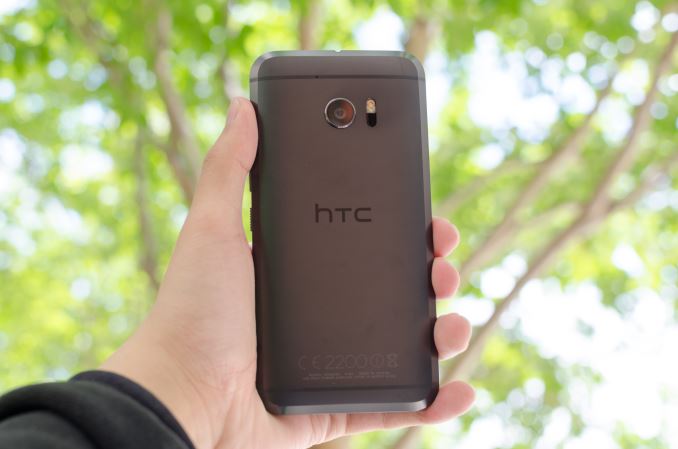 Similarly, while the One M9 had a disappointing display all around, the One A9's AMOLED display was impressive in terms of how well it was calibrated and other characteristics like maximum brightness. HTC Sense, which was getting to be a bit long in tooth with the One M9, was notably improved with the One A9. However while the One A9 was interesting, it really wasn't a high-end smartphone like the M9, so it really went without saying that the next flagship was the one I really wanted to see.
Basics
This brings us to the HTC 10, the high-end flagship to succeed the One M9. With their newest phone HTC wants to highlight in particular that this isn't just an increment to the One M9, so to distinguish it by name HTC has decided to call this device the 10. There's nothing else in the name this time, just 10.
To figure out whether it stacks up to the competition and whether the HTC 10 can be the leap forward that HTC needs to stay relevant, we can start with the usual spec sheet.
HTC One M9
HTC 10
SoC
Snapdragon 810
4x Cortex-A57 @ 2Ghz
4x Cortex-A53 @ 1.5GHz
Adreno 430

(TSMC 20SoC)
Snapdragon 820
2x Kryo @ 2.15GHz
2x Kryo @ 1.6GHz
Adreno 530

(Samsung 14LPP)
RAM
3GB LPDDR4
4GB LPDDR4
NAND
32GB NAND + microSD
32/64GB NAND + microSD
Display
5" 1080p
Super LCD3
5.2" 1440p
Super LCD5
Network
2G / 3G / 4G LTE (Category 6/9 LTE)
2G / 3G / 4G LTE (Category 6/9 LTE)
Dimensions
144.6 x 69.7 x 9.61mm, 157g
145.9 x 71.9 x 3-9mm, 161g
Camera
20MP Rear Facing f/2.2, 1.12µm, 1/2.4" (Toshiba T4KA7)
12MP Rear Facing w/ OIS and laser AF, f/1.8, 1.55µm, 1/2.3"
(Sony IMX377)
4MP Front Facing, f/2.0, 2µm
(OmniVision OV4688)
5MP Front Facing w/ OIS, f/1.8, 1.34µm
(Samsung S5K4E6)
Battery
2840 mAh (10.93 Whr)
3000 mAh (11.55 Whr)
OS
Android 5 w/ HTC Sense 7
(At Launch)
Android 6 w/ HTC Sense
(At Launch)
Connectivity
1x1 802.11a/b/g/n/ac,
BT 4.1, (BCM4356),
USB2.0, GPS/GLONASS, NFC
1x1 802.11a/b/g/n/ac,
BT 4.2, (BCM4359)
USB-C, USB3.1,
GPS/GLONASS (US, JP)
GPS/GLONASS/Beidou (EU, Asia)
NFC
Fingerprint Sensor
N/A
Capacitive
SIM
NanoSIM
NanoSIM
LTE Bands
Global: FDD 1/3/5/7/8/20/28
TDD 38/40/41
US: FDD 1/2/3/4/5/7/12/13/17/20/28/29/30
JP: FDD 1/3/5/7/13/17/19/21/26
TDD 38/41
Asia/EU: FDD 1/3/5/7/8/12/20/28/32
TDD 38/40/41
At a high level, the HTC 10 is probably one of the most promising HTC flagships ever released. The SoC maintains parity with every other high-end device you're going to see in the US for now, with the same amount of RAM and storage at 4GB and 32GB respectively. However unlike the competition it looks like the HTC 10 is still using eMMC which could have an effect on performance, although HTC is claiming that overall responsiveness with regard to app launch and multitasking exceeds that of the competition. The unit I got to spend some hands-on time with appears to use SanDisk DF4032 NAND, and SanDIsk has confirmed that this is iNAND 7232 so it isn't necessarily a guarantee that this storage will underperform relative to UFS solutions.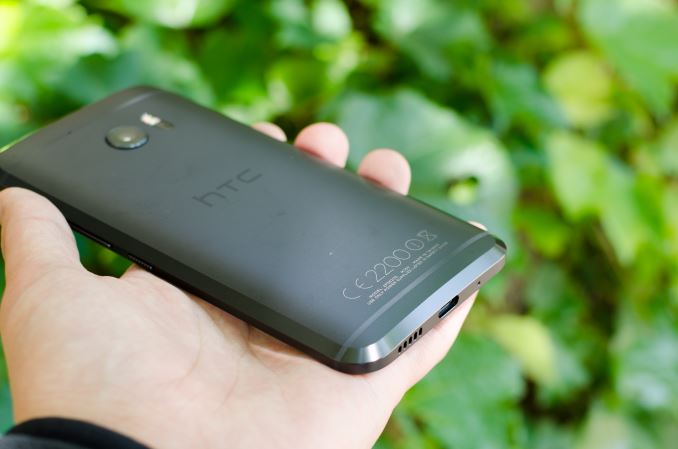 In addition to SoC parity, HTC is maintaining battery size parity with a 11.55 WHr battery, which is going to be comparable to the Galaxy S7 and Xiaomi Mi5, although again HTC is claiming that they've been able to keep power efficiency higher than the Galaxy S7 to get better overall battery life. To round out the list of things that HTC has included to keep up with the competition, we see the inclusion of Qualcomm QC 3.0, USB 3.1 over USB Type-C, and LTE UE Category 9 support. HTC also continues to include their fingerprint scanner with automatic finger scanning with the display off. For the HTC 10, this fingerprint scanner should only take 200 ms to unlock.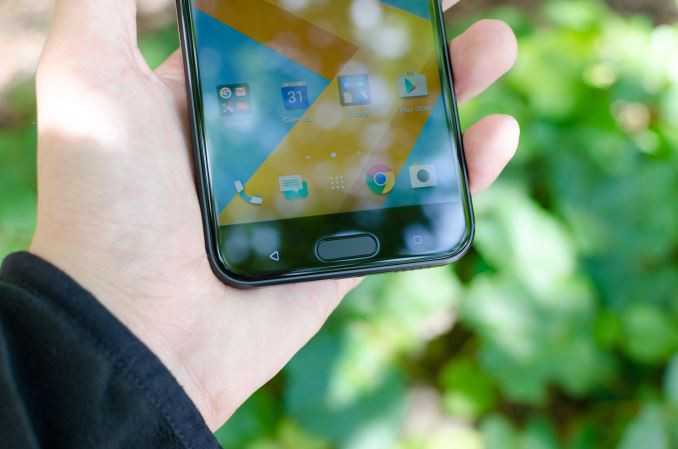 Of course, HTC is seeking to set themselves apart from the competition, and to that end they're bringing a new 5.2" 1440p Super LCD 5 display. I'm not entirely sure why HTC skipped Super LCD 4, but it's possible that they either thought that this display is two generations worth of progress or that they just didn't want an "unlucky number" to be used. Regardless, this display distinguishes itself from previous generations by having a wider gamut - HTC officially claims 92% NTSC, which should put it around 96% Adobe RGB - and a significantly improved Synaptics DSX touchscreen. HTC is claiming that with their touchscreen tuning at the hardware and software level that their touch latency is almost half that of the Galaxy Note5 and appreciably lower than the Galaxy S7.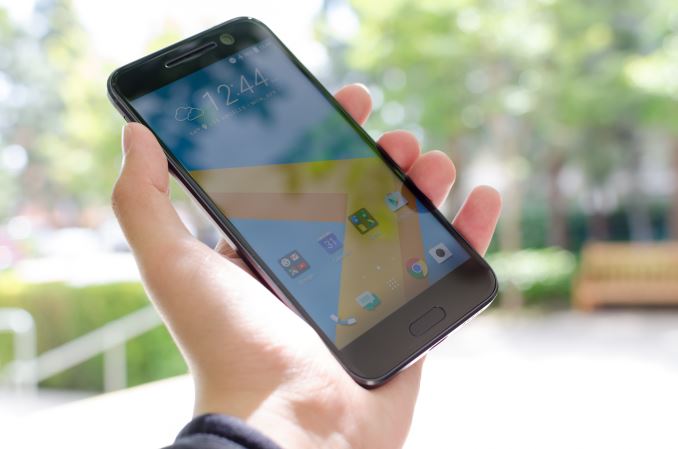 Subjectively, the display of the HTC 10 is probably one of the better displays I've seen this year. Like the LG G5, the display has high color stability under viewing angle changes and when appears painted on to the display because of how close the panel appears to be to the glass. Unlike the G5 though there is an sRGB mode and the color temperature tends slightly warm. The color temperature is adjustable, but there is no clear scale here to indicate where 6500k is. Subjectively, for whatever reason navigation does feel noticeably smoother and responsive compared to the Galaxy S7, especially when dealing with long scrolling lists in apps like Reddit is Fun. I'm not sure if the HTC 10 is actually smoother here or if Samsung is just doing something different when it comes to touchscreen response because it's entirely plausible that the Galaxy S7 just gives less momentum to a swipe, but it's something I'll have to test with more than just subjective testing. Regardless, something as simple as swiping through the app drawer causes what looks like dropped frames on the S820 GS7 while the HTC 10 is flawlessly smooth here.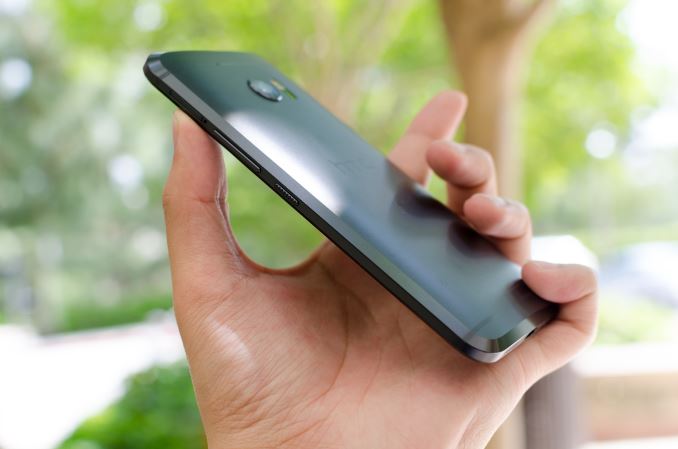 In the grand scheme of things, while smoothness is definitely a big deal, it's not really something that will immediately stand out unless you get to use a phone for an extended period of time. HTC seems to have realized this and in response they've also focused on some key areas of the device to make themselves stand out.