Case - Antec Performance Plus PLUS1080 - $145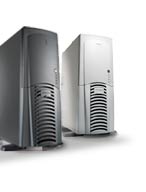 In building a high-end system one does not want to be limited by expansion options. For this reason we chose the Antec PLUS1080 case to provide shelter for our high-end SOHO setup. The case is designed is large and spacious, offering 10 drive bays (four 5.25" and six 3.5") as well as a good cooling setup. Also included is a 430W Pentium 4/Athlon XP ready power supply.
With it's two rear and one side panel fans standard, the system wont be quiet but then again what office is silent? As a side note, the system that we are putting inside the PLUS1080 should be fine without the case cooling meaning that the fans can be disabled to reduce noise level.
If you are looking for something smaller, try the Antec PLUS660 on for size. This mini-tower offers many of the features present on the PLUS1080 except in a smaller package at a price that runs about $45 less.
Sound card - Integrated Creative CT5880E - "Free"
Naturally sound is not a large concern in a SOHO machine. Then again, who doesn't like to listen to a bit of music occasionally during work? With that in mind, the integrated sound solution on the Gigabyte 8IEXP should serve its purpose well. The chip actually has support for digital out and the 8IEXP comes with a S/PDIF output bracket. The audio quality out of this setup should be fine: certainly good enough to play your favorite music every now and then.
Speakers - Logitech Z-540 - $57
We are building a system with a somewhat flexible budget and therefore we decided to spring a bit and go for a fairly nice speaker system. Again, sound quality isn't that important in our high-end SOHO machine but the truth of the matter is that the Logitech Z-540s are really only going to cost you about $30 or $40 more than the least expensive stereo speakers you can find. The Z-540's are a good 4.1 audio setup, as we noted in our value gaming buyer's guide:
Although we have not yet had a chance to review the Logitech Z-540 speakers we have heard very good things about them and one would be hard pressed to find a 4.1 setup that sounds as good at a similar price point. If you are not too picky when it comes to sound, you can save a good $30 or more by going to a stereo sound setup. At the same time, if you are a sound snob, very high quality stereo sound setups are available in the same price range as the Z-540.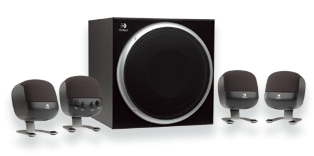 Ethernet - Integrated Intel PRO/100 VE - "Free"
No reason to spend money on a discreet network card when our Gigabyte 8IEXP motherboard includes a controller for free. The Intel LAN chip used on the Gigabyte motherboard works great and will be just as fast and stable as any good LAN card on the market today.
Hard drive - 2 x Maxtor DiamondMax D740X 6L040J2 40GB - $65 x 2
We are sticking to the same hard drive we used in the value system recommendations for one reason: these drives are fast. Sure, at $65 a pop they are a good deal but they also have all the speed we would expect out of a higher priced drive. We are going with two of the D740X drives in our high-end SOHO system in an attempt to speed up one of the largest bottlenecks in computers today.
By configuring our two hard drives in a RAID 0 array we should be able to get about a 10% performance increase over the performance of a single D740X. The additional $65 is a fairly small price to pay for such an increase in performance.
Ultra ATA 133 RAID Controller - HighPoint RocketRaid 404 - $100
We are well aware that our motherboard includes an integrated RAID controller but we still decided to spring for an external one instead. It is not that we have anything against integrated RAID controllers, we just have something against the Promise PDC20276 controller. It seems that the PDC20276 used on many motherboards allows for only one fixed stripe size, thus defeating one of the benefits of striped RAID arrays. Because of this, we were forced to go with the HighPoint RocketRaid 404 and it's HPT374 IDE RAID controller. When paired with our Maxtor D740X hard drives in a RAID 0 array, the HighPoint RocketRaid 404 should bring even more speed to our high-end SOHO's applications.
For more information about RAID, check out our IDE RAID Comparison.
CD-RW - Plextor PX-W4012TA/SW 40x12x40 CD-RW - $125
It only makes sense to put a CD-RW drive in our high-end SOHO machine. Plextor remains the at the top of the EIDE CD-RW pack with the PX-W3012TA/SW's 40x burn speed. At this rate, backing up data and copying files should be a breeze.
OS - Microsoft Windows XP Professional - $275
Windows XP Professional should be the clear operating system choice for those wanting to get work done. The OS offers great stability and performance while maintaining compatibility with almost every application imaginable. Those looking for an alternate OS could go with a recent Linux build for a fraction of the cost.
You may be able to find an OEM copy of Windows XP Professional out there for significantly less. If you are building the machine from scratch, by all means go for it.
Bottom Line - $1788 (without software)