Case - Antec SX630 - $65
After the comments we got in our value SOHO system buyer's guide, we changed our case recommendation to the Antec SX630 for our value gamers system. The value professional 3D gets the same case which offers expandability, good airflow, and a nice price.
The SX630 features many of the same features present on our previous case choice, the Antec Value Line KS388, but offers additional cooling. The SX630 is a mini tower system that includes 8 drive bays (five 3.5" bays and three 5.25" bays), seven expansion slots, a swing-out side panel, and an 80mm rear case fan standard. The SX630 can also accept two front mounted 80mm case fans. The SX630 also comes with an AMD approved 300 watt power supply.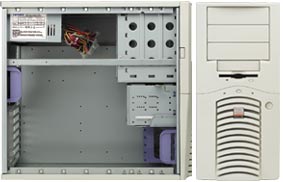 Sound card - Integrated 6 Channel Avance Logic ALC650 - "Free"
Thanks to Avance Logic's new ACL650 AC'97 codec, a discrete sound card is no longer necessary. The MSI 6380E KT3 Ultra motherboard we chose to power our professional 3D system makes use of the ACL650, providing a very low cost 6 channel audio that provides audio functionality not previously available in an integrated audio solution.
Avance Logic's software allows you to remap the three 1/8" jacks on the KT3 Ultra to handle front, rear and LFE outputs. Because of this, these three jacks enable 5.1 channel analog outputs without the use of any additional brackets. The audio quality of this solution should be just about as good as a high end discrete audio card with a price much more attractive: free. Sure, audio playback may not be of utmost concern in a professional 3D system but it is hard to beat a price that is free.
Check out our page covering on-board audio in our KT333 roundup for more information.
Speakers - Generic - $20
Because sound is not the most important thing in most professional environments,we chose to outfit our value professional 3D system with a set of speakers that doesn't really do the integrated audio justice. Any pair of stereo speakers at your local computer store will make do for now. If you are interested in getting a higher end audio system, try the Logitech Z-540s. They will cost about $40 more than the generic stereo speakers but will sound a world better.
Ethernet: Linksys EtherFast 10/100 - $20
Since our motherboard did not offer integrated ethernet, we had to chose an add-in card to provide broadband connectivity. We use Linksys products here in the AnandTech lab all the time and have never been disappointed. Besides, at just $20 for a card with full support directly from the manufacturer under the major OS's, including Linux and Windows 2000, the EtherFast 10/100 is a deal that's impossible to pass up.
Hard drive - Maxtor DiamondMax D740X 6L040J2 40GB - $65
Again we stick to the same hard drive recommendation we made in our value gaming system buyer's guide.
The Maxtor DiamondMax D740X drive that we recommend today is a high performance 7200rpm drive that is able to offer speed at a good price. Larger versions of the D740X are available for about $20 more and offer the same performance as the 40GB model chosen here. In a system where performance is key, such as this one, we recommend that you stick with a 7200rpm drive as the hard drive remains one of the largest PC bottlenecks.
CD-ROM/CD-RW/DVD-ROM - Name brand 40X - 50X CD-ROM - $30
Our recommended optical solution is the same one that the previous two value system received. A DVD drive or a CD-RW drive is just not necessary in a machine being built on a budget. Again, we suggest going with a brand name CDROM drive, not just the cheapest one available. We have seen no-name CDROM drives choke when trying to read less than perfect discs and not perform as advertised even under ideal situations. Try going with Acer, ASUS, Creative Labs, Toshiba, or Teac.
If you are looking for good CD-R or CD-RW functionality, those drives can be had for about $25 more but feature lower read speeds.
OS - Microsoft Windows XP Professional - $275
Windows XP Professional is not only the clear operating system choice for those wanting to get work done in the high stress environment of professional 3d applications. The OS offers great stability and performance while maintaining compatibility with almost every application imaginable. In addition, the built in DirectX 8 functionality ensures that the current generation games will run flawlessly. Those looking for an alternate OS could go with a recent Linux build for a fraction of the cost but may be disappointed with the limited number of 3D games such a setup would be able to can play.
You may be able to find an OEM copy of Windows XP Professional out there for significantly less. If you are building the machine from scratch, by all means go for it.
Bottom Line: $1152 (without software)