Value Gaming
Processor - AMD Athlon XP 1700+ (1.47GHz) - $68
Our buyer's guide in August of last year suggested that an AMD Duron processor be placed at the heart of the value gaming system. One year later, we change our recommendation to an Athlon XP processor. The price differential between the Athlon XP and the Duron has shrunk considerably in the past year and our Athlon XP 1700+ processor costs only $20 more than the Duron 1.3GHz we recommended for our value SOHO system.
We felt that the $20 price increase was justifiable considering the extra 166MHz and increased cache that the Athlon XP 1700+ offers. Again, switching to a Willamette based Celeron does not make sense especially in a gaming system where every extra bit of cache helps. Not only would the new Celeron drive system cost up about $40, it would also offer lower performance compared to the Athlon XP 1700+.
The price of the higher clocked Athlon XP chips is still somewhat inflated. Moving up to an 1800+ would increase price by $11 while only increasing clock speed by 66MHz and offering very marginal performance gains.
For more information about the Athlon XP 1700+ be sure to read our AMD Athlon XP article.
Motherboard - MSI MS-6380E KT3 Ultra - $77
Finding a motherboard to put our Athlon XP 1700+ in was not easy. First off we were left deciding what chipset our value gaming system should use.
At first we suspected that the VIA KT266A chipset would be a good match for a gaming system on a budget. With the release of the KT333, we hoped that KT266A prices had fallen in an effort to phase them out. We were incorrect. When comparing the prices of KT266A motherboards to KT333 motherboards we found that both were being offered at very similar prices. With this in mind, we decided to stick with the KT333 because of the performance it is able to offer in a motherboard that doesn't cost an arm and a leg.
Next we were left trying to decide what KT333 motherboard we should use. In our recent KT333 roundup we found that many of the KT333 solutions out there were similar. In fact, we were not able to select a motherboard in the group worthy of the AnandTech Editor's Choice gold award. What we decided to do was go through the list of KT333 motherboards that we had and choose one based on features and price.
We went out searching for a KT333 motherboard in the $60-$80 price range that included both integrated 6 channel audio and integrated LAN. Unfortunately we could not find a suitable motherboard in this price range that offered both 6 channel integrated audio and integrated LAN. We were therefore forced to chose which feature we would rather have on the motherboard.
While a fast and reliable LAN card typically only costs about $20, a good 6 channel audio solution starts at $50 and up. With this in mind, we decided to go with a motherboard that offers integrated 6 channel audio as opposed to integrated LAN since it would save us money in the overall system price. We chose to go with the MSI MS-6380E KT3 Ultra not only because of its price but also because because it picked up the AnandTech Editors Choice Silver award in our KT333 roundup.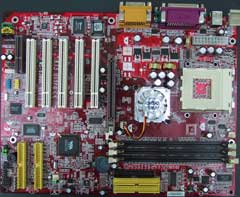 You can read more about the MSI KT3 Ultra in our KT333 roundup and more about the KT333 chipset in general in our VIA KT333 article.
Memory - 256MB Mushkin PC2700 SDRAM - $62
Again we decide to go with slightly more expensive but infinitely more reliable memory. Mushkin is actually having a special this week where a 256MB PC2700 SDRAM stick costs significantly less than other memory of similar quality. The memory prices will likely rise about $10 to $20 when this special is over and when this happens all good quality memory will cost about the same. We suggest you stay safe and go with a name you have heard of like Mushkin, Crucial, or Kingston.
We decided to go with DDR333 memory because the price increase over DDR266 memory is minor yet performance is better.

Video card - ATI Radeon 8500LE 64MB - $93
As you may have noticed, ATI released two new graphics boards this week, the Radeon 9000 and the Radeon 9700 series cards. Since these two cards aim at taking over where the 8500 left off, ATI has aggressively lowered prices on Radeon 8500 boards to clear the way for the 9000 and 9700 parts. Radeon 8500LE boards are at an all time low of only $93 and with performance almost matching cards priced at $45 more it makes sense to go with the Radeon 8500LE this week. This is especially true if you are willing to overclock your card to Radeon 8500 speeds and beyond.
For those looking for a bit more performance with a slightly higher price, we suggest you look at the NVIDIA GeForce4 Ti 4200 64MB cards. Since all GeForce4 Ti 4200 64MB cards are created equal, just go with the least expensive board you can find. Making the switch from the Radeon 8500LE to the GeForce4 Ti4200 this week will set you back an extra $45 but will also provide you with slightly superior performance and good overclocking potential.
For more information about the Radeon 8500, check out one of our various ATI Radeon 8500 reviews.
Monitor - Samsung 955DF - $215
Again, we knew that we wanted nothing less than a 19" monitor even for our value gaming system. With hardware that is able to run today's 3D games at 1024x768 and higher resolutions it was important to match the system with a monitor that can take advantage of its power. The Samsung 955DF does just that while at the same time maintaining an affordable price.
Again, just about any major manufacturer's 19" monitor will fit the bill but we feel confident recommending the 955DF because of our personal experience with it and it's killer price.
Be sure to check out our Samsung 955DF 19" Monitor review for more information.