MSI Z97A Gaming 6 In The Box
An unavoidable truth in most manufacturing is the quest to drive costs lower while maintaining the user experience. One aspect of this for the motherboard industry is what comes in the box. At a bare minimum we usually get a rear IO shield, a manual, a driver disk and a couple of SATA cables - anything above that puts pressure on the margins of the manufacturer. If the manufacturer is trying to drive a more expensive board into a lower price point, this is one of the places to start as some users care little about the box contents, and we've seen this to good effect in previous generations. When it comes to the user experience however, we see a direct correlation with more expensive (>$60) products and additional related peripherals. This usually extends first into more SATA cables, or a particular antenna design if WiFi is included, but MSI's gaming range tends to have a few others as well.
In the box for the MSI Z97A Gaming 6, we get the following:
Rear IO Shield
Driver Disk
Manuals
Four SATA Cables
Gaming Door Hanger
Adhesive Gaming Shield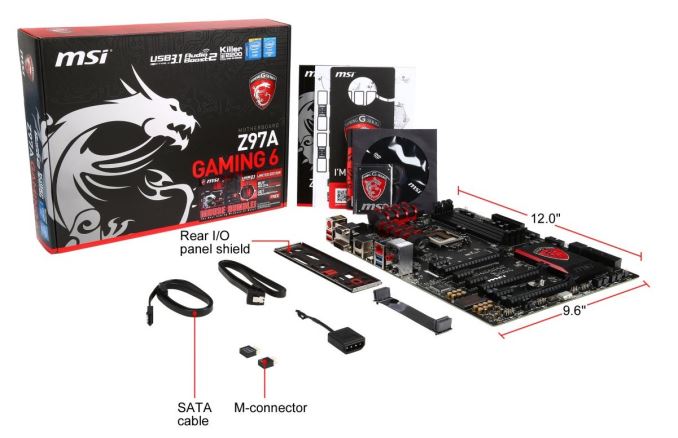 I have said previously, both in general and in reviews, that the gaming market is split. Those under 25, by virtue of their early career or presence in education, tend to build systems under $600 and focus on eSports titles due to budget constraints or low-to-medium quality AAA titles. The over 25s have been in the workplace a little longer, perhaps had a promotion or a bonus, and can spend more ($1000-$2000) if they want a good gaming system to play the latest AAA titles at great settings. The marketing for these crowds, as well as the pricing and bundles, is very different. This provides an element of disjunct here for the Z97A Gaming 6 which comes in at $160 - I would classify a door hanger (and a poster similar to previous bundles) more desirable in the under 25 category, and yet the pricing of the package puts it into the over 25s range. The question then becomes, what do you bundle in a motherboard for the older crowd in order to generate brand interest and loyalty while also being useful? The adhesive shield to be applied to the chassis might be part of that solution, although as long as it doesn't effect those systems aiming for a cleaner look.
Many thanks to...
We must thank the following companies for kindly providing hardware for our test bed:
Thank you to AMD for providing us with the R9 290X 4GB GPUs.
Thank you to ASUS for providing us with GTX 980 Strix GPUs and the R7 240 DDR3 GPU.
Thank you to ASRock and ASUS for providing us with some IO testing kit.
Thank you to Cooler Master for providing us with Nepton 140XL CLCs.
Thank you to Corsair for providing us with an AX1200i PSU.
Thank you to Crucial for providing us with MX200 SSDs.
Thank you to G.Skill and Corsair for providing us with memory.
Thank you to MSI for providing us with the GTX 770 Lightning GPUs.
Thank you to OCZ for providing us with PSUs.
Thank you to Rosewill for providing us with PSUs and RK-9100 keyboards.
Test Setup