Value SOHO
Processor - AMD Duron 1.3GHz - $50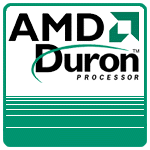 The Duron makes perfect sense for a value SOHO machine today in the same way that it made perfect sense for a value SOHO machine a year ago. Last year we elected to put a Duron 900MHz chip in our value SOHO system at a price of $65. Today we find that the processor brand selection has stayed the same while the speed and price have changed.
Frankly, it still does not make sense to go with a Celeron in a value SOHO system simply because the performance of the old Celeron is not up to par while the price of the Willamette based Celeron is still a bit high for our liking. Going with a faster Celeron 1.7GHz would certainly increase the speed of our value SOHO system but it would also increase the price upwards of $60. A more reasonable option for those wanting a bit more speed for a few more bucks would be an Athlon XP 1700+ for around $20 more.
For more information on the AMD Duron processor, check out our AMD's New Duron: Now at 1GHz review.
Motherboard - ASUS A7N266-VM - $80
Perhaps the most difficult decision in configuring our value SOHO machine was what chipset to go with. We knew that an integrated chipset is a must but deciding what integrated solution to choose was was bit harder. Initially we suspected that the SiS 740 chipset would provide a good mix of speed and price but we were disappointed to find that there are only a few SiS 740 based motherboards out on the market. We did not feel comfortable recommending the limited number of SiS 740 solutions we encountered on the web so we were forced to look elsewhere.
We knew that a DDR setup would be a huge plus for the value SOHO market since it would increase application speed a noticeable amount. For this reason we had to rule out the previous chipset selection, the SiS 730. The only other option available to us was the NVDIA nForce chipset and the more we looked at it, the more we liked it.
nForce motherboard prices have been falling rapidly since its release and at the $80 price point it makes perfect sense for a value system solution. First off, we were able to go with a brand we can trust, ASUS, as opposed to turning to a manufacturer of lesser reputation. This was important, especially in the SOHO market where stability is a must. Secondly, the nForce integrates a good number of features into its chipset. Not only does the nForce integrate GeForce2 MX graphics, it also offers integrated LAN and integrated audio. Finally, the performance of the nForce should not disappoint.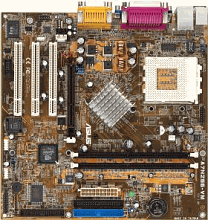 We chose to go with an nForce 220-D solution because, as our NVIDIA nForce 420/220 review showed, the additional memory bandwidth provided by the TwinBank 128-bit memory controller made little to no difference in 2D applications. The speed of the nForce 420 does increase over the nForce 420 while in gaming situations using the integrated GeForce2 MX video solution (because of the shared memory solution) so if you are looking to game on your value SOHO system the extra $15 that the 420 will cost you may be worth it. Just make sure your boss isn't watching.
Read more about the nForce chipset in our NVIDIA nForce 420/220 review.
Memory - 256MB Mushkin BASIC PC2100 SDRAM - $60
Sure, slightly less expensive memory can be found out there, but we felt that the extra $10 that going with Mushkin over a no-name brand memory producer was worth it. The memory is rated at CAS 2.5 is is guaranteed to work no matter what. It really only makes sense to go with a 256MB DIMM now, as most modern operating systems love all the memory they can get. Right now we would suggest that 256MB of memory is the least you should have in your SOHO machine.

Video card - Integrated GeForce2 MX Video - "free"
The integrated GeForce2 MX video processor in the NVIDIA nForce platform is unquestionably the most powerful integrated graphics solution on the market. Not only is the graphics core able to provide good quality 2D output and DVD playback, it is also to do much more gaming than, say, the integrated SiS solutions. The ASUS A7N266-VM also includes an external AGP 4X slot making a video upgrade down the road very simple.
For more information, see our NVIDIA nForce 420/220 review.
Monitor - Samsung 955DF - $215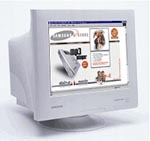 We knew we wanted a 19" monitor for our value SOHO system and the Samsung 955DF fit the bill. The screen area provided by a 19" monitor certainly helps in productivity, so anything smaller was out of the question. Since a monitor is one computer component that is likely to survive quite a number of system upgrades, it is also worth it to go with a monitor that that looks good and performs well. The Samsung 955DF met both of these requirements and carries with it a price to match.
A bit more money can get you a slightly shorter 19" monitor and you are pretty safe going with any large manufacturer's 19" solution. We chose the Samsung monitor because of its price and our personal experience with it.
Be sure to check out our Samsung 955DF 19" Monitor review for more information.