Adding ProSavage to the KT133
By taking the ProSavage core and adding it to the KT133 chipset, VIA makes the ProSavage KM133 which is identical to the KT133 in every way (shares the same AGP and memory controllers, etc…) except for the fact that it has the integrated video support.
Just like the SiS 730S and Intel's 815, the KM133 features its integrated video solution alongside an external AGP 4X slot for future video upgrades. 
Combining the fact that it does have external AGP 4X support with the fact that it shares the same base as the KT133, the performance of the KM133 should be identical to that of the KT133 when using an external graphics card.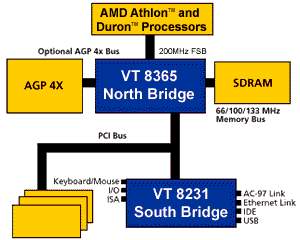 The 552-pin VT8365 Northbridge is pin compatible with the KT133's Northbridge (VT8363) meaning that manufacturers can fairly easily use a single motherboard design and offer both KM133 and KT133 solutions based upon it.  For more information on what features the KM133's Northbridge does have, read our description of the KT133's feature set, which is identical to that of the KM133. 
As is the case with all VIA chipsets, the KM133 has the ability to use any of VIA's Southbridges.  The most common companion for the 365 Northbridge will probably be either the 686A or the new 686B that offers ATA/100 support in addition to the rest of the features boasted by the 686 Southbridge.  These features include support for 4 USB ports (the SiS 730S supports 6), AC/MC'97 codecs and ATA/66 support by default (as we just mentioned, the 686B supports ATA/100).
The KM133 does boast PowerNow! support which could be very useful for mobile Duron implementations which should be arriving in the next few months.  From an OEM/system integrator standpoint the KM133's flexible memory support is wonderful but it's nothing that the competition doesn't already offer. 
VIA KM133 Reference Board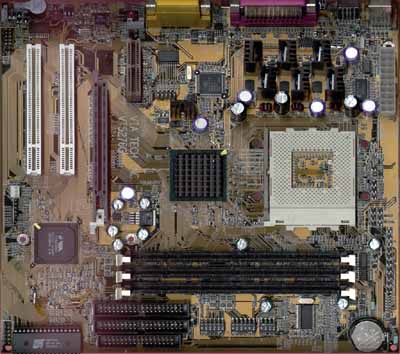 Click to Enlarge
Other than that, the KM133's design is pretty straightforward.  It is the same design we have seen countless times on KT133 based solutions, now adding integrated video support. 
In terms of cost, the KM133 is priced slightly higher than the SiS 730S at $40 versus $39 for the 730S, however that shouldn't cause too much of a concern for pricing differences.  Interestingly enough, the KT133, which is the same as the KM133 minus the integrated video comes in at $34, $6 cheaper than the KM133.