Acer V3-571G General Performance
We start as usual with our general performance application benchmarks. We still don't have quite as many laptops available in our updated Mobile Benchmark Suite as we'd like, and there's not much point in comparing a full-size notebook with several different models of Ultrabook. We've tried to stick with the more meaningful comparisons where possible, but we also wanted to flesh out the charts with additional data points. The result is the following selection of laptops, with their basic specs listed in the table, and as always, should you want to make additional comparisons, head over to Mobile Bench.
Laptop Configuration Overview
Laptop
CPU
Graphics
Storage
Battery
Acer Aspire V3-571G
Intel i7-3610QM
GT640M/HD4000
HDD
48Wh
Acer TimelineU M3
Intel i7-2637M
GT640M/HD3000
SSD
55Wh
AMD Trinity Prototype
AMD A10-4600M
HD7660G
SSD
56Wh
ASUS N56VM (Prerelease)
Intel i7-3720QM
GT630M/HD4000
HDD
56Wh
ASUS Zenbook Prime UX21A
Intel i7-3517U
HD4000
SSD
35Wh
ASUS G74SX-A2
Intel i7-2630QM
GTX560M/HD3000
SSD
90Wh
Clevo W110ER
Intel i7-3720QM
GT650M/HD4000
Hybrid
62Wh
Razer Blade
Intel i7-2640M
GT555M/HD3000
SSD
60Wh
Sony VAIO SE
Intel i7-2640M
HD6630M/HD3000
HDD
49Wh
Toshiba P755D
AMD A8-3520M
HD6620G
HDD
47Wh
As we're starting with PCMark results, we again want to note how much of an impact the presence of an SSD has on the results. It makes most of the comparisons between the HDD and SSD equipped laptops meaningless, but it does serve to drive home the point that for some workloads an SSD will make a huge difference. I switched over to a 240GB SSD for my laptop and Ultrabook use, and whenever I have to use and test a laptop that only has HDD storage (like the Acer V3), the difference is painfully obvious.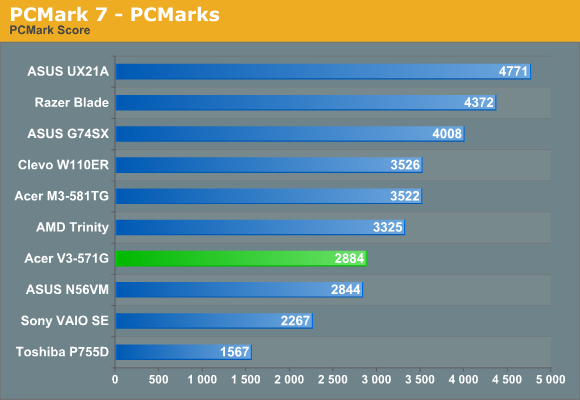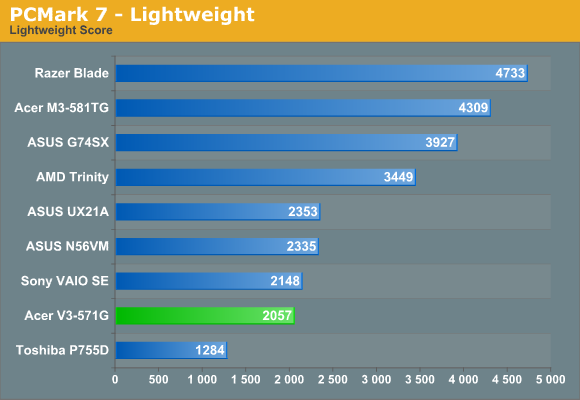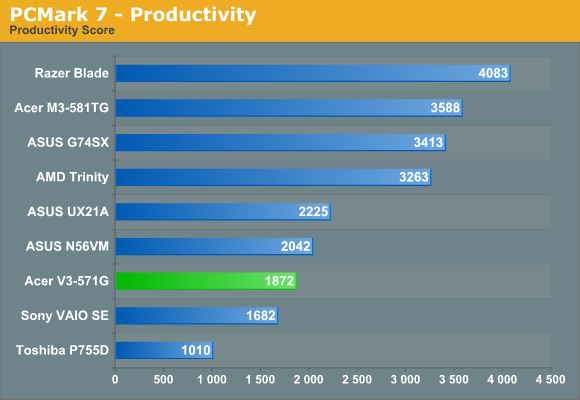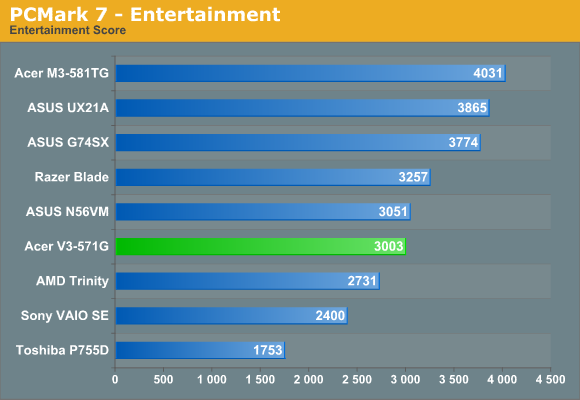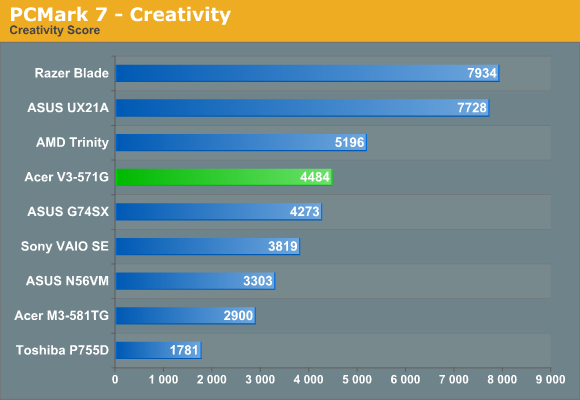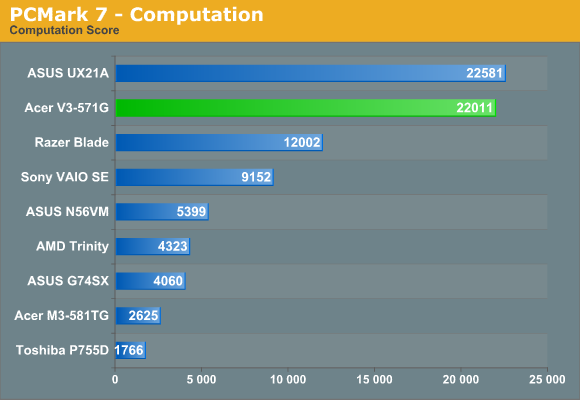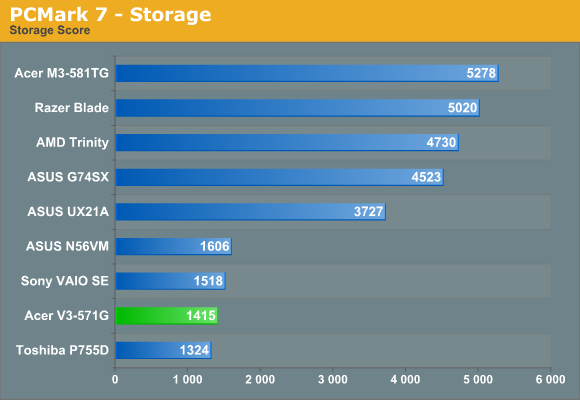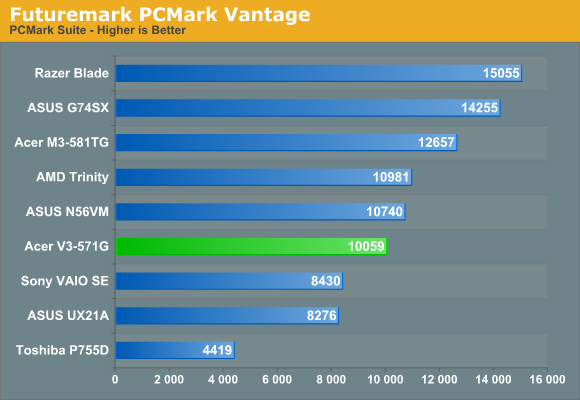 The placement of the Acer V3 in the above charts isn't very inspiring, but remember what we said about SSDs. Most of the higher scoring laptops feature SSDs and/or slightly faster CPUs. For general use, any of the laptops will be "fast enough", and as long as you don't mind waiting during intense periods of disk activity (e.g. initial boot up of the OS and various applications) even the HDD equipped laptops will work well. Still, one look at what an SSD does for the ASUS N56VM might make you consider splurging on better storage system. Acer adds insult to injury here by going with a 5400RPM hard drive, and the only slower Storage score in the charts comes from the Toshiba P755D—which also uses a 5400RPM Toshiba hard drive, not surprisingly.
If we look at the one PCMark 7 test that doesn't hit storage at all, the Computation suite, we run into a different problem. Here, all of the laptops that support Intel's Quick Sync technology get a massive performance boost, and the Ivy Bridge processors are basically twice as fast with Quick Sync as Sandy Bridge parts. It makes for yet another lopsided graph, which makes the overall usefulness of the PCMark scores debatable. As long as we understand what the charts represent, however, we can at least use them to gauge relative performance. The basic summary is that, for general use, a moderate CPU (e.g. Trinity, Llano, or Sandy Bridge) with an SSD will offer a better experience than just about any current HDD-based laptop; similarly, if you want to do hardware accelerated video encoding, there's no beating Quick Sync.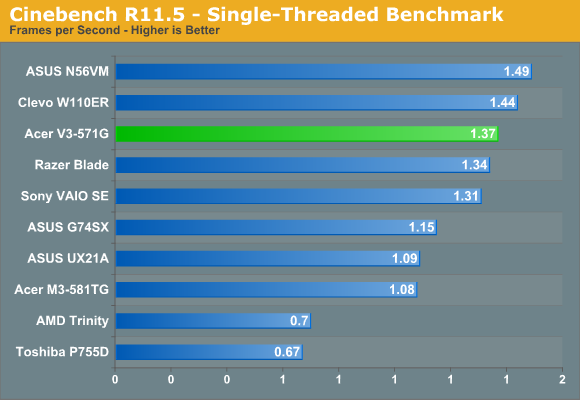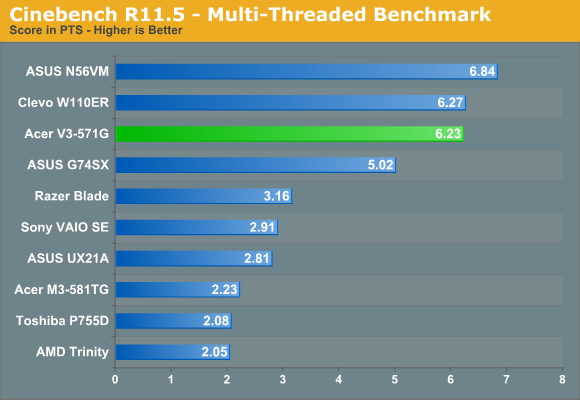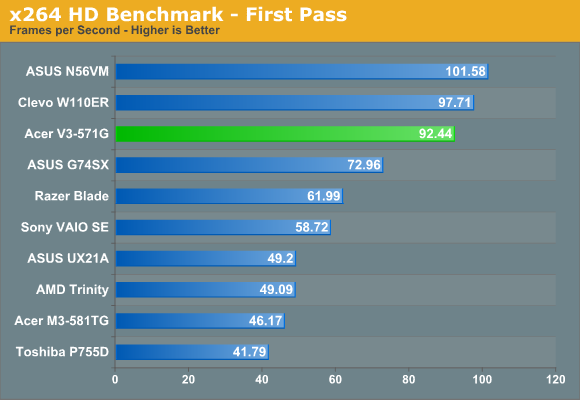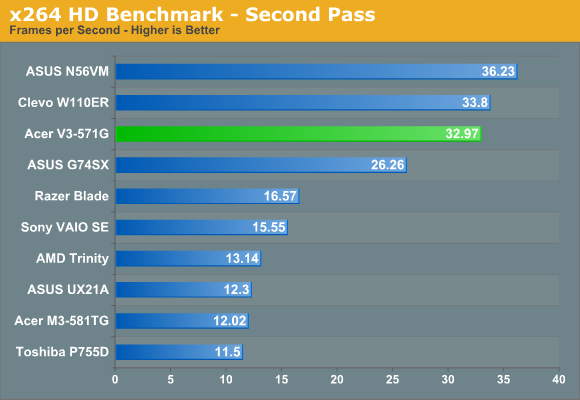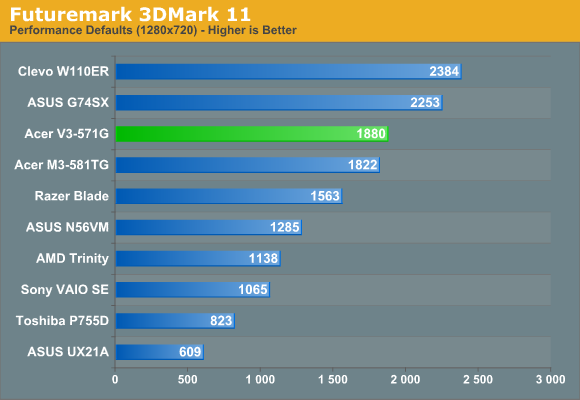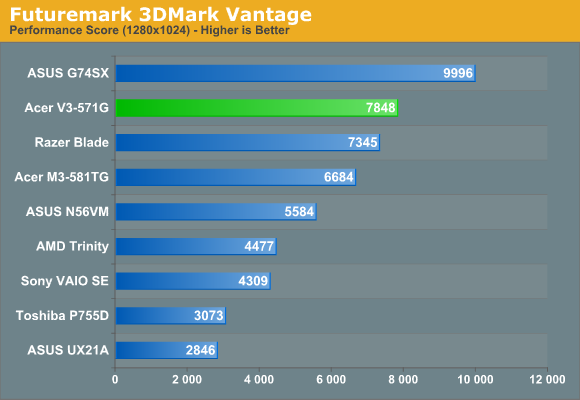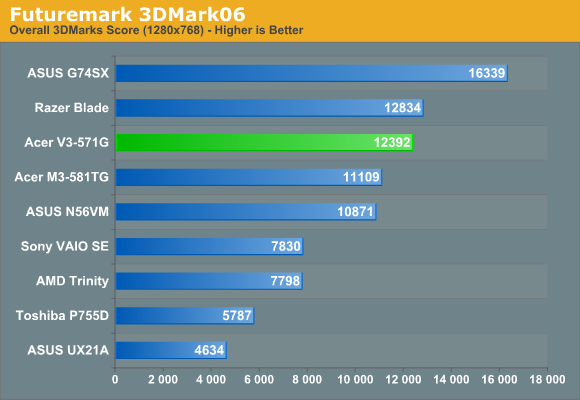 When we shift over to our more CPU- and GPU-centric tests, the performance results start to look more sensible. As one of two quad-core Ivy Bridge laptops, the Acer V3-571G takes second place in all four of our CPU-based tests, losing out by a small margin to the higher clocked i7-3720QM in the ASUS N56VM. The 3DMark scores tell a similar story, although this time it's the GTX 560M in the ASUS G74SX that takes first place, with the GT 640M generally falling into second place and trading blows with the Razer Blade and Acer M3-581TG Ultrabook. The latter has the same GPU but a slower ULV Sandy Bridge processor, and we should hopefully have the updated M5 Ivy Bridge model in for testing in the near future.