Most of the 27" monitors that have come through have been able to get incredibly bright, as the backlighting systems need to be pretty powerful to light up a 27" panel well and keep uniformity. Here the DoubleSight comes in closer to the NEC PA271W than to the other 27" or 30" monitors we have tested and can only put out 271 nits at maximum brightness. With the brightness set to minimum we only get down to 145 nits, which is much brighter than anything else we have tested, and it means that our 100 nits dE testing required lowering the output level by adjusting the LUTs in the video card, which can cause posterization and other issues.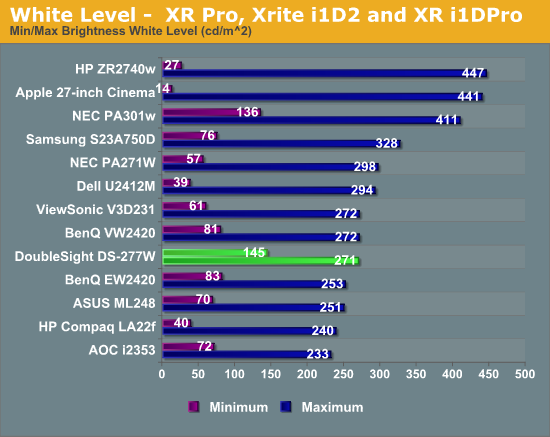 The black level at the minimum backlight is 0.29 nits, which is pretty reasonable. I also engaged the dynamic backlighting system and that dropped the level on a black screen down to 0.189 nits, which improves the contrast ratio quite a bit. Unfortunately, you can clearly see the dynamic backlight in use, and the screen fluctuates in brightness very clearly, which I found to be very annoying in use. The main issue is looking at the black level at maximum brightness, as it is over 16 nits! That's over 32 times as bright as the closest display and really out of the ordinary, so what is going on?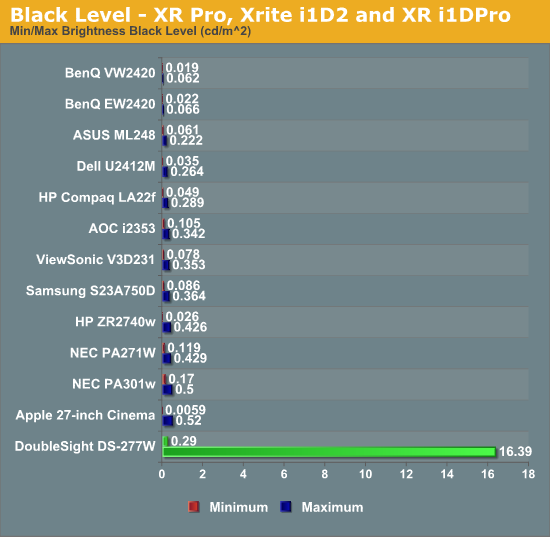 The answer lies in how TV and Monitor controls work. On a TV, brightness controls the level of black, and contrast controls the level of white, and on a flat panel TV there is typically a backlight or cell light control to adjust the light output. On a monitor, there is no backlight or cell light control; brightness handles that. Since computer displays use the full 0-255 RGB gamut, unlike video that uses 16-235, there is no need for a black level adjustment. On the DoubleSight, the electronics are designed to work like on a TV, so instead of adjusting the light output, we are adjusting the black level. Similarly Contrast serves the purpose now of controlling white and the maximum light output. Basically, for use as a computer display, these controls are not designed correctly.
Given that black level, we would expect to see the contrast ratio at maximum light output be pretty poor, and it clocks in at 13:1. At minimum it was a respectable 499:1 and even at 200 nits I measured around 400:1, but once the brightness gets too high, your contrast ratio goes away.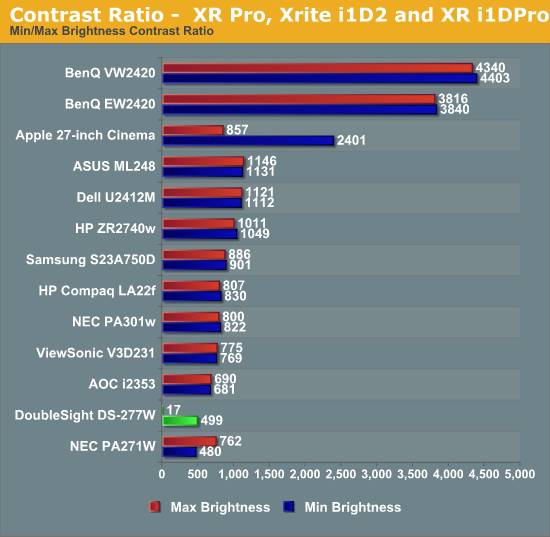 Suffice it to say, the DS-277W was not a good performer on the brightness and contrast testing here. Hopefully that doesn't carry over to every aspect of the display.