Build Quality and Part Selection
Given the small nature of the Antec ISK-110 enclosures Puget Systems employs for their Echo I systems, it's not going to be much of a surprise that there's really only so much they can do to make build quality stand out. For what it's worth, the systems are put together as well as one can expect. Both use stock coolers from AMD and Intel, but given the low TDPs of the two processors (as well as the cramped confines of the enclosure) these coolers are never given much of a workout. Cabling is routed as well as can be expected, and Puget Systems filled both of the 2.5" drive bays. These systems really are packed to the gills.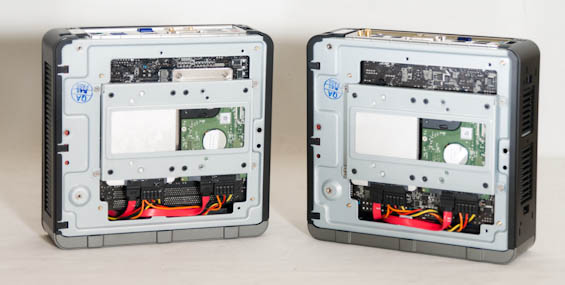 This is a good time to bring up one of the ways Puget Systems distinguishes themselves from other boutiques, though. If you opt to configure a system on their site, you're going to find the number of available components substantially lower than you will from any other boutique. This has to do with their validation procedures; Puget is extremely picky about the parts they include in the desktops they ship and while I'd like to see this confidence reflected in a longer warranty than just one year, I've seen enough of their data (and their customer feedback) to corroborate their claims. It's the reason you only see Intel SSDs in their systems, for example.
It's also part of the reason why our AMD system is fighting a bit of an unfair fight, a point we brought up with Puget Systems and one they recognized. It's well known that Llano will use all the memory bandwidth it can get its hands on, while Sandy Bridge is much less sensitive. Puget hasn't qualified any 8GB DDR3-1600 DIMMs for deployment in any of their builds, and so they erred on memory capacity instead of speed. In conversations via e-mail, they even admitted this was probably a mistake in this instance. The problem is that they also don't offer any 2GB or 4GB DDR3-1600 DIMMs for the AMD-based system, either, when they do have 4GB DDR3-1600 DIMMs qualified for other builds.
As an aside, I did contact Puget Systems and ask why their parts warranty period was so limited compared to other boutiques, and their rationale is actually a fairly sound one: there's just no guarantee that the replacement parts will continue to be available for three years, given how fast hardware turns over in this industry. They don't feel a standard three year warranty is something they can in good conscience live up to, and so the three year warranty upgrade they offer is actually in place to cover the costs of offering brand new kit to replace defunct hardware should the need arise.
Heat and Noise
While I wasn't expecting too much in the way of thermal issues even with the stock cooling, I felt like noise could've gone either way when I pulled the two Echo systems out of their boxes. The side panel above the motherboard is completely ventilated, allowing fresh air to circulate inside the enclosure. That's great for cooling, but does absolutely nothing to muffle noise.
Thankfully, the circulating cool air does wonders to keep either heatsink's fan from having to work particularly hard. Neither system is actually audible while running unless you put your ear up to the open side; any kind of ambient noise in the room will muffle them. The result is that both systems never see temperatures above the low 60C on the cores, and noise is essentially a non-issue unless you're looking for a "silent" system.
Power Consumption
Most of the test results up to this point have been fairly predictable, but power consumption was a big surprise and a pretty stunning upset. Rather than build you up to it, I'll just show you.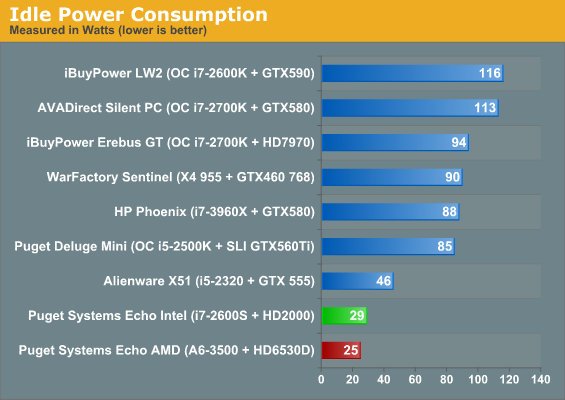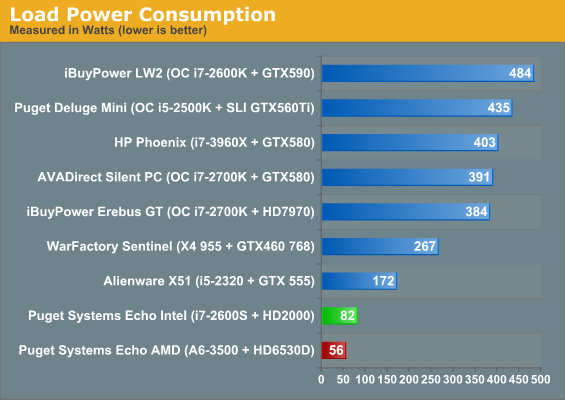 At both idle and load, the AMD-based system beats the Intel-based one. Look at the load numbers in particular; the A6-3500 is able to beat the Intel Core i7-2600S by nearly thirty watts. I expected both to be frugal, but the A6-3500 is actually performing well under its rated wattage.