Intel Upgraded HTPC Nettop
For our upgraded configurations, we're going to look into making something that's a bit more capable as an HTPC. On the Atom side, the only way you can do that is if you get a better GPU than the 3150, and the easiest (and cheapest) way to do that is to purchase an ION motherboard. With the arrival of AMD's Brazos, most motherboard manufacturers are shifting to that platform. It certainly doesn't help that when Intel moved from the original Atom platform to Pine Trail, they integrated the Northbridge into the CPU package and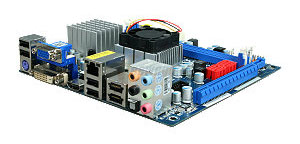 essentially killed off the ION chipset, so now you'd have to get a Pine Trail board with a PCIe slot if you wanted a discrete GPU. The result of all this is that we're sticking with the older Atom 330 + ION for our upgraded Intel configuration, which is not without drawbacks.
For this setup, we've selected the ASRock A330ION board, but availability and pricing can be a little sketchy on any of these older ION boards. As one of the major flaws with the Atom platform was its inability to play HD video smoothly, NVIDIA used their ION (a rebadged 9400M chipset) to address this issue. Paired with the dual-core Atom 330 CPU, this platform can play HD videos and even Blu-ray content—though not 3D Blu-ray. The ASRock board also has VGA, DVI, and HDMI ports. We first looked at the ION platform almost two years ago, and you can still get a good idea of its capabilities and limitations from our original assessment. For the memory, we're again using desktop DIMMs, but now we're upgrading to 4GB (2x2GB) of Patriot memory. The basic desktop DDR3 kits seem to have bottomed out at around $40 shipped without rebates. 2GB is sufficient, but the $18 extra can provide more headroom for multitasking.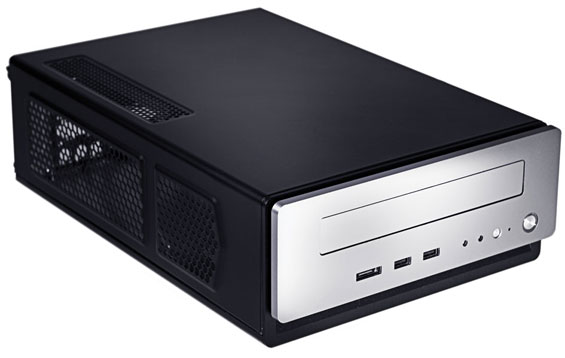 The remaining components once again depend on the case selection, and we've selected the upgraded Antec ISK310-150 this time. We like this case a lot because it comes with a reasonably quiet 80mm fan, typical minimalist Antec aesthetics, and uses an external power adapter (which makes no noise, and is more efficient than internal power supplies—especially considering these low-powered nettops draw at most 25-30% of even a low wattage 150W PSU). It's also available with a black bezel if you prefer that to the silver bezel. As with the ISK 100, this case uses 2.5" laptop hard drives, not 3.5" desktop hard drives. We're only using one HDD again, but this case can fit two drives so SSD + storage drive is again an option.
For the hard drive, we're going to offer an alternative to the 500GB Seagate that has seen so much use in laptops during the past year. Samsung recently launched their 640GB 7200RPM SpinPoint MP4 HM640JJ, at the same $60 price point as the Seagate. The higher areal density should improve sequential transfer speeds, and it will certainly be faster than the 5400RPM laptop drives. For the optical drive, you could stick with the same Samsung mentioned in the basic Intel configuration, but our upgraded nettops are going to take more of an HTPC role so we're going the Blu-ray route. Slim BD-ROMs are difficult to find for less than $100, and in fact this is the only slim BD-ROM Newegg currently stocks. Note that it's a DVD-ROM as well, so there are no burning capabilities to speak of—we suggest you use a different system for burning, and particularly video encoding/transcoding as such tasks can be painfully slow on Atom.
If you're going to watch Blu-ray movies, you'll also need appropriate software. The software included with the Sony drive is underwhelming, and CyberLink's PowerDVD Ultra tends to work well with a variety of platforms. It also happens to cost $100, so you might want to start with the basic Blu-ray software and only upgrade if you want access to other features.
With all of the upgrades and a copy of PowerDVD, the total system cost is nearly double that of the base Atom setup, though much of that comes from choosing to include Blu-ray support. $590 is a lot to pay for an Atom nettop, certainly, and we'll discuss other options in our conclusion. If you want to skip out on Blu-ray playback, you can get the above system for $400. Using the same case and components, the difference in motherboard choice makes this platform $10 more than the basic AMD E-350 setup, or $37 more than the stock Atom configuration.