Introducing the HP Envy 17
HP's Envy line-up has been so often requested around here that actually having one on the test bench feels like both a major win and a kind of letdown. These notebooks (particularly the 14, for which a review is forthcoming) are so well regarded by their user communities that it's kind of hard not to expect the most out of HP's prize series.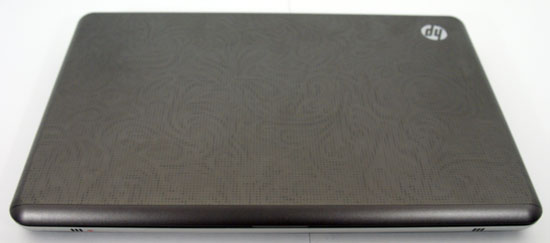 There's some merit to that. The Envy 17 is a stylish, powerful piece of kit. Unlike a lot of consumer notebooks, HP's Envy series are understated and clearly designed to be both attractive and functional. So now that we've finally got one in hand, let's pop the hood and see what makes this bad boy hum.
HP Envy 17 Specifications
Processor
Intel Core i7-720QM
(4x1.6GHz + HTT, 45nm, 6MB L3, Turbo to 2.8GHz, 45W)
Chipset
Intel HM55
Memory
1x4GB DDR3-1333 (Max 2x4GB)
Graphics
AMD Mobility Radeon HD 5850 1GB GDDR5
(800 Stream Processors, 500MHz core clock, 3600MHz effective memory clock)
Display
17" LED Glossy 16:9 1920x1080
(LG LGD0283 Panel)
Hard Drive(s)
500GB 7200 RPM
(Seagate Momentus 7200.4, one spare drive bay)
Optical Drive
Slot-loading Blu-ray Reader/DVD+/-RW Drive
Networking
Gigabit Ethernet
Broadcom 43224AG 802.11a/b/g/n Wireless
Bluetooth 2.1+EDR
Audio
IDT 92HD81B1X HD Audio
Beats audio stereo speakers with subwoofer
Headphone and microphone jacks
Battery
6-Cell, 11.1V, 62Wh battery
Front Side
Speakers
Left Side
Exhaust vent
D-SUB
Ethernet jack
Mini-DisplayPort
HDMI
USB 2.0/eSATA combo port
USB 3.0
Microphone jack
Headphone jack
Right Side
2x USB 2.0
Card reader
Optical drive
AC adapter
Kensington lock
Back Side
Exhaust vent
Operating System
Windows 7 Home Premium 64-bit
Dimensions
16.3" x 10.83" x 1.25"-1.52" (WxDxH)
Weight
7.51 lbs
Extras
HD Webcam
Backlit keyboard with dedicated 10-key
Flash reader (MMC, SD/Mini SD, MS/Duo/Pro/Pro Duo, xD)
Dual drive bays
Warranty
2-year limited warranty
Pricing
Starting at $1,299
Priced as configured: $1,699
With Sandy Bridge not terribly far away, the specifications for the HP Envy 17 we have on hand are going to seem a little pedestrian, but make no mistake: it's still a powerful notebook. At 1.6GHz the Intel Core i7-720QM may be the slowest quad-core in Intel's mobile line-up, but it can still outpace their fastest dual-core in properly threaded tasks, and it can turbo up to 2.4GHz on two cores to make up a lot of the difference (or 2.8GHz on a single core).
The other major selling point of the Envy 17 is the AMD Mobility Radeon HD 5850 graphics part. Given the relatively svelte profile of the Envy compared to other 17"-class notebooks, the 5850 is fairly powerful by laptop graphics standards. 800 of AMD's stream processors purr away at 500MHz, and unlike NVIDIA, AMD is able to coax some halfway decent speeds out of its mobile GDDR5, running at an effective 3.6GHz. Still, the 5850 can be considered something of a disappointment: this is AMD's second best mobile part, but it's still a substantially underclocked desktop Radeon HD 5770, a card that goes for around $130. Worse, the 5850 in the Envy 17 appears to be underclocked even by Mobility 5850 standards, running about 125MHz below spec on the core and 400MHz below spec on the memory. It's probably reasonable to assume this is to assuage concerns about heat, but it still takes a healthy bite out of potential gaming performance.
The remainder of the Envy 17 is pretty by-the-book, with the increasingly common Seagate Momentus 7200.4 hard drive pulling storage duties along with an attractive slot-loading blu-ray reader/DVDRW drive. The card reader is accounted for, and there's USB 3.0 and eSATA, but sadly no ExpressCard or FireWire. What's odd is HP's decision to ship the review unit with a single 4GB DDR3 DIMM instead of a pair of 2GB or 4GB sticks, but that's neither here nor there: when you go to order the Envy 17, it actually starts at 6GB of DDR3 these days.