Patriot DDR2-1066 Memory Specifications
Patriot is a division of PDP Systems, with headquarters in Fremont, CA. Patriot has sales offices throughout the US and Asia, and distributes memory in North America, Europe, Asia, the Middle East, Africa and Latin America. Patriot produces memory modules and flash memory in several product lines including Extreme Performance (EP) and Signature Lines (SL).
While the Patriot brand may not be recognized by some of our readers, the odds are that you have used a Patriot manufactured memory if you been a hobbyist or in the PC market for a while. Patriot is a leading OEM manufacturer, so they manufacture memory modules for many other companies. With the recent company push toward their own branding, the Patriot name represents PDP's own direct marketing of memory products.
All Patriot EP, DC, and SL product lines are manufactured in Fremont, CA and distributed throughout most of the world. Patriot claims 100% testing of their high-end EP products, such as the PC2-8500 tested in this review. EP memory also comes with a lifetime repair or replacement warranty, which is comparable to other top high-end memory.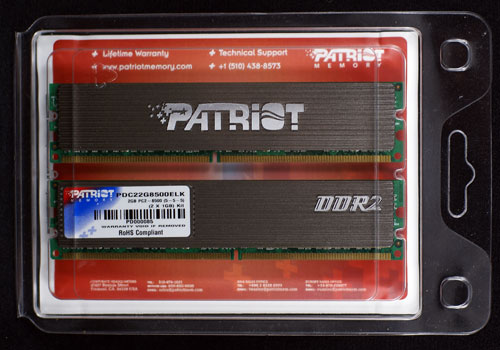 Red and Black are the Patriot memory colors. You see them used together in packaging and heatsink colors for the DDR2-1066 being tested. The PC2-8500 packaging is a common clam-shell package with a bright red insert and memory with black heatspreaders.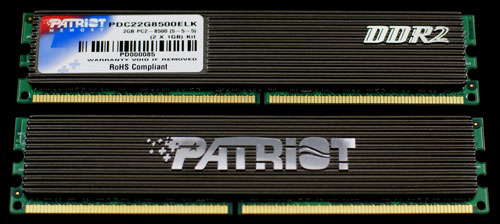 The PDC22GB8500ELK was supplied as a 2GB kit with a matched pair of 1GB DIMMs. The DIMMs feature black aluminum heatspreaders with red, white, and blue labeling. The bladed heatshields provide more surface area for cooling, and the Patriot logo is a raised brushed aluminum. The DIMMs and packaging do a good job of conveying a professional image with the Patriot brand name. The Patriot website provides detailed information about the Patriot product line at
www.patriotmemory.com
. Support is provided for configuring and testing memory. RMA forms and procedures are also available under the Support tab.
Patriot PDC22G8500ELK Memory Specifications
Number of DIMMs & Banks
2 DS
DIMM Size
1GB
Total Memory
2 GB
Rated Timings
5-5-5-9 at DDR2-1066
Rated Voltage
2.3V
The memory kit being tested is a 2GB kit - 2x1GB DIMMs. Patriot DDR2-1066 is also available as a 1GB kit consisting of 2x512MB DIMMs. With memory prices still high in today's market, the availability of a cheaper 1GB dual-channel kit may be important to some buyers.